Fire Emblem Warriors: Three Hopes - The Loop
Play Sound
Air Raid is a member of a group of aircraft Autobots called Aerialbots. He can transform into an F-15 Eagle jet and forms into the right leg of Superion. He and his fellow Aerialbot team members were rebuilt by Optimus Prime and his fellow Autobots from old Cybertronian jet and shuttle parts to resemble Earth jets and brought to life when Alpha Trion sacrificed himself to activate Vector Sigma on Cybertron. He is the most impulsive member of the group and he likes to fight Decepticons right up close.
Appearance
Air Raid is decorated primarily in black with a silver cockpit, and silver, black, yellow and red stripes on his wings and tail rudders. He features fairly realistic proportions, and a large amount of molded details on the surface of his jet parts. He features fixed rolling rear landing gear, and a rolling front gear that can fold into the nosecone. His transformation is the same scheme as the other three small Aerialbots: the cockpit and tail sections pivot on rods to form a "backpack", the wings fold upward, the jet rear extends, and the arms pivot out on rods to his sides. His robot mode is decorated with a die-cast chestplate, stickers, and molded leg details. His face is painted the same silver as the cockpit canopy, and he can wield his small pistol by clipping it over his fist.
Abilities
Air Raid transforms into an F-15C fighter jet. As a "Scramble City" combiner, Air Raid can transform into any combiner's leg or arm by folding the jet parts onto his back, or additionally flip the head down and extending his legs, respectively, and attaching the appropriate accessory. He typically forms Superion's right arm (in Silverbolt's instructions, or left leg. Air Raid carries air-to-air heat-seeking missiles, uses torque rifle whose beam applies 80,000 psi of rotational force.
Personality
Air Raid prefers streaking into a cluster of Decepticons to shooting at them from long range. Likewise, he is the most fearless Autobot who wants to have fun.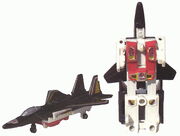 Heroes
Transformers
Optimus Prime | Bumblebee | Arcee | Jazz | Ironhide | Wheeljack | Ratchet | Hound | Prowl | Sideswipe | Sunstreaker | Blurr | Mirage | Skids | Hoist | Tracks | Windcharger | Blaster (Steeljaw, Ramhorn, Eject, Rewind) | Red Alert | Smokescreen | Trailbreaker | Bluestreak | Beachcomber | Inferno | Huffer | Rodimus Prime | Grapple | Ultra Magnus | Skyfire | Sky Lynx | Cliffjumper | Kup | Brawn | Tailgate | Gears | Outback | Metroplex | Sandstorm | Cosmos | Omega Supreme | Perceptor | Springer | Broadside | SeaSpray | Pipes | Warpath | Wheelie | Wreck-Gar | Grimlock | Slag | Sludge | Snarl | Swoop | Silverbolt | Fireflight | Slingshot | Skydive | Air Raid | Superion | Hot Spot | Groove | First Aid | Blades | Streetwise | Scattershot | Lightspeed | Strafe | Nosecone | Afterburner | Alpha Trion | Elita-One | Chromia | Firestar | Moonracer | Spike Witwicky | Sparkplug Witwicky | Daniel Witwicky | Carly Witwicky | Chip Chase | Rauol | Astoria Carlton-Ritz | Marissa Faireborn
G.I. Joe
General Colton | General Flagg | General Hawk Conrad S. "Duke" Hauser | Flint (G.I. Joe) | Beachhead | Sgt. Slaughter (G.I. Joe) | Scarlett (G.I. Joe) | Snake Eyes | Roadblock | Gung-Ho | Lady Jaye | Bazooka | Breaker | Wild Bill | Zap (G.I. Joe) | Shipwreck | Alpine | Snow Job | Barbecue (G.I. Joe) | Sgt. Stalker | Thunder | Airborne | Ace (G.I. Joe) | Short Fuze | Tripwire | Blowtorch (G.I. Joe) | Clutch | Cover Girl | Crankcase | Spirit (G.I. Joe) | Cutter | Doc (G.I. Joe) | Deep Six | Dusty (G.I. Joe) | Flash (G.I. Joe) | Footloose | Frostbite | Grand Slam | Quick Kick | Recondo | Rip Cord | Mutt And Junkyard | Torpedo (G.I. Joe) | Steeler | Wet Suit | Low-Light (G.I. Joe) | Cross-Country | Dial-Tone | Leatherneck | Iceberg | Sci-Fi (G.I. Joe) | Lift Ticket | LifeLine | Mainframe (G.I. Joe) | Slipstream | Lt. Falcon | Jinx (G.I. Joe) | Chuckles (G.I. Joe) | Law & Order | Tunnel Rat
Jem & the Holograms
Jerrica Benton | Kimber Benton | Aja Leith | Shana Elmsford | Carmen 'Raya' Alonso | Rio Pacheco | Mrs. Bailey | Stormer | Ba Nee O'Carolan
Battleship
Alex Hopper
My Little Pony
Applejack | Baby Cotton Candy | Baby Cuddles | Baby Glory | Baby Lickety-Split | Baby Moondancer | Baby Ribbon | Baby Surprise | Bow Tie | Captain Crabnasty | Danny Williams | Drog | Ember | Firefly | Fizzy | Gusty | Habbit | Lickety-Split | Majesty | Megan Williams | Medley | Molly Williams | Moochick | Paradise | Posey | Powder | Rep | Ribbon | Scorpan | Skydancer | Sparkler | Spike | Sundance | Surprise | The Bushwoolies | The Grundles (King Hugo) | Twilight | Pinkie Pie | Rainbow Dash | Scootaloo | Cheerilee | Toola-Roola | Sweetie Belle | StarSong | Flitter Flutter | Twinkle Wish | Whimsey Weatherbe | Minty | Spike | Rarity | Kimono | Star Catcher | Skywishes | Thistle Whistle | Coconut Grove | Sweetberry | Cotton Candy | Sparkleworks | Sunny Daze | Wysteria | Razzaroo | Daffidazey | Fiesta Flair | Lily Lightly | Storybelle | Star Flight | Heart Bright | Main | Twilight Sparkle | Spike | Applejack | Rainbow Dash | Pinkie Pie | Rarity | Fluttershy | Princess Celestia | Princess Luna | Cutie Mark Crusaders (Apple Bloom, Sweetie Belle & Scootaloo) | Discord | Princess Cadance | Shining Armor | Starlight Glimmer | Young Six (Sandbar, Gallus, Silverstream, Smolder, Ocellus, and Yona) | Angel Bunny | Autumn Blaze | Big Macintosh | Braeburn | Bright Mac | Bulk Biceps | Chancellor Neighsay | Changelings (Thorax & Pharynx) | Cheerilee | Cheese Sandwich | Coco Pommel | Daring Do | Derpy Hooves | Filthy Rich | Flash Sentry | Flurry Heart | Gilda | Granny Smith | Gummy | Gusty the Great | King Sombra | Little Strongheart | Luster Dawn | Maud Pie | Mare Do Well | Pear Butter | Pillars of Old Equestria (Star Swirl the Bearded, Flash Magnus, Rockhoof, Somnambula, Mage Meadowbrook, and Mistmane) | Princess Ember | Prince Rutherford | Quibble Pants | Scorpan | Seabreeze | Sky Beak | Smooze | Snips and Snails | Steven Magnet | Sunburst | Sweetie Drops | Tank | Terramar | Trixie Lulamoon | Trouble Shoes Clyde | The Wonderbolts (Spitfire & Soarin) | Zecora | Twilight Sparkle | Sunset Shimmer | Applejack | Rainbow Dash | Pinkie Pie | Rarity | Fluttershy | Dean Cadance | Flash Sentry | Gloriosa Daisy | Indigo Zap | Kiwi Lollipop | Lemon Zest | Micro Chips | Principal Celestia | Sour Sweet | Spike | Sugarcoat | Sunny Flare | Supernova Zap | Timber Spruce | Vice Principal Luna | Wondercolts | Capper | Captain Celaeno | Princess Skystar | Queen Novo | Tempest Shadow | Sunny Starscout | Izzy Moonbow | Hitch Trailblazer | Zipp Storm | Pipp Petals | Argyle Starshine | Phyllis Cloverleaf | Queen Haven | Alphabittle Blossomforth
See Also
Battleship Heroes | G.I. Joe Heroes | Jem and the Holograms Heroes | My Little Pony Heroes | Transformers Heroes | Transformers Cinematic Universe Heroes | Transformers G1 Heroes | Transformers Prime Heroes | Transformers: War for Cybertron Trilogy Heroes