Fire Emblem Warriors: Three Hopes - The Loop
Play Sound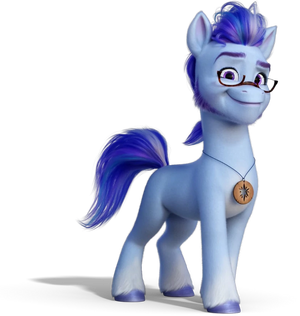 Argyle Starshine was one of the two posthumous overarching protagonists (alongside Twilight Sparkle) of My Little Pony: A New Generation. He was the father of Sunny Starscout.
He is played by Michael McKean, who also played Lou Pickles.
Personality
He had a heart of gold, he liked the legends of Twilight Sparkle and his friends, and he and his daughter were convinced that one day the Earth ponies, unicorns and pegasus could become friends again.
Argyle paid no attention to the alleged "history" of the tribes. He was very wise and emotional towards her daughter making her believe that one day all ponies of all breeds would become friends with her again.
Like Phyllis Cloverleaf, who no one believed both of them and mocked them, Argyle never got angry and didn't listen to what other Earth ponies said, felt more sorry for them, because they were not sincere, did not want to face problems and always wanted to stay the same. themselves.
He also encouraged Sunny by saying even if her friends don't believe her, the most important thing is that she stands up for what she believes in.
After he died, Sunny never forgot about him and how affectionate he was towards her and continued to hope that one day he would do what her father of her wanted.
Heroes
My Little Pony 'n Friends
Applejack | Baby Cotton Candy | Baby Cuddles | Baby Glory | Baby Lickety-Split | Baby Lofty | Baby Moondancer | Baby Ribbon | Baby Shady | Baby Sundance | Baby Surprise | Bow Tie | Bubbles | Buttons | Cotton Candy | Cupcake | Danny Williams | Drog | Ember | Firefly | First Born | Fizzy | G'nash | Garth | Glory | Grandpa Ruff | Gusty | Habbit | His Elevated Eminence | Kyrie | Lickety-Split | Magic Star | Majesty | Mayor Camembert | Megan Williams | Medley | Molly Williams | Moochick | Moondancer | Morning Glory | North Star | Paradise | Pluma | Posey | Powder | Prince Edgar | Rep | Ribbon | Rosedust | Scorpan | Sea Ponies | Skydancer | Sludge | Sparkler | Spike | Squire Alonzo | Starflower | Sting | Sundance | Surprise | Sweet Stuff | The Bushwoolies | The Crabnasties (Captain Crabnasty) | The Dell Dwellers | Furbobs | The Grundles (King Hugo) | The Sheriff of Muensterville | The Stonebacks | Twilight | Wind Whistler | Woebegone

Generation 3
Pinkie Pie | Rainbow Dash | Scootaloo | Cheerilee | Toola-Roola | Sweetie Belle | StarSong | Flitter Flutter | Twinkle Wish | Whimsey Weatherbe | Minty | Spike | Rarity | Kimono | Star Catcher | Skywishes | Thistle Whistle | Coconut Grove | Sweetberry | Cotton Candy | Sparkleworks | Sunny Daze | Wysteria | Razzaroo | Daffidazey | Fiesta Flair | Lily Lightly | Storybelle | Star Flight | Heart Bright

Friendship is Magic
Main
Twilight Sparkle | Spike | Applejack | Rainbow Dash | Pinkie Pie | Rarity | Fluttershy

Secondary
Princess Celestia | Princess Luna | Cutie Mark Crusaders (Apple Bloom, Sweetie Belle & Scootaloo) | Discord | Princess Cadance | Shining Armor | Starlight Glimmer | Young Six (Sandbar, Gallus, Silverstream, Smolder, Ocellus, and Yona)

Other
Autumn Blaze | Angel Bunny | Big Macintosh | Braeburn | Bright Mac | Bulk Biceps | Chancellor Neighsay | Changelings (Thorax & Pharynx) | Cheerilee | Cheese Sandwich | Coco Pommel | Daring Do | Derpy Hooves | Filthy Rich | Flash Sentry | Flurry Heart | Gilda | Granny Smith | Gummy | Gusty the Great | King Sombra | Little Strongheart | Luster Dawn | Maud Pie | Mare Do Well | Pear Butter | Pillars of Old Equestria (Star Swirl the Bearded, Flash Magnus, Rockhoof, Somnambula, Mage Meadowbrook, and Mistmane) | Princess Ember | Prince Rutherford | Quibble Pants | Royal Guards | Scorpan | Seabreeze | Sky Beak | Smooze | Snips and Snails | Steven Magnet | Sunburst | Sweetie Drops | Tank | Terramar | Trixie Lulamoon | Trouble Shoes Clyde | The Wonderbolts (Spitfire & Soarin) | Zecora

Equestria Girls
Main
Twilight Sparkle | Sunset Shimmer | Applejack | Rainbow Dash | Pinkie Pie | Rarity | Fluttershy

Other
Dean Cadance | Flash Sentry | Gloriosa Daisy | Indigo Zap | Kiwi Lollipop | Lemon Zest | Micro Chips | Principal Celestia | Sour Sweet | Spike | Sugarcoat | Sunny Flare | Supernova Zap | Timber Spruce | Vice Principal Luna | Wondercolts

Make Your Mark
Main
Sunny Starscout | Izzy Moonbow | Hitch Trailblazer | Zipp Storm | Pipp Petals

Movies
My Little Pony: The Movie (1986): Megan Williams | Molly Williams | Danny Williams | Baby Lickety-Split | Spike | The Grundles | Baby Lofty | Baby Sundance | Buttons | Fizzy | Gingerbread | Gusty | Magic Star | Morning Glory | North Star | Rosedust | Shady | Sundance | Sweet Stuff | Sea Ponies | Wind Whistler
My Little Pony: The Movie (2017): Twilight Sparkle | Spike | Applejack | Rainbow Dash | Pinkie Pie | Rarity | Fluttershy | Capper | Captain Celaeno | Princess Skystar | Queen Novo | Tempest Shadow | Princess Celestia | Princess Luna | Princess Cadance
My Little Pony: A New Generation (2021): Sunny Starscout | Izzy Moonbow | Hitch Trailblazer | Zipp Storm | Pipp Petals | Argyle Starshine | Phyllis Cloverleaf | Queen Haven | Alphabittle Blossomforth
Heroes
Animated Features
The Little Prince (Mr. Prince) | The Little Girl | The Aviator | The Fox | Ajar | Pitt | Eva | Gary | Peng | Chi | Chao | Jinjing | White Fang | Weedon Scott | Mai Su | 7723 | Molly Su | Dr. Tanner Rice | Momo | Ani | Greenwood | Rocko Rama | Heffer Wolfe | Filburt Shellbach | Spunky | Bev Bighead | Dib Membrane | Gaz Membrane | Professor Membrane | GIR | Clembrane | Jesper Johansson | Klaus | Alva | Márgu | Sámi Villagers | Mogens | Mr. Johansson | Shaun the Sheep | Lu-La | Bitzer | The Farmer | Timmy | Timmy's Mother | Shirley | The Flock | Tim Willoughby | Linda | Jane Willoughby | Barnaby A and Barnaby B Willoughby | Commander Melanoff | The Cat | Ruth | Miyo Sasaki | Kento Hinode | Kinako | Owen Huntington | Zoe Huntington | Mackenzie Huntington | Chesterfield | Binkley | Mr. Woodley | Buffalo Bob | Talia | Adam Harrison | Bigfoot | SpongeBob SquarePants | Gary | Patrick Star | Sage | Squidward Tentacles | Mr. Krabs | Sandy Cheeks | Sheldon J. Plankton | Karen Plankton | Otto | Tiffany Haddock | Shelly Harrison | Barbie Roberts | Ken Carson | Chelsea Roberts | Skipper Roberts | Stacie Roberts | DJ | Honey | Rookie | Teresa Rivera | Daisy Doyle | Renée Honda | Rose Ross | Nikki O'Neill | Alfonso | Emma | George Roberts | Margaret Roberts | Principal Miller | Ned and Ted Johnson | Queen Amelia | Snowy | Morning Star | Taffy Roberts | Trey Reardon | Hansel & Gretel | Darbie | Arlene | Snipper | Lacie | Kelsie | Giant Flower | Parrot | Arlo Beauregard | Alia | Bertie | Furlecia | Marcellus | Teeny Tiny Tony | Kids Thing! | Ansel Beauregard | Katie Mitchell | Rick Mitchell | Linda Mitchell | Aaron Mitchell | Deborahbot 5000 | Eric | Abbey Posey | Hailey Posey | Jim Posey | Dr. Mark Bowman | Din Song | Long | Li Na Wang | Mrs. Song | Mr. Wang | Brooklyn Roberts | Simone Roberts | Kelvin Roberts | Emmie | Rafa | Cab Driver | Percussionist | Gato | Dean Morrison | Mr. Miller | George Washington | Sam Adams | Thomas Edison | Paul Revere | Martha Washington | Abe Lincoln | Geronimo | John Henry | Jim Lake Jr. | Toby Domzalski | Claire Nuñez | Blinky Galadrigal | AAARRRGGHH!!! | Aja Tarron | Krel Tarron | Varvatos Vex | Douxie Casperan | Archie | Nari | Charlemagne the Devourer | Stuart | Dr. Barbara Lake | Stricklander | Nomura | Steve Palchuk | Eli Pepperjack | Luug | Vivo | Gabi | Dancarino | Valentina | Rosa Hernández | Becky | Eva | Sarah | Marta Sandoval | Andrés Hernández | The Loud Family (Lincoln Loud, Lori Loud, Leni Loud, Luna Loud, Luan Loud, Lynn Loud Jr., Lucy Loud, Lana Loud, Lola Loud, Lisa Loud, Lily Loud, Lynn Loud Sr., & Rita Loud) | Clyde McBride | Bobby Santiago | Ronnie Anne Santiago | Angus | Lela | Sunny Starscout | Izzy Moonbow | Hitch Trailblazer | Zipp Storm | Pipp Petals | Argyle Starshine | Phyllis Cloverleaf | Queen Haven | Alphabittle Blossomforth | Maddie the Inland Taipan | Zoe the Thorny Devil | Quinn | Mabel | Raymond | Penelope | Developer | Rosa | Jen | Cosmos | Elias
Live-Action Films
Cole Johnson | Bee | Lena | Tyler Rake | Ovi Manhajan | Cole Johnson | Phoebe Atwell | Boom Boom | Bee | Santa Claus | Missy Moreno | Wild Card | Guppy | Slo-Mo | Facemaker | Noodles | Wheels | A Capelle Vox | Fast Foward and Rewind | Sharkboy | Lavagirl | Kayla | Isaac |
Animated Television
BoJack Horseman | Todd Chávez | Mr. Peanutbutter | Diane Nguyen | Princess Carolyn | Pinky Penguin | Lenny Turtletaub | Herb Kazzaz | Sarah Lynn | Joelle Clark | Bradley Hitler-Smith | Penny Carson | Character Actress Margot Marindale | Sextina Aquafina | Mr. Witherspoon | Charley Witherspoon | Laura | Vanessa Gekko | Officer Meow Meow Fuzzyface | Sebastian St. Clair | Secretariat | Kelsey Jannings | Joey Pogo | Wanda Pierce | Rutabega Rabbitowitz | Tina Bear | J.D. Sallinger | Ana Spanakopita | Judah Mannowdog | Ralph Stilton | Captain Peanutbutter | Emily | Yolanda Buenaventura | Hollyhock Manheim-Mannheim-Guerrero-Robinson-Zilberschlag-Hsung-Fonzerelli-McQuack | Flip McVicker | Gina Cazador | Dr. Indita Dadyshue | Mary-Beth | Doctor Champ | Casey McGarry | Pickles Aplenty | Guy Nguyen | Sonny Nguyen | Maude | Gaz | Helen Chavez | Ty Rux | Revvit | Dozer | Skya | Ton-Ton | Garby | Voltron | Team Voltron (Shiro, Keith, Lance, Pidge, Allura & Hunk) | Coran | Kolivan | Thace | Ulaz | Ezor | Draal the Deadly | Gnome Chompsky | NotEnrique | Vendel | Kanjigar the Courageous | Merlin | Barbie Roberts | Teresa Rivera | Ken Carson | Nikki O'Neill | Renée Honda | Daisy Doyle | Trey Reardon | Ned and Ted Johnson | Principal Miller | Stacie Roberts | Skipper Roberts | Chelsea Roberts | Margaret Roberts | George Roberts | Mary Jane Honda | Queen Amelia | Alfonso | Snowy | Morning Star | Honey | Taffy Roberts | Blissa | DJ | Rookie | Arlene | Brooklyn Roberts | Emmie | Rafa | Nick Birch | Andrew Glouberman | Jessi Glaser | Jay Bilzerian | Missy Foreman-Greenwald | Maurice the Hormone Monster | Connie the Hormone Monstress | Coach Steve | Miss Benitez | Principal Barron | Matthew MacDell | Lola Skumpy | Elliot Birch | Diane Birch | Leah Birch | Ghost of Duke Ellington | Shannon Glaser | Greg Glaser | Monica Foreman-Greenwald | Cyrus Foreman-Greenwald | Detective Florez | Detective Dumont | Rick the Hormone Monster | Pam | Gina Alvarez | Cellsea | Ali Wong | Tyler the Hormone Monster | Mona the Hormone Monstress | Erica Wang | Mr. Toilette Ree | Grace Wain | The Society of Robes | Cash Networth | Moxie Swaggerman | Hilda | She-Ra | Glimmer | Bow | Queen Angella | Mermista | Perfuma | Frosta | Netossa | Spinnerella | Swift Wind | Sea Hawk | Catra | Scorpia | Entrapta | Castaspella | King Micah | Wrong Hordak | Mothership | Zadra | King Fialkov and Queen Coranda | Seklos | Carmen Sandiego | Player | Princess Bean | Elfo | Luci | King Zog | Prince Derek | Odval | Sorcerio | Bunty | Herald | Miri | Miss Moonpence | Vip and Vap | Prince Guysbert | Prince Merkimer | Frank Murphy | Sue Murphy | Kevin Murphy | Bill Murphy | Maureen Murphy | Major | Sam-I-Am | Guy-Am-I | Tony Toretto | Layla Gray | Echo | Frostee Benson | Cisco Renaldo | Mrs. Nobody | Gary | Dominic Toretto | Kipo Oak | Wolf | Mandu | Benson | Dave | Lio Oak | Morgana | Deya the Deliverer | Darius Bowman | Kenji Kon | Brooklynn | Yasmina Fadoula | Sammy Gutierrez | Ben Pincus | Bumpy | Roxie & Dave | Blue | Charlie | Delta | Echo | Hap | Dr. Mae Turner | Brandon Bowman | Pierce | Angel | Rebel | Firecracker | Tag Barker | Scooch Pooch | Lady Lidia | Kevin Crawford | Randall Crawford | Bullet | Gina Jabowski | Dusty Marlow | Gerald Fitzgerald | Stanley Hopson | Karen Crawford | Hobo Cop | Dr. Funtlichter | Dean Hancock | Mavis Crawford | Anton | Patty Mae | Thester Carbomb IV | Agent Clappers | Dobby | Prop Cop | HandiCop | Siamese Twin Cops | Lady Gertrude | Karla 9000 | Jack Sullivan | Quint Baker | Dirk Savage | June Del Toro | Horse | Wammawink | Rider | Durpleton | Glendale | Zulius | Ched | Waterbaby | Cuphead | Mugman
Live-Action TV
Takeshi Kovacs | Piper Chapman | Alex Vause | Sam Healy | Miss Claudette | Red Reznikov | Larry Bloom | Crazy Eyes Warren | Taystee Jefferson | Nicky Nichols | Pennsatucky Doggett | John Bennett | Mike Wheeler | Eleven | Dustin Henderson | Lucas Sinclair | Will Byers | Terry Ives | Ted Wheeler | Karen Wheeler | Nancy Wheeler | Holly Wheeler | Claudia Henderson | Mr. Sinclair | Mrs. Sinclair | Erica Sinclair | Joyce Byers | Jonathan Byers | Jim Hopper | Barbara Holland | Steve Harrington | Max Mayfield | Bob Newby | Sam Owens | Sara Hopper | Murray Bauman | Becky Ives | Tina | Scott Clarke | Susan Hargrove | Robin Buckley | Diane Hopper | Suzie Bingham | Alexei | Doris Driscoll | Eddie Munson | Argyle | Chrissy Cunningham | Mrs. Kelly | Vickie | Fred Benson | Eden Bingham | Francine | Jamie | Marcy | Violet Baudelaire | Klaus Baudelaire | Sunny Baudelaire | Lemony Snicket | Geraldine Julienne | Justice Strauss | Fernald | Jacquelyn Scieszka | Monty Montgomery | Gustav Sebald | Josephine Anwhistle | Larry Your-Waiter | Charles | Phil | Council of Elders | Hector | Volunteers Fighting Disease | Babs | Milt | Duncan Quagmire | Isadora Quagmire | Quigley Quagmire | Jerome Squalor | Madame Lulu | Hal | Colette | Hugo | Kevin | Brucie | Captain Widdershins | Fiona | Dewey Denouement | Frank Denouement | Ishmael | Friday Caliban | Miranda Caliban | Alonso | Kit Snicket | Beatrice Baudelaire | Bertnard Baudelaire | Beatrice Baudelaire II | Sir Reginald Hargreeves | Luther Hargreeves | Diego Hargreeves | Allison Hargreeves | Klaus Hargreeves | Five Hargreeves | Ben Hargreeves | Vanya Hargreeves | Pogo | Abhijat | Grace | Tyler Locke | Kinsey Locke | Bode Locke | Nina Locke | Dodge/Gabe | Scot Cavendish | Duncan Locke | Jackie Veda | Douglas Brazelle | Zadie Wells | Logan Calloway | Seong Gi-hun | Cho Sang-woo | Kang Sae-byeok | Hwang Jun-ho | Ali Abdul | Han Mi-nyeo | Ji-yeong | Lee Cheong-san | Nam On-jo | Lee Su-hyeok | Choi Nam-ra | Han Gyeong-su | Yang Dae-su | Oh Joon-yeong | Jang Wu-jin | Jang Ha-ri | Jung Min-jae | Yoo Joon-seong | Park Mi-jin | Park Sun-hwa | Nam So-ju | Song Jae-ik | Jeon Ho-cheol | Abby | Jamie Bennett | Josh Bennett | Brian Rogan | Rendell Locke | Benjamin Locke
See Also
America: The Motion Picture Heroes | Arlo the Alligator Boy Heroes | Barbie Heroes | Big Mouth Heroes | BoJack Horseman Heroes | Cowboy Bebop Heroes | Cuphead Heroes | Danger Mouse Heroes | Dinotrux Heroes | Disenchantment Heroes | DreamWorks Heroes | F is for Family Heroes | Fast and the Furious Heroes | Jurassic Park Heroes | Orange is the New Black Heroes | Sony Pictures Heroes | SpongeBob SquarePants Heroes | Squid Game Heroes | Stranger Things Heroes | Tales of Arcadia Heroes | The Adam Project Heroes | The Boss Baby Heroes | The Last Bus Heroes | The Loud House and The Casagrandes Heroes | The Mitchells vs. the Machines Heroes | Universal Studios Heroes | Vivo Heroes | Warner Bros. Heroes | Wish Dragon Heroes‎‎