✔
This hero was proposed but was rejected by the community for not being admirable enough or lacks what is necessary to be a purely good hero. Therefore, this hero shall be added to our "Never Again List", where proposed heroes rejected by the community shall be placed to prevent future proposals of the same do-gooder. They can be proposed again (with the permission of an administrator) if new elements appear in their series that can change their status as non-PG heroes.
Any act of adding this hero to the Pure Good category without a proposal or creating a proposal for this hero without the permission of an administrator will result in a ban.
Additional Notice: This template is meant for admin maintenance only. Users who misuse the template will be blocked for a week minimum.
| | | |
| --- | --- | --- |
| " | I don't see how a world that makes such wonderful things could be bad. | " |
| | ~ Ariel. | |
| | | |
| --- | --- | --- |
| " | I was singing here! | " |
| | ~ Ariel after Stitch crashed her movie. | |
| | | |
| --- | --- | --- |
| " | Sofia's amulet brought me here to help. Now, what's going on, Sofia? | " |
| | ~ Ariel after she was reinforced by Sofia. | |
| | | |
| --- | --- | --- |
| " | Of all the thingamabobs in this entire world, I never thought I'd get to wear a real... What's it called again? Oh yeah, shirt! | " |
| | ~ Ariel in Ralph Breaks the Internet. | |
Princess (later Queen) Ariel (simply known as Ariel) is the titular main protagonist of The Little Mermaid franchise.
She is the 7th, youngest daughter and mermaid princess of King Triton and Queen Athena, the love interest and later wife of Prince Eric, and the mother of Melody. She is loosely based on the nameless protagonist from the original novel by Hans Christian Andersen.
She is the protagonist of the original 1989 theatrical film The Little Mermaid and the television series of the same name, and the deuteragonist of the 2000 film The Little Mermaid II: Return to the Sea. She is also the titular protagonist of the 2008 prequel film The Little Mermaid: Ariel's Beginning.
In all of her appearances, she is voiced by Jodi Benson who also voiced Asenath, Barbie, P.J. Sparkles, Patsy Smiles, Jane Doe, Helen of Troy, Tula, Lady, Thumbelina, and Ann Darrow in The Mighty Kong in English, and by Mayumi Suzuki who is replace Mari Okonogi in Wreck-It Ralph 2 in Japanese.
In Drawn Together series, she is voiced by Tara Strong. In Robot Chicken series, she is voiced by Lake Bell. In MAD series, she is voiced by Grey DeLisle and Rachel Ramras. In the video game, she is voiced by Kathryn Haywood.
Physical appearance
Ariel is a very beautiful adolescent mermaid with an hourglass figure, fair skin, and large, deep aqua blue eyes. From childhood to her teenage years, she wore a lavender seashell bra. As a child, her lips were the same colour as her skin and as a teenager, they are bright red. Ariel's most defining feature is her long, flowing, thick, bright red hair. From the waist down, she has a green horizontal fish-like tail with sea-green scales and sea-foam green fins and a matching V-shaped waist-line resembling fish-lips. She most likely has the reproductive organs of a tropical fish. In Little Mermaid's Island, her seashell bra looks more like a strapless top that covers all of her torsi. She is also shown to be fairly tall in human form, being only a few inches shorter than Eric, himself a fairly tall human.
When Ariel becomes a human, the only article of clothing she wore was her seashell bra but wears an old sail from a shipwreck with some rope to keep it closed, fashioned by her friend, Scuttle. Being prepared for dinner, she wears a pink and white gown, silver barrettes in her hair and pearl white earrings. Getting ready for bedtime, she wears a pink nightgown. After being taken in by Prince Eric, she wears a multi-shade-of-blue dress consisting of a powder-blue blouse with long sleeves, a midnight-blue bodice, and a cobalt-blue foot-length skirt, along with black heels. She wears a big royal blue bow in her hair. After she's turned into a human once again, she wears a light blue glittering dress. After she kisses Eric and during their wedding, she wears a white wedding dress with a sparkling golden tiara on her veil.
During and after her daughter Melody's christening, she wears a gold and white dress and has her hair a low ponytail decorated with a white bow. She also wears a periwinkle gown with an up-do decorated with a golden tiara with green and white gems on her necklace and earrings during Melody's 12th birthday party with her hair being a bit shorter due to it being adjusted and pulled in a bun. She still wears the same up-do with a green peasant dress when she's on Eric's ship and a blue and white dress with light blue earrings in the song "Here on the Land and Sea" in the second movie. In one of the video games, she wears an aqua-colored gown with a matching flower on the side of her hair.
Personality
Ariel is a bright, spirited, beautiful, and vivacious young mermaid princess with a strong passion for adventure and exploration. She is very effervescent, headstrong, stubborn, and rebellious. Her tendency to explore the more mysterious depths of the ocean (or more importantly, the world beyond the ocean) can lead to an array of problems to both herself, her friends, and in the confines of her personal life - as seen through her constant confrontations with her overprotective father, King Triton. Nevertheless, Ariel's selflessness, compassion, and intuitive way of thinking often resolve such problems, as she always takes full responsibility for her actions.
In addition, regardless of whatever scary and life-threatening danger that she has been involved in, Ariel finds a way to be eternally optimistic and never lets anything evil or traumatic corrupt her or make her feel negative, although she does have her rare negative moments, overall, she is an extremely positive person. However, during her third film, Ariel grew up mostly pessimistic due to her father banning music and fun from Atlantica after her mother's death, making life around the kingdom boring and frustrating for her, and despite her trying to lighten the mood around the kingdom now and again, her father becomes extremely annoyed and forces her to stop and obey his rules.
In the end, however, she manages to change her father's ways of life and bring music and fun back to Atlantica and Ariel becomes much more optimistic and hopeful, and so does her father, her sisters, and all of her friends. Her enthusiastic nature tends to have a rather great effect on many of the people around her, including very few villains, most notably Evil Mantis' son and eventually, Evil Mantis himself. Her best friend is a fish named Flounder, and she develops a close relationship with a crab named Sebastian, the court composer.
She is also quite spontaneous and impulsive, as evidenced by her exploring whilst forgetting about the concert. However, her impulsive nature does not impact her conscience, being portrayed as being extremely suspicious, reluctant, and hesitant to do something she knows or at least suspects is morally wrong to get what she wants, as evidenced by her reluctantly going to Ursula in the film as well as her reluctance to steal her father King Triton's trident as part of a dare in the third issue of the Marvel Comics.
Ariel is also shown to be extremely compassionate and loving; more so platonically than romantically. This is most notably seen through her friendship with her closest companion, Flounder, and even her father's court composer, Sebastian who, despite being against Ariel's recklessness and overly adventurous nature, is given a considerably large amount of love and respect from the princess, which is often reciprocated. With Flounder, she is comforting and patient, as well as protective, with the tendency to risk her own life for the guppies on various occasions.
Before she met Eric, she was very rarely interested in romantic relationships, not even with any of the merman princes that Triton tried to get her to marry. The only known exception was Prince Waverly of the Pacifica Kingdom, with whom she was infatuated. After meeting Eric, however, Ariel is revealed to be a romantic (a hopeless romantic to be exact), willing to make daring sacrifices for the sake of true love. Her love for him is validated by Eric's returned selflessness and sacrificial actions for the sake of love; notably seen during the climax of the film.
She can risk everything for her love for Eric and her dreams, even if this might hurt her. She is also protective of her friends, saving them even when in doing so she endangers herself in the process, this is especially evident when she saved Flounder (who had been knocked out hard enough to render his swim bladder temporarily inoperable and sink to the ocean floor) from Glut the Shark when nearly home free from him, getting herself eaten in the process (the only thing preventing him from eating them being an anchor in its way that trapped him), as well as saving Sebastian from potentially being Grimsby's meal and attempting to tell Eric to leave her behind and save himself just before Ursula emerged as a giant. She is also shown to be very forgiving and defended even people who were unable to do so themselves or were considered bad, as evidenced by her protecting Urchin despite the latter stealing from Triton as well as her defending a bad luck creature from both her friends and enemies for its reputation and her saving Hans Christian Andersen.
Another example of her forgiving side is in the fourth issue of Disney Comics where she decided, against Sebastian's statements, to save a human whose submersible was trapped, despite knowing full well that he tried to harm her beforehand. Ariel has also shown to be usually honest, outspoken, and persuasive, but lies when she feels that she has to, whether it's to keep herself from getting into trouble with her father, to protect someone she cares about, or to fool an enemy. So when Ariel is being dishonest, fraudulent, and untrustworthy, it is normally out of selflessness much more than selfishness. Like her father, Ariel has a bad temper if she ever is provoked, although hers is not as bad as his. As well, like her father, Ariel is also a conscientious pacifist who abhors violence and never supports it as a solution to anything.
However, if she absolutely has to or if it is to protect someone she cares about from an enemy, she will not hesitate to resort to violence and she shows herself to be a fairly impressive warrior princess, almost as good and heroic as her father. But in most circumstances, she prefers to use words, logic and peaceful solutions rather than violence, unless a situation is seriously out of the question. Although spirited, even she has had some degree of self-doubts about herself, as she actually at one point considered her father might have been correct and that she may have been a freak for having any fascination for humanity. She also had a degree of seeing good in things, as she also doubted that humanity could have been pure evil from their tools and artworks. Despite her usual naivety and impulsiveness, Ariel has shown on many occasions to be serious, careful, and very intelligent and intuitive, capable of learning from her mistakes and making up for any damage that she causes.
She loves singing and music, and hates violence and evil, she is also a hopeless romantic who is fond of girly dresses. However, she is also very energetic, active, brave, and is unafraid to speak her mind. She stands up for equal rights more abrasively, she likes playing or at least watching sports, and she is not afraid to get dirty. Also, she is rarely into fashion, jewelry or matriarchy like her sisters are and really only pretties herself up on important occasions, and she can hold her own against a shark, even a great white shark.
Also, many of her friends are male and she grew up with no mother since her mother died when she was just an infant. Also, before she met Eric, she was hardly interested in romantic relationships, not even with any of the merman princes that her father King Triton tried to get her to marry (similar to how Princess Jasmine did with the Sultan). In The Little Mermaid II: Return to the Sea, Ariel greatly matures after becoming a mother. Due to the threat of Morgana, Ursula's sister, she becomes very overprotective of Melody, in the same manner, she was treated by Triton in the first film. She is shown to long for the sea, but keeps this hidden from Melody for the latter's own safety; even though it would've been easier if she had explained everything to her, she even points this out in a later scene and at the film's climax. However, her most notable trait was her deep love and fascination for humans, having desired to become human during the events of the first film, even before meeting her future husband, Eric.
However, she did not always have this trait; until she was 15 years of age, she expressed a deep fear of humans similar to Triton's prejudiced of humans, although her witnessing some humans saving a beached dolphin changed her views on the matter. Ironically, one of the people responsible for saving the dolphin was Eric, although she never knew it. Regardless of her few flaws, Ariel is very much selfless, imaginative, sweet-natured, and inspirational. She tends to make many people (even very few enemies) smile and happy when she is present, both for her outer beauty and inner beauty. Ariel's love for Eric was indeed strong, pursuing him was not her main priority before encountering him, as she initially wanted to simply live among humans and be among them.
Appearances
The Little Mermaid III: Ariel's Beginning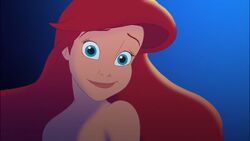 The prologue of The Little Mermaid: Ariel's Beginning shows Ariel as a 5-year-old mermaid, living happily with her father, King Triton, her mother, Queen Athena, and her six older sisters. As Ariel, her family, and many other merpeople relax, playing music in a cove to celebrate Triton and Athena's anniversary, a pirate ship approaches and everyone flees except Athena, who returns to recover a music box Triton had given her and is crushed to death by the pirate's ship. Afterwards, a devastated King Triton bans all music from Atlantica and throws the music box deep into the ocean. Ariel and her sisters grow up forgetting music and living under their father's strict rules, enforced by Marina Del Rey, their governess. Ariel meets Flounder and follows him to a secret underground club where Sebastian and his band play music. There she sings the song "I Remember", which reminds her of her distant past surrounded by love and music, and of her mother. Ariel introduces her sisters to the club, but eventually, they are caught thanks to Marina, who had followed them. Sebastian and his band are imprisoned and the club is closed under Triton's orders. After an argument with Triton, Ariel breaks the band out of prison and escapes with them. With Sebastian's assistance, Ariel finds her mother's music box and they decide to return it to Triton. On their way back to Atlantica, they encounter Marina, and a struggle ensues in which Ariel is injured, witnessed by Triton. Ariel makes a full recovery, and a remorseful Triton allows music to come back to Atlantica.
The Little Mermaid
Ariel first appears in The Little Mermaid as a 16-year-old and she is shown as being adventurous and curious about the world of humans, a fascination which angers her father King Triton, as merfolk are forbidden from making contact with the human world. She and Flounder go in search of human objects, which they take to a seagull named Scuttle for appraisal. Ariel sings "Part of Your World" in her grotto and realizes a shadow approaching over it. She goes to the surface and falls in love with a human prince named Eric after saving him from drowning, and visits the sea witch, Ursula who agrees to turn her into a human in exchange for her voice. Ariel must make Prince Eric fall in love with her and kiss her within three days, otherwise, she turn back into a mermaid and would belong to Ursula forever. Unknown to Ariel, this agreement is part of Ursula's bigger plan to trap Ariel's father, King Triton and steal his magical trident. After being transformed, she is soon found by Eric and is taken back to his castle. Ariel almost manages to obtain the "kiss of true love", but is stopped by Ursula's underhanded tactics. On the third day, Ursula transforms herself into a human woman named Vanessa and bewitches Eric to make him marry her using Ariel's voice in the process. After learning from Scuttle that Vanessa is Ursula in disguise, Ariel disrupts the wedding and regains her voice, but the sunsets as Ariel and Prince Eric are about to kiss, transforming Ariel back into a mermaid. Ursula takes Ariel back into the ocean, where she is met by King Triton and Sebastian. Triton trades himself for Ariel, enabling Ursula to claim his trident. In the battle that follows, Ariel is trapped at the bottom of a whirlpool. Before Ursula can kill her, Eric kills Ursula by ramming a derelict ship's splintered prow through her enlarged torso. At the end of the film, Ariel is transformed into a human by King Triton's magical trident and she leaves to live with Eric. Everyone in Prince Eric's kingdom is glad to see him with Princess Ariel.
Sofia the First
Ariel appeared in the special "The Floating Palace". She was the first princess to be seen twice in an episode, and the fourth princess to appear in the series, overall.
Not long before, the Sequel, She is summoned to help Sofia with her trouble of saving her mermaid friend and her family's ship in danger and sings "The Love We Share" to encourage Sofia to enlist Cora to help her save Oona. She is later seen at the end of the special by the floating palace jumping into the water.
The Little Mermaid: The series
The series set an unspecified time before the first film, depicts Ariel's adventures as a mermaid living under the sea with her father, Sebastian and Flounder. Ariel's mother is absent, having already died before the events of the series. Several episodes highlight her relationship with her friends and family, expanding upon their roles in the film. Many involve Ariel foiling the attempts of various enemies intent on harming her or her kingdom. In one episode Ariel comes across Hans Christian Andersen, author of "The Little Mermaid". In the fictionalized encounter she saves Anderson's life, inspiring him to write the story.
The Little Mermaid II: Return to the Sea
In The Little Mermaid II: Return to the Sea, Ariel appears as one of the two main deuteragonists (the other being Sebastian). She, now the new queen of King Eric's kingdom, has given birth to a daughter named Melody. When Melody's safety is threatened by Ursula's sister Morgana, Ariel and Eric decide they must keep Melody from the sea, and build a large wall to separate it from the castle.
However 12 years later, Melody's love of the sea proves too strong and she visits Morgana, who turns her into a mermaid temporarily. King Triton uses his trident to transform Ariel back into her own mermaid form to find and rescue Melody. Morgana tricks Melody into taking part in a plot to steal her grandfather King Triton's trident. Together with Tip the Penguin and Dash the Walrus she goes to Atlantica and succeeds in acquiring the trident. Ariel arrives as they return with it to Morgana, and tries to persuade Melody to give back the trident.
Morgana captures Melody, tightly wrapping her tentacle around Melody's body. She then seals her behind a block wall. Tip and Dash rescue Melody. Morgana then uses the trident's magic to force everyone to bow before her. Melody manages to grab the trident and returns it to King Triton, who then sends Morgana to the bottom of the ocean frozen in a block of ice. Triton returns Ariel to human form, the wall separating Eric's castle from the sea is torn down, and contact between humans and merfolk is restored.
Ralph Breaks the Internet
In Ralph Breaks the Internet, Ariel appears as a netizen resident of Oh My Disney. She and the other Disney princesses work as cast members that meet-and-greet net users. When Vanellope von Schweetz is confronted by First Order Stormtroopers, she glitches into the princesses' backstage room; Ariel is seen combing her hair with a dinglehopper at her vanity. The princesses mistake Vanellope for a threat, and charge at her with various weapons at hand; Ariel wields a dinglehopper. Vanellope explains that she's actually a princess, as well, prompting Pocahontas to ask what kind of princess she is. Ariel questions if Vanellope made a deal with an underwater sea witch in exchange for human legs, but to Ariel's relief, Vanellope denies it. When Jasmine asks if Vanellope has "daddy issues", she notes that she doesn't even have a mom, to which Ariel relates.
Shortly after, Ariel and Cinderella take a liking to Vanellope's casual modern attire. Cinderella asks her mice to craft comfy modern outfits for each of the princesses. Ariel dons green shorts and a violet shirt which references the colors of her mermaid form and is seen lounging between Jasmine and Belle. Ariel is overwhelmingly delighted to finally have a shirt and expresses through song that she's always dreamed of someday wearing one before Vanellope cuts her off. Vanellope questions Ariel's singing, but the other princesses explain that they've all had songs that help them express their desires. They encourage Vanellope to find her song, but the results are not very impressive. Pocahontas advises Vanellope to find some water and stare at it. Though Vanellope isn't convinced, Ariel reaffirms that it's not just water, but "important water".
During the climax of the film, Ariel and the Disney princesses spot Wreck-It Ralph falling to his doom. They rally together to rescue him. Moana summons the ocean, which Ariel dives into. She then swims upward, creating a spiral with the water. When Ariel emerges, she lands on Jasmine's magic carpet, from where Elsa freezes the water while in its spiral formation, creating a slide for Ralph to safely descend. After Ralph is safe, the princesses formally introduce themselves as friends of Vanellope as they befriend him as well.
House of Mouse
Ariel appears as a regular guest in the animated television series House of Mouse and its specials, usually sitting with Sebastian and Scuttle. Her appearance alternates irregularly between her human form and mermaid form, depending on what the situation requires. Daisy Duck seems to be a big fan of her and her films, as shown in "Daisy's Debut" and "House of Genius". In the show's Rockin' at the House of Mouse, she is seen combing her hair with a fork, like in the original film.
In the episode "Jiminy Cricket", while Jiminy Cricket is sharing his wisdom, he states, "Never sell your voice to a giant sea witch just because you have a crush on some guy, it's just not worth it." Ariel sits there looking embarrassed and ashamed, and upon hearing this, she snatches the necklace containing her voice away from Ursula, much to her anger.
Also in "Everybody Loves Mickey", Ariel wishes that Mickey could live under the sea with her.
In "House of Scrooge", she was one of many Disney characters shoved at one table as Scrooge was trying to save money.
In "Mickey and Minnie's Big Vacation", she is seen in the crowd when the Pink Elephants invade the house.
In "Salute to Sports", she is sitting next to Triton when he creates a literal wave after Mickey told the crowd to do the "wave".
In "The Mouse Who Came to Dinner", she is sitting next to Sebastian before Goofy takes him to cook for Mortimer, who was pretending to be a critic. She is later seen laughing with the rest of the audience after the crew calls him out and insults him.
In "Pluto vs. Figaro", she tried to sing on stage, although the set ended up falling on top of her due to Pluto and Figaro's antics.
In "Suddenly Hades", Pete attempted to flood the club to run out the customers, as he could shut down the club if there were no guests. Though he succeeded in flooding the club, he was stopped from closing the club as Ariel was still present.
In "Music Day", when she saw Huey, Dewey, and Louie reuniting, she waved her hands as she cheered.
Ariel was also briefly seen in "Pete's House of Villains" where she held up a sign that read "Somebody stole my voice again" since she lost her voice.
In "Ask Von Drake", Ariel is seen in Professor Von Drake's song, sitting next to a giant seashell where Ursula is hiding.
Ariel also appears in Mickey's Magical Christmas: Snowed in at the House of Mouse. In the film, Ariel, along with Eric and other characters, are snowed in and trapped inside the club. Ariel is the first to openly have faith in Mickey Mouse, who she believes will have a plan.
Other appearances
Ariel made cameos in many movies and television episodes.
"Ariel" made a cameo during in The Return of Jafar. Genie makes himself look like Ariel and appears on the top of the treasure ship of Coeur du Mer to take Jafar's Lamp and hide it from Abis Mal and Jafar.
In A Goofy Movie, Ariel is seen twice: once as a prop in Max's school auditorium and also a lamp in Goofy and Max's hotel room with her iconic colors.
In the Aladdin (TV series), Saleen at one point gave Jasmine a hairstyle resembling that of Ariel's, although she then complained that it makes Jasmine looked like "every other Princess under the sea." In the same episode, Saleen also indirectly alludes to Ariel's goal with her line "Legs? Who needs them?"
In Aladdin and the King of Thieves, Ariel made a cameo on a poster (before Jessica Rabbit and Minnie Mouse) when the Genie tried to make Jasmine happy because she was sad from Aladdin's absence.
In the 101 Dalmatians: The Series episode "Home is Where the Bark Is", Ariel's silhouette can be seen as one of the passengers of a subway train the Dalmatians ride on.
Ariel appears on the cover of a Little Mermaid book in the village scene in Tangled.
In a special trailer promoting the film Lilo & Stitch, Ariel was seen performing the reprise of "Part of Your World", when Stitch surfs a giant wave towards her, ruining the song. In anger, Ariel throws a starfish at Stitch, exclaiming "I was singing here!". Jodi Benson reprises her role in this teaser and some new animation is used.
Live-action appearances
Once Upon a Time
Main article: Ariel (Once Upon a Time)
Other roles
Live versions of Ariel also appear in Sebastian's Caribbean Jamboree, Sebastian's Party Gras, Beach Party at Walt Disney World (played by Jodi Benson), and Let's Go to Disneyland Paris.
Printed material
The Little Mermaid Disney Comics serial
Ariel was the main character in a few of the comic stories in the four-issue serial. The timeframe takes place at least a year before the film, due to Ariel being referred to as 15. The first and second issues had her disposing of a creature called the Serpentine in a failed negotiation with the Moray people. She also ended up abducted by a metallic fish in the final issue.
The Little Mermaid Marvel serial comics
She was the main character in the 12-issue Marvel serial comics that, like the TV series, took place before the events of the first film. One of the issues also had her acting as a knight. She also saved Flounder from petrification in the penultimate issue. In the final issue, after a fight with Triton, she managed to learn the history of Atlantica and Atlantis from a wizard fish. She eventually told Triton this, but when she tried to find the wizard fish, he disappeared, although not before leaving a note.
Besides the main storyline, Ariel was also featured in the 12th Issue of the anthology series Disney Comic Hits!, which had been a previously unpublished story.
Video games
The Little Mermaid (NES)
Taking place either after Eric skewered Ursula or sometime after Ariel signed her contract in an alternate version of the original story, Ariel and Eric are planning to wed, but the sea-witch Ursula (perhaps somehow resurrected) has taken control of the ocean. So Ariel becomes a mermaid once more and sets off to rescue the sea.
The game takes place from a side view and Ariel (swimming most of the time, but hopping around on the land occasionally) can shoot bubbles to trap her foes and can then throw them at each other or into nooks and crannies (to potentially find treasure). She can also dig through sand to find treasure and pick up seashells with which to break open chests. Some of her old foes, such as the shark Glut and moray eels Flotsam and Jetsam, have returned as stage bosses, while other bosses are new.
After Ursula is defeated for good, Ariel attempts to return to the surface and become human, but she cannot return to being a human. Much like in the ending of the original film, Triton then attempts to help Ariel out by transforming her back into a human, and their wedding continues as planned.
Although this game is not canon, this exact situation where Ariel had to be turned back into a mermaid would be duplicated in The Little Mermaid II where she leaves a much larger boat (Eric's lead fleet ship) rather than his rowboat as in the NES game. In addition, her bubble attack is later referenced as a spell card in Sorcerers of the Magic Kingdom.
Ariel: The Little Mermaid (Sega Genesis game)
The Genesis game features Ariel, (or Triton) on a quest to save the transformed Atlanteans, (and either Triton or Ariel, depending on whom the player chooses to play as) from Ursula's spell. This game most likely takes place before Ariel saved Eric from the shipwreck.
The gameplay allows the player to move in 8 directions, with the goal being to locate and transform Ursula's polyps back into Merfolk. The player is given a "normal attack" and "special attack". During the gameplay, the player can collect treasure, which after finding his icon, can trade with Skuttle for health, special characters, (Like Flounder and Sebastian) and special powers to aid them on their quest. After saving all the Atlanticans in a stage, the player must then face a boss, the final encounter being Ursula herself, and the transformed Triton, (or Ariel if the player chose to play as Triton), being the final polyp that must be rescued.
Kingdom Hearts
Ariel makes her series debut in Kingdom Hearts, where she encounters Sora, Donald, and Goofy for the first time during her latest phase. The young mermaid expresses her desire to see the mysterious worlds beyond the sea, though her father forbids it. Even so, she's soon manipulated by Ursula into revealing the legendary keyhole of her world in exchange for her dream come true. Fortunately, enough, Sora and friends can defeat the sea witch with Ariel's help, restoring peace and unveiling the keyhole, which Sora must lock.
Kingdom Hearts II
In the sequel Kingdom Hearts II, Ariel's dreams of traveling the worlds were put aside for the simpler dream of living upon the surface. A dream that was only pushed further upon discovering the handsome Prince Eric. With Sora, Donald, Goody, Sebastian, and Flounder by her side, Ariel challenges her struggles and makes her dream a reality, with King Triton eventually giving his blessing, like in the film, after seeing Eric risks his life for Ariel's safety at the hands of a revived Ursula. Before leaving upon opening the keyhole, however, Sora and Ariel vow that they'll see each other again.
Kingdom Hearts: Chain of Memories
Ariel would also appear in the title Kingdom Hearts: Chain of Memories, but as a fragment of Sora's memories and with a much smaller role.
Kingdom Hearts III
Ariel appears in Kingdom Hearts III as a Link summon. She has an ability called Lagoon Showtime, involving her summoned through a current of water where Sora will swing her overhead when she enters. Her initial attacks allow Sora to dive through platforms like water, while her final attack consists of Ariel and Sora entering an encore dance as water spouts from the ground akin to waterworks
Powers and Abilities
Powers
Mermaid Physiology: Ariel has several physical attributes that surpasses that of most other merpeople.

Aquapathy: Ariel is capable of speaking with aquatic fauna as she can understand and communicate with marine creatures. She even still retains this ability, even in her human form.
Superhuman Strength: As a mermaid, Ariel has strength much greater than normal humans and even certain aquatic/marine creatures.
Superhuman Durability: As a mermaid, Ariel is able to withstand immense underwater pressures. She does not retain this ability while she is in her human form.
Superhuman Speed: As a mermaid, Ariel can move amazingly fast in the water as it is known that she is the fastest mermaid in all of Atlantica. She does not retain this ability while she is in her human form.
Speed Swimming: As a mermaid, Ariel was capable of swimming much faster in terms of undersea travel or sea travel. She was able to get to Atlantica from Prince Eric's kingdom in less than a day, as well as getting from Atlantica to Norway, in a similar time fashion. She does not retain this ability while she is in her human form.
Underwater Breathing: As a mermaid, Ariel is able to metabolize oxygen from the water which negates the need to surface, although she is certainly more than capable of breathing on land. She does not retain this ability while she is in her human form.
Thermoendurance: As a mermaid, Ariel is highly resistant to extremely warm/cold temperatures and environments, as demonstrated where she went to the arctic with minimal ill effects other than feeling a bit cold, as well as when she travelled to Morgana's lair, which was located inside an iceberg, and when visiting Ursula's, which was located in a volcanic region. She does not retain this ability while she is in her human form.
Abilities
Adaptability: Ariel is capable of mastering almost any skills or gaining knowledge very quickly. After becoming a human via Ursula's magic, she was able to learn how to stand up in a few minutes, if not a few seconds and move in the same time span, even quickly figured out how to run as well as quickly learning about the human customs. Ariel can also master other skills at a much faster pace, that would take normal humans months or even years to learn. These skills include dancing, horse riding, etc., as it has only taken her a few minutes, if not a few seconds to learn.
Singing: Ariel is an excellent singer, which is a talent shared by all merpeople. She has the most beautiful voice in all of Atlantica as it is so beautiful, that even Eric had fallen in love with Ariel after only hearing her sing to him once, when she drew him to consciousness with her incredible voice after rescuing him from drowning at sea.
Dancing: Ariel is an excellent dancer, which is a talent shared by most merpeople. After becoming human via Ursula's magic, she was able to dance with Eric with admirable skill as if she had been a human for years (this is partly due to her rapid adaptability). In Ariel's mermaid form, she can dance in a fashion similar.
Expert Swimmer: As a mermaid, Ariel is an excellent swimmer. However, Ariel as a human (initially) was not very good at swimming. When Ariel became human (due to her inability to breathe underwater or swim without her mermaid tail that she was accustomed to), Flounder and Sebastian were forced to help her get to the surface, otherwise, she could drowned. However, Ariel has soon regained her swimming skills.
Expert Rider: Ariel is an excellent animal rider as she can ride giant seahorses as well as command the reigns of a carriage controlled by Triton's dolphins relatively easily. In her human form, she is able to ride horses in a similar fashion.
Vocals
5-Year old Ariel's laugh (from The Little Mermaid: Ariel's Beginning)
External Links
Trivia
Kristy Swanson, Michelle Nicastro, Debbie Harry, Samantha Mathis, and Meg Ryan were considered for the role of Ariel.
Ariel is the only Disney Princess to not be born as a human and the only one to be a mythical creature.
Ariel is one of the most popular Disney Princesses (if not the most popular Disney Princess) probably because she was the only one not being born a human or because of her adventurous, rebellious and bubbly personality.
Ariel is the only Disney Princess to become a mother.
Many fans consider Ariel to be Disney's most beautiful princess due to her colorful and exotic features.
In Hebrew, Ariel translates to English as "lion of God".
Ariel is the first Disney Princess to have red hair, the second being Merida.
Ariel is the first Disney Princess to bare her midriff, the second being Jasmine, and the third being Kida (although she is not an official Disney Princess since her movie failed in the box office).
She is the first Disney Princess to physically fight the villain of her movie.
Ariel is the first Disney Princess to have magical powers, the second being Pocahontas, the third being Rapunzel, and the fourth being Queen Elsa.

She is also arguably the physically strongest of all of the Disney Princesses, with Rapunzel being a very close challenge for her.

Ariel is the first Disney Princess to have biological siblings, the second being Merida, and the third and fourth being Anna and Elsa.
Ariel is the only one out of her sisters, as a mermaid, to not wear hair accessories, save for the occasional sea flower.
Ariel is the fourth youngest Disney Princess, with Jasmine being the third youngest, Aurora being the second youngest, and Snow White being the youngest.
Ariel has the most songs sung by any Disney movie character, although she only has one song in her original movie (not counting the reprise).
Ariel is the first Disney Princess to save her prince.
Ariel is the only Disney Princess to know sign language.
Ariel is the first rebellious Disney Princess.
Ariel is the first tomboy Disney Princess, the second being Jasmine, the third being Pocahontas, the fourth being Mulan, the fifth being Rapunzel, the sixth being Merida, and the seventh being Anna. However, all of them have girly traits as well, some more than others.
Out of all of the Disney Princesses in the line-up, Ariel is mostly seen with Jasmine, Belle and Rapunzel.
1941 concept art of the original idea of The Little Mermaid (before shelved) shows Ariel with long black hair and a bluish or greenish tail. It was also much closer to the original story. This artwork was done by Kay Nielsen.
In some foreign-language versions of the film, her name is in the title.
A theory among Disney fans is that Ariel (alongside her sister and her father King Triton) are related to Hercules. Ariel's grandfather is confirmed to be Poseidon, whose brother is Zeus , whose son is Hercules. However, it is not confirmed whether or not the Disney incarnation of Poseidon from Hercules is in fact related to Ariel or her father, let alone the fact that The Little Mermaid is set roughly 3000 years after Hercules. This can however be countered by the fact King Triton is also a god, and is thus immortal.
Heroes
Animated Features
Snow White | Seven Dwarfs (Doc, Bashful, Grumpy, Happy, Sleepy, Sneezy & Dopey) | The Prince | Huntsman | Pinocchio | Jiminy Cricket | Gepetto | Blue Fairy | Figaro | Cleo | Madame Upanova | Hyacinth Hippo | Ben Ali Gator | Dumbo | Timothy Q. Mouse | The Crows | Mrs. Jumbo | Bambi | Thumper | Flower | Faline | Bambi's Mother | Great Prince of the Forest | Friend Owl | José Carioca | Panchito Pistoles | Willie the Whale | Bongo the Bear | Lulubelle | Willie | Mr. J. Thaddeus Toad | Water Rat | Angus McBadger | Pecos Bill | Slue-Foot Sue | Ichabod Crane | Katrina Van Tassel | Cinderella | Jaq and Gus | Anastasia Tremaine | Fairy Godmother | Prince Charming | Bruno | The King | Grand Duke | Alice Liddell | White Rabbit | Peter Pan | Tinker Bell | Wendy Darling | John Darling | Michael Darling | Tick-Tock the Crocodile | Nana | Lady | Tramp | Jock | Trusty | Annette, Collette and Danielle | Aurora | Prince Phillip | Flora | Fauna | Merryweather | King Stefan | Queen Leah | King Hubert | Forest Animals | Pongo | Perdita | Roger Radcliffe | Anita Radcliffe | Nanny | Lucky | Patch | Rolly | Colonel | Sergeant Tibbs | Captain | Arthur Pendragon | Merlin | Mowgli | Baloo | Bagheera | King Louie | Colonel Haiti | Shanti | Winifred | Rama | Vultures | Raksha | Duchess | Thomas O'Malley | Marie | Toulouse | Berlioz | Scat Cat | Abigail and Amelia Gabble | Waldo | Frou-Frou | Roquefort | Robin Hood | Little John | Maid Marian | Friar Tuck | Lady Kluck | Alan-A-Dale | King Richard | Toby Turtle | Winnie the Pooh | Tigger | Piglet | Eeyore | Rabbit | Owl | Kanga | Roo | Christopher Robin | Gopher | Bernard | Bianca | Penny | Orville | Evinrude | Tod | Copper | Big Mama | Dinky and Boomer | Vixey | Widow Tweed | Tod's mother | Taran | Gurgi | Elionwy | Fflewddur Fflam | Basil of Baker Street | Dr. David Q. Dawson | Olivia Flaversham | Toby | Hiram Flaversham | Oliver | Dodger | Tito | Rita | Francis | Einstein | Fagin | Jenny Foxworth | Georgette | Winston | Ariel | Eric | Sebastian | Flounder | Scuttle | King Triton | King Triton's Daughters (Attina, Alana, Adella, Aquata, Arista, & Andrina) | Max | Cody | Jake | Marahute | Wilbur | Frank | Belle | Beast | Lumière | Cogsworth | Mrs. Potts | Chip Potts | Fifi | Maurice | Aladdin | Jasmine | Genie | Magic Carpet | Abu | Rajah | Iago | Razoul | The Sultan | Simba | Mufasa | Nala | Timon | Pumbaa | Rafiki | Zazu | Sarabi | Sarafina | Pocahontas | John Smith | Meeko | Flit | Grandmother Willow | Percy | Thomas | Nakoma | Chief Powhatan | Quasimodo | Esmeralda | Captain Phoebus | Victor, Hugo, & Laverne | Djali | Clopin | Hercules | Megara | Pegasus | Philoctetes | Zeus | Hera | Hermes | Olympian Gods (Posidon, Aphrodite, Apollo) | Muses | Fa Mulan | Mushu | Li Shang | Cri-Kee | Grandmother Fa | Yao, Ling, and Chien Po | Khan | Ancestors | The Emperor of China | Tarzan | Jane Porter | Terk | Tantor | Kala | Archimedes Q. Porter | Kerchak | Baboons | Whales | Tin Soldier | Ballerina | Yo Yo Flamingo | Spring Sprite | Aladar | Plio | Zini | Yar | Suri | Neera | Eema | Baylene | Url | Bruton | Emperor Kuzco | Pacha | Kronk | Milo James Thatch | Kida | Dr. Joshua Sweet | Vincenzo Santorini | Gaetan Moliére | Audrey Ramirez | Cookie | Wilhelmina Packard | Preston B. Whitmore | Stitch | Lilo Pelekai | Nani Pelekai | Jumba Jookiba | Captain Gantu | Pleakley | David Kawena | Cobra Bubbles | Grand Councilwoman | Mertle Edmonds | Jim Hawkins | John Silver | Dr. Doppler | Captain Amelia | Morph | B.E.N. | Kenai | Denahi | Sitka | Koda | Rutt and Tuke | Maggie | Grace | Mrs. Calloway | Buck | Lucky Jack | Chicken Little | Abby Mallard | Runt of the Litter | Fish Out of Water | Buck Cluck | Lewis | Wilbur Robinson | Franny Robinson | Lefty | Bolt | Mittens | Rhino | Penny | Tiana | Prince Naveen | Louis | Ray | Charlotte La Bouff | Eli "Big Daddy" La Bouff | Mama Odie | Juju | Evangeline | Rapunzel | Flynn Rider | Pascal | Maximus | Wreck-It Ralph | Vanellope von Schweetz | Fix-It Felix, Jr. | Sergeant Calhoun | Queen Anna | Queen Elsa | Kristoff | Olaf | Sven | Hiro Hamada | Baymax | Honey Lemon | GoGo Tomago | Wasabi | Fred | Tadashi Hamada | Cass Hamada | Alistair Krei | Judy Hopps | Nick Wilde | Chief Bogo | Mr. Big | Moana Waialiki | Maui | Grandma Tala | Chief Tui | Ocean | Heihei | Te Fiti | Yesss | Shank | J.P. Spamley | Gord | KnowsMore | Lieutenant Mattias | Yelana | Honeymaren Natura | Ryder Nattura | Bruni | Gale | The Nokk | Raya | Sisu | Boun | Noi | Tong | Ongis | Tuk Tuk | Chief Benja
Live-Action Movies
Marnie Piper | Aggie Cromwell | Gwen Piper | Dylan Piper | Sophie Piper | Long John Silver | Perri | Travis Coates | Old Yeller | Nikki | Neewa | Big Red | Blackbeard | Herbie | Chico | Goodtime Charlie | Dexter Reilly | Wahb | Moki | Miss Eglantine Price | Theodore and Amos | Pete | Elliott | Nora | Zunar-J-5/9 Doric-4-7 | Frank Wilson | Popeye | Olive Oyl | Kevin Flynn | Alan Bradley | Dorothy Gale | Princess Ozma | Jack Pumpkinhead | Billina | Tik-Tok | The Gump | Wolf | Benji | Cougar cubs | Mother Cougar | Jim Craig | Roger Rabbit | Eddie Valiant | Jessica Rabbit | Benny the Cab | Ted Johnson | Susan Johnson | Morogo | Duma | White Fang | Jack Convoy | Henry Casey | Buck | Cliff Secord | Jenny Blake | Gordon Bombay | Wayne Szalinski | Max Dennison | Dani Dennison | Allison | Thackery Binx | Tom Sawyer | Huckleberry Finn | Aramis | Athos | D'Artagnan | Porthos | George Knox | Scott Calvin | Charlie Calvin | Shadow | Chance | Sassy | Shere Khan | James Henry Trotter | Mr. Centipede | Mr. Grasshopper | Earthworm | Mrs. Ladybug | Miss Spider | The Glowworm | George of the Jungle | Ursula Stanhope | Ape | Phillip Brainard | Sara Jean Reynolds | Mr. Magoo | Nick Parker | Annie James | Nick Parker | Elizabeth James | Mighty Joe Young | Jill Young | Gregg O'Hara | Martin | Inspector Gadget | Penny Gadget | Brain | Dr. Brenda Bradford | Mia Thermopolis | Max Keeble | Megan | Robe | Carol Newman-Calvin | Stanley Yelnats IV | Zero | Captain Jack Sparrow | Joshamee Gibbs | Will Turner | Elizabeth Swann | Hector Barbossa | James Norrington | Jim Evers | Sarah Evers | Madame Leota | Emma | Anna Coleman | Phileas Fogg | Inspector Fix | Ben Gates | Riley Poole | Abigail Chase | Shane Wolfe | Zoe Plummer | Lulu Plummer | Will Stronghold | Layla Williams | Warren Peace | Zach | Ethan | Magenta | Ron Wilson | The Commander | Jetstream | Freeze Girl | Principal Powers | Coach Boomer | Jonathan Boy | Peter Pevensie | Susan Pevensie | Edmund Pevensie | Lucy Pevensie | Aslan | Mr. Beaver | Dave Douglas | Jess Aarons | Leslie Burke | Giselle | Robert Philip | Prince Edward | Pip | Nathaniel | Underdog | Sweet Polly Purebred | Skeeter Bronson | Darwin | Blaster | Hurley | Juarez | Mooch | Bucky | Alice Kingsleigh | Mad Hatter | White Queen | Bandersnatch | Prince Dastan | Princess Tamina | Sheik Amar | Dave Stutler | Balthazar Blake | Balthazar's Eagle | Kevin Flynn | Sam Flynn | John Carter | Troy Bolton | Sharpay Evans | Ryan Evans | Gabriella Montez | Chad Danforth | Taylor McKessie | The Lone Ranger | Tonto | Oscar Diggs | Glinda the Good Witch of the South | China Girl | Maleficent (2014) | Diaval | Aurora (2014) | Prince Phillip (2014) | Knotgrass, Flittle and Thistlewit | The Baker | Cinderella | Rapunzel | Little Red Riding Hood | Cinderella (2015) | Prince Charming (2015) | Anastasia Tremaine (2015) | Mice (2015) | Fairy Godmother (2015) | Jaq and Gus (2015) | Lizard Footmen | Mr. Goose | Casey Newton | Frank Walker | Athena | Mowgli (2016) | Bagheera (2016) | Baloo (2016) | Raksha (2016) | Akela (2016) | The BFG | Sophie | Pete (2016) | Elliott (2016) | Grace Meacham | Mr. Meacham | Natalie Magary | Gavin Magary | Jack Magary | Belle (2017) | Beast (2017) | Maurice (2017) | LeFou (2017) | Lumière (2017) | Cogsworth (2017) | Mrs. Potts (2017) | Chip Potts (2017) | Christopher Robin (2018) | Winnie the Pooh (2018) | Madeline Robin | Evelyn Robin | Eeyore (2018) | Tigger (2018) | Piglet (2018) | Giles Winslow Sr. | Clara Stahlbaum | Phillip Hoffman | Mother Ginger | Mouse King | Dumbo (2019) | Holt Farrier | Milly and Joe Farrier | Max Medici | Colette Marchant | Aladdin (2019) | Jasmine (2019) | Genie (2019) | Magic Carpet (2019) | Abu (2019) | Rajah (2019) | Dalia | The Sultan (2019) | Simba (2019) | Mufasa (2019) | Nala (2019) | Timon (2019) | Pumbaa (2019) | Rafiki (2019) | Zazu (2019) | Sarabi (2019) | Sarafina (2019) | Conall | Borra | King John | Lady (2019) | Tramp (2019) | Jock (2019) | Trusty (2019) | Artemis Fowl | Holly Short | Juliet Butler | Mulch Diggums | Domovoi "Dom" Butler | Foaly | Commander Julius Root | Ivan | Bob | Stella | Ruby | Snickers | Henrietta | Murphy | Frankie | Thelma | Hua Mulan | Commander Tung | Chen Honghui | Yao, Ling and Chien Po | Emperor of China | Flora Buckman | Cruella De Vil (2021) | Jasper and Horace (2021) | Buddy | Wink | Anita Darling | Artie | John | Frank Wolff | Lily Houghton | Lily Houghton | MacGregor Houghton
Other Animated Movies
Br'er Rabbit | Toaster | Blanky | Kirby | Lampy | Radio | Jack Skellington | Sally | Zero | Mayor of Halloween Town | Santa Claus | Valiant | Bugsy | Lofty | Toughwood & Tailfeather | Mercury | Victoria | Wing Commander Gutsy | Sergeant Monty | Charles de Girl | Rollo | Samson | Benny | Bridget | Nigel | Larry | Ryan | Blag | Cloak & Camo | Stan & Carmine | Silvermist | Rosetta | Fawn | Iridessa | Bobble and Clank | Terence | Ebenezer Scrooge | Milo | Gribble | Ki | Milo's Mother | Victor Frankenstein | Sparky | Elsa Van Helsing | Dusty Crophopper | Dottie | Skipper Riley | Sparky | El Chupacabra | Vidia | Lizzy | Periwinkle | Zarina | Gruff | Marianne | Dawn | Sunny | Bog King
Sequels
Ethan Dalloway | Cassim | Angelique | Fife | John Rolfe | Uttamatomakkin | Kiara | Kovu | Vitani | Ratso | Murgatroid the Snake | Melody | Tip and Dash | Sylvia Marpole | Scamp | Angel | Baker | Madellaine | Zephyr | Prudence | Jane | Ranjan | Messua | Ranjan's Father | Sparky | Reuben | Thunderbolt | Lars | Ting-Ting, Su, and Mei | Zugor | Cash | Atka | Dixie | Granny Rose | Waylon and Floyd | Queen Athena | Blade Ranger | Maru | Windlifter
Shorts, TV Shows, Comics and Video Games
Pete | Oswald the Lucky Rabbit | Mickey Mouse | Minnie Mouse | Horace Horsecollar | Pluto | Goofy | Donald Duck | Daisy Duck | Ludwig Von Drake | Scrooge McDuck | Huey, Dewey, and Louie | Mortimer Mouse | Chip and Dale | Max Goof | Gladstone Gander | Fethry Duck | Gruffi Gummi | Zummi Gummi | Grammi Gummi | Cubbi Gummi | Sunni Gummi | Tummi Gummi | Gusto Gummi | Cavin | Princess Calla | King Gregor | Sir Tuxford | Sir Gawain | Sir Victor | Princess Marie | Aquarianne | Kessie | Wooster | Nasty Jack | Bruno | Gyro Gearloose | Launchpad McQuack | Webby Vanderquack | Bentina Beakley | April, May and June | Darkwing Duck | Gosalyn Mallard | Monker Muddlefoot | Mona | Morgana Macawber | Pistol Pete | Peg Pete | P.J. | Kit Cloudkicker | Rebecca Cunningham | Chiro | Jinmay | Cassandra | Lance Strongbow | Adira | Varian | Kiera and Catalina | Gabriella | Spot the Killer Whale | Urchin | Sora | Kairi | Riku | Aqua | Terra (Lingering Will) | Ventus | Organization XIII | (Axel | Xion | Roxas | Vexen) | Lea | Ienzo | Zak William Lake | Lauriam | Elrena | Strelitzia | Naminé | Riku Replica | Ansem the Wise | Master Eraqus | Spirit Dream Eaters | Data-Naminé | Data-Riku | Data-Roxas | Data-Sora
See Also
101 Dalmatians Heroes | 20th Century Studios Heroes | A Bug's Life Heroes | A Twisted Tale Heroes | Aladdin Heroes | Amphibia Heroes | Atlantis Heroes | Beauty and the Beast Heroes | Big Hero 6 Heroes | Buena Vista International Heroes | Buzz Lightyear of Star Command Heroes | Cars Heroes | Disney Fairies Heroes | Disney Junior Heroes | Disney Prince | Disney Princesses | DuckTales Heroes | Encanto Heroes | Finding Nemo Heroes | Fish Hooks Heroes | Frozen Heroes | Gargoyles Heroes | Gravity Falls Heroes | Hercules Heroes | Incredibles Heroes | Inside Out Heroes | Kim Possible Heroes | Kingdom Hearts Heroes | Lilo & Stitch Heroes | Luca Heroes | Marvel Cinematic Universe Heroes | Milo Murphy's Law Heroes | Monsters, Inc. Heroes | Mulan Heroes | Muppet Heroes | Narnia Heroes | Onward Heroes | Peter Pan Heroes | Phineas and Ferb Heroes | Pirates of the Caribbean Heroes | Pixar Heroes | Ratatouille Heroes | Raya and the Last Dragon Heroes | Recess Heroes | Soul Heroes | Star Wars Heroes | Star vs. the Forces of Evil Heroes | Tarzan Heroes | The Hunchback of Notre Dame Heroes | The Jungle Book Heroes | The Lion King Heroes | The Little Mermaid Heroes | The Princess and the Frog Heroes | The Owl House Heroes | Toy Story Heroes | Treasure Planet Heroes | Turning Red Heroes | Wander Over Yonder Heroes | Winnie the Pooh Heroes | Wreck-It Ralph Heroes | X-Men Movie Heroes | Yin Yang Yo! Heroes | Zootopia Heroes
Heroes
Movies
The Little Mermaid: Ariel | Flounder | Sebastian | King Triton | Scuttle | Prince Eric | King Triton's Daughters (Attina, Alana, Adella, Aquata, Arista, Andrina) | Max | Grimsby | Carlotta
Return to the Sea: Melody | Tip and Dash | Ariel | Prince Eric | Sebastian | Flounder | King Triton | Scuttle | Max
Ariel's Beginning: Ariel | Sebastian | Flounder | King Triton | King Triton's Daughters (Attina, Alana, Adella, Aquata, Arista, Andrina) | Queen Athena | Benjamin | Ink Spot
Television
Urchin | Gabriella | Ollie | Dudley | Pearl | Spot the Killer Whale
Heroes
The Arcade
Wreck-It Ralph | Vanellope von Schweetz | Fix-It Felix, Jr. | Sergeant Calhoun | Sour Bill | Wynnchel and Duncan | Q*bert
Sugar Rush Racers
Taffyta Muttonfudge | Rancis Fluggerbutter | Candlehead
Internet
Shank | Yesss | J.P. Spamley | Gord | KnowsMore
Video game characters
Sonic the Hedgehog | Miles "Tails" Prower | Bowser | Zangief | Ryu | Ken Masters | Chun-Li | Guile | Blanka | Cammy White | Gene | Tapper | Frogger | Pac-Man
Disney characters
Grumpy | Bambi | Mickey Mouse | Eeyore | Dumbo | Simba | Tinker Bell | Disney Princesses (Snow White, Cinderella, Aurora, Ariel, Belle, Jasmine, Pocahontas, Mulan, Tiana, Rapunzel, Elsa, Anna, Merida, Moana Waialiki) Mushu | Rajah | Pascal | Jaq and Gus | Marie | Nani Pelekai | Lilo Pelekai | Prince Naveen | Stitch | Judy Hopps | Nick Wilde | Quasimodo