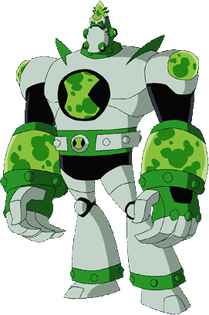 Atomix is the Onmitrix's DNA sample of an unknown species from an unknown planet. He talks like a stereotypical superhero and with a British accent.
Appearance
Atomix has a humanoid robotic appearance. He has a green and white body. He has large cylinders on his arms, near his wrists, that are full of a green energy with dark green bubble-like spheres, and these spheres constantly move on Atomix. He has the same energy on his Omnitrix-shaped chest. His mouth doesn't move when he talks and his head is a pointed, armored helmet.
Atomix wears the Omnitrix symbol on his green and white belt.
Powers and Abilities
Nucleokinesis: Atomix has the ability to generate and manipulate nuclear energy. He can also infuse this energy into his physical attacks for added power.

Nuclear Blasts: Atomix can create small but powerful nuclear blasts. He was able to create a nuclear blast powerful enough to send Ultimate Humungousaur down 6 stories.
Heat Generation: Atomix can emit enough heat from himself to melt Ultimate Spidermonkey's webbing.
Nuclear Winner: A technique which involves Atomix unleashing a massive energy blast that could easily destroy the surrounding area as well as defeat Ultimate Spidermonkey.
Fusion Cuisine: A technique which involves Atomix generating a miniature sun which generates enough light to destroy Zs'Skayr who had been able to survive the amount of light generated by NRG's true form.

Flight: Atomix naturally flies.
Enhanced Strength: Atomix was able to easily overpower Ultimate Humungousaur in raw power, being able to send him flying with one punch.
Fissile Wissle: An attack which causes Atomix to ram into his opponent at high speeds. Atomix was able to break into the Rooters' base using this technique.
Enhanced Durability: Atomix tanked being hit with enough force to send him flying from Galvan B to Vilgax's Chimerian Hammer.
Weaknesses
Despite his great power Atomix has a weakness, for instance if he uses too much energy he will not be as effective in battle.
Gallery