Arcane: League of Legends - The Loop
Play Sound



Click To Help Kirby!

This stub is making Kirby hungry with its lack of substance.
This article or section is a stub. You can help the Heroes Wiki by expanding it!

What are you waiting for? GO!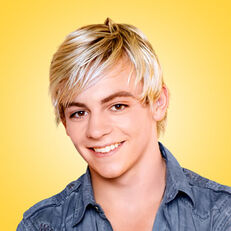 Austin Monica Moon is the protagonist of Austin & Ally. He is a 17-year-old aspiring singer who became an overnight teen internet singing sensation when he uploaded a video of himself singing Double Take, written by Ally, and shot by Dez. He struggles to maintain his new-found stardom. His best friends are Dez and Ally. His parents are Mimi Moon and Mike Moon. He is portrayed by Ross Lynch. He is the husband to Ally Dawson.
Personality
Austin is outgoing, super talented, and somewhat naive, but often nice. He can sing, dance, and play all sorts of instruments. Overnight, he becomes an internet sensation by singing one of Ally's songs in a music video directed by Dez. With his friends' help, Austin is following his dream of making it in the music business and so is Ally. Austin sings the songs that Ally writes for him. He is shown to be a slight airhead. He also seems to love stuffed animals. As well, as very calm, cool and collected, more of a fun person, who doesn't care about rules (demonstrated when he colors outside of the lines in a coloring book). He's also shown to be quite caring, and quite a brave person.