✘
---
This page was marked for deletion because it has little to no content at all. If you think it shouldn't be deleted, please comment in its talk page.
---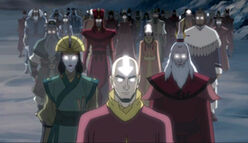 The Avatars
are bending arts masters who are chosen by the Gods and are the only bender who can master all four elements. A bender was native from either The
Air Temple
,
Fire Nation
,
Water Tribe
or
Earth Kingdom
. Which ever nation they're indigenous to already know that element and must travel to the other 3 nations to learn the other elements. The current Avatar
Aang
who was The Last Airbender was destined to restore balance to the world by defeating The Fire Lord.
They many afters like Avatar roku and later sometime after the events of Avatar the last Airbender Korra the titular character from the Legend of Korra series is now the current avatar.
Community content is available under
CC-BY-SA
unless otherwise noted.