✔
This hero was proposed but was rejected by the community for not being admirable enough or lacks what is necessary to be a purely good hero. Therefore, this hero shall be added to our "Never Again List", where proposed heroes rejected by the community shall be placed to prevent future proposals of the same do-gooder. They can be proposed again (with the permission of an administrator) if new elements appear in their series that can change their status as non-PG heroes.
Any act of adding this hero to the Pure Good category without a proposal or creating a proposal for this hero without the permission of an administrator will result in a ban.
Additional Notice: This template is meant for admin maintenance only. Users who misuse the template will be blocked for a week minimum.
| | | |
| --- | --- | --- |
| " | Mother, look! What's all that white stuff? | " |
| | ~ Bambi | |
| | | |
| --- | --- | --- |
| " | Hello, Friend owl. Don't you... remember me? | " |
| | ~ Bambi as a young adult | |
Bambi is the titular main protagonist of the 1942 Disney film of the same name and its 2006 midquel Bambi II. A deer living in an animal forest, he's best friends with Thumper (a rabbit) and Flower (a skunk). However, he was closest to his mother, who was shot on his first winter. Raised into a buck by his father, the Great Prince of the Forest, he falls in love with his childhood friend (cousin in the original book) and love interest, then mate Faline, and they end up, later on, having two fawns - a son and daughter named Geno and Gurri.
Bambi originated as the main character in Felix Salten's Bambi, A Life in the Woods. He has made cameos in several Disney cartoons. In the Disney films, his species was changed from the roe deer to the white-tailed deer, which would be more familiar to American audiences. His image is a Disney icon comparable in recognition factors to Mickey Mouse and he is even shown on Disney stock certificates. He appears as a summon character in Kingdom Hearts, and as one of the guests in House of Mouse. He also makes cameo appearances in Who Framed Roger Rabbit and The Lion King 1½, plus a brief appearance in The Rescuers.
Bambi was voiced by Bobby Stewart in the first film and Alexander Gould (who also voiced Nemo) in the midquel as a fawn, and Hardie Albright as a teenager and young buck in the first film.
Background
Personality
Bambi is not very strongly characterized. This was one of the film's key strengths as an environmental film, the point because Bambi---as with most of his friends---is similar to any deer in any forest. In his early youth, Bambi has the full measure of charm that many young mammals display, with his wide eyes, spindly legs, curious nature and a good cute voice. As he grows he gradually becomes more mature, but even in young adulthood he always seems a very young buck, with a graceful build and a fairly naïve, shy nature. He was nicer than his mean rival, Ronno, who was jealous of poor Bambi. When he had two fawns, Geno and Gurri, he was a carefree father, happy and sweet to his children.
In Bambi 2, after his mother's death, Bambi have develop more personality and was no longer curious as a very young fawn or childlike, He seem to be much older fawn, yet Bambi still remains gentle, sweet, innocent and fun-loving, He still recalls the memories of his younger fawn days with his mother and all the lessons he learn from her as well recalling the memories of faline when he first her. He is shown to be spiritual as facing danger and adventure. Bambi has develpop romantic feelings toward Faline, but still remain shy where greeting, Bambi try to impress his childhood friend tha his spots are almost gone and his antlers are gowing (even though they not). After beig pricked by a porcupine, Faline worry if was hurt and check on him, but Bambi believe that she will laught at him. When Ronno try to force Faline to come with him, Bambi tries to stood up for her by telling his rival to leave her alone. Bambi become brave, heroic and selfless from the lessons he have learn from his father and his friends.
Physical appearance
As a fawn, Bambi had a fur coat of safety orange and wheat spots and underbelly with a brown stripe that ran from his head down to his tail. He had brown hooves and wide red eyes. He had a large head with fuzz on it.
When becoming a teenager, Bambi remains the same except he no longer has spots and has budding antlers.
When a young adult, Bambi has brown fur and has antlers with 2 points. His eyes change from red to brown as well.
Appearances
Bambi
In the first film, the chronology of Bambi's life from birth to young adulthood is showcased. At his birth, all the inhabitants of the forest gather to greet the new prince with open arms. Among them are Friend Owl (who acts as an adviser to Bambi's father, the Great Prince of the Forest), and Thumper.
As the months go by, Bambi creates bonds with Thumper and a bashful skunk by the name of Flower, forming a strong trio. He also builds a weak friendship with Faline, a fawn who he fell in love with, despite being disgusted by her at first glance because of her overly bubbly personality. Aside from friendships and romance, Bambi's primary concern is his mother, who he loves deeply, often learning life lessons that stick with the young prince. One of those lessons involve being conscious of "Man"; the forest's most feared enemy. Man is known for being a ruthless hunter, killing animals for the sake of sport, having no regards for anything else. One day, while out during the winter, Bambi's mother is killed by Man; though the young deer manages to escape before he falls victim, as well. Without a parent to care for him, the Great Prince of the Forest arrives and raises Bambi himself, tragically confessing the loss of his mother and taking him from his old home.
A few years later, Bambi grew into a strong young adult buck, dashing, but still as shy and somewhat clumsy as ever. He retains his friendship with Thumper and Flower and, as predicted, falls in love with Faline; or as Friend Owl likes to put it; becomes "Twitterpated". Now experiencing true love for the first time, Bambi began his life with Faline as his mate, exploring the forest together, proclaiming their love, and battling a vicious buck named Ronno for her affections, eventually coming out victorious. This also signifies dominance and maturity on Bambi's part, which comes in use, as he's slated to take the role as Great Prince of the Forest, following his father's footsteps.
With life seeming as peaceful as ever, Man returns to the forest with more men and with a pack of bloodthirsty dogs. Several forest dwellers are killed by the invasion and Faline is attacked, but was rescued by Bambi before it's too late. Even so, back at Man's camp, a fire accidentally breaks loose, setting the forest ablaze. Bambi and his father rush through the woodlands to escape the devastation as the other creatures do the same, finding a small island off shore of the forest where they're sheltered until things settle down. And although they barely survive, Bambi and the Great Prince manage to escape the catastrophe, as well.
Some time after the forest's restoration, Bambi, now ruling the lands alongside his father, watches the light of the sun as Faline gives birth to two young fawns, causing a celebration echoing Bambi's birth and ushering in a new chapter for the prince and his forest.
Bambi II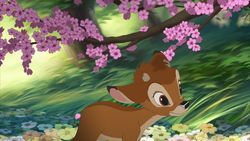 In Bambi II, Bambi is much more distinctly personalized. In this film, which fills in the gap between the death of his mother and when he was next shown as a young adult, Bambi finds himself faced with a number of challenges. First, there is the death of his mother and his consequential move to live with his father, the Great Prince of the Forest. Connecting with that, there is the fact that his father has no knowledge of raising children and is reluctant and slow to learn. In addition, Bambi begins to develop romantic feelings for Faline, and comes into conflict with his present and future rival, Ronno.
Throughout all of this, he shows much more personality than he did in the first film. Whereas before he essentially followed life where it led him, now he grabs life by the horns in one attempt after another to bond with and impress his father. In the first film, Bambi's status as the young prince had little impact on the flow of the story. But now his rank becomes a key part of the situation as he sets out to prove to himself and others, most of all his dad, that he deserves to be prince and can live up to his father's name.
Close to the end of the film, Bambi has lost his spots and starts to grow antlers, and gets prickled by a porcupine he encountered earlier and kisses Faline. He then leaves with the Great Prince who takes him to the meadow where he and Bambi's mother first met as children.
Perri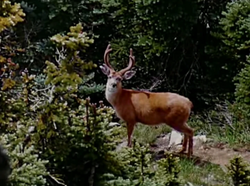 In the 1957 live-action True Life Fantasy film based on another book by Felix Salten, Bambi makes a cameo appearance. While Perri explores the world from below the trees, she stumbles upon a live deer with his fawns, which the narrator identifies as being Bambi. Bambi looks up at Perri and disappears behind the trees. One of Bambi's children is seen drinking at the brook and Perri happily introduces herself until they're alerted by a flock of crows.
Kingdom Hearts
Bambi's unnamed (as of yet) world was destroyed by the Heartless. However, the strong sense of courage, innocence and purity in the young fawn's heart allowed it to be preserved in the form of the Naturespark Gem. It somehow ended up in a torn page in the 100 Acre Wood.
After Sora finds this item in the Hundred Acre Wood and takes it to the Fairy Godmother, she restores Bambi's spirit and Sora gains the ability to summon him in battle.
After sealing Kingdom Hearts, Bambi returns to his world and keeps his memories of his time as a Summon (hinted by Mushu and Simba knowing the trio while they were Summons).
Bambi's role in battle is to prance about the area, dropping huge amounts of MP orbs by hopping around the area. Any enemy defeated while Bambi is summoned drops more orbs than usual. Also, the more enemies Sora defeats while Bambi is summoned, the more orbs Bambi drops. If a certain amount of enemies are defeated while Bambi is in play, Bambi will make a great leap and drop a special item, usually mega-potions and elixers.
Despite being warned of humans before his world was destroyed, Bambi already becomes Sora's friend as expressed on his cheerful expression and reaction to the Keyblade Wielder's summoning. Bambi dances around Sora, then approaches him, and allows the boy to pet him on his head before continuing to assist Sora in a battle.
Cameos
.
Bambi and his mother make a brief cameo in the Donald Duck short No Hunting.
In The Rescuers during the song "Someone's Waiting For You", Bambi is seen eating the grass in Devil's Bayou with his mother.
In Who Framed Roger Rabbit, he has a cameo appearance during the final scene with the other Disney and non-Disney characters.
Bambi received numerous cameos in the series often seen with Thumper and Flower in House of Mouse. In the episode "Dining Goofy", he seemed to be unamused with the fact that he was seated with Big Bad Wolf. His only speaking role is the episode "Mickey vs. Shelby". In the film Mickey's Magical Christmas, Bambi was seen singing during the ending song, and in Mickey's House of Villains, Bambi was seen walking, next to Piglet, with the Disney Villains in the opening only.
In The Reluctant Dragon, Doris presents a completed cel of the titular character at the the ink-and-paint department during a Technicolor-showcasing montage of the paint-making process.
Disney Parks
Like most characters from the film, Bambi makes no live appearances in the parks but being one of Disney's most iconic characters, can be seen in several shows and merchandise. During the Epcot Flower and Garden Festival, Bambi has his own exhibit and topiary.
World of Color
In Disney California Adventure, Bambi was briefly seen during the So Close segment with Flower and Faline. He also appears in a segment of the winter rendition "Winter Dreams", with his friend Thumper.
It's a Small World
In Hong Kong Disneyland's version of the ride, Bambi was seen alongside Thumper as a puppet.
Fantasmic!
Bambi makes a somewhat notable cameo in Disney's Hollywood Studios' version during the bubble sequence.
Relationships
Quotes
Bambi
"Twitterpated?"
"Terrible!"
"Me neither."
"Faline!"
"What happened, Mother? Why did we all run?"
"Mother! Mother!"
"Whatcha wanna do that for?"
"He stopped and looked at me."
"Why was everyone still when he came on the meadow?"
"Bur... Bur!"
"Bur!"
"Bur."
"Bur!"
"Bird!"
"Bird!"
"Butterfly? Butter... [Bambi sees the butterfly has now gone; he then runs over to a big yellow flower among some other wildflowers] Butterfly!"
"Flower?"
"Purty. [Bambi starts smelling the flowers, and comes nose-to-nose with a little skunk] Flower!"
"Purty. Purty flower!"
Bambi II
[Nervous] "I... don't know..."
"Mother! Mother! Moth..."
"She's not coming back, is she?"
"It is?"
"I'm a... I'm a bear! Maaa!"
"It was mother. I heard her voice."
"But I thought..."
"I'm... I'm sorry."
"Uh, yeah."
"I didn't even know this place was here."
"Really?"
"What were you like?"
[Bambi has a dream in which he meets his mother] "I miss you so much."
"Why'd you have to go?"
"But I feel so alone."
[trying to master his dad's advice, he walks along with his eyes closed] "Feel the forest. Feel the forest."
"Feel the - OOF![walks headfirst into a tree] Heh, heh. Felt it. "
"That's all you care about! Not about me!"
[running off] "I wish Mother was here instead of you!"
"Oh! I gotta go! My dad's waiting for me!"
Trivia
Judging by his appearance, Bambi is roughly a few months younger than Ronno since as fawns, Bambi, until the end of Bambi II, had spots and no antlers whilst Ronno had budding antlers and no spots. As young adults, Bambi had two points on his antlers whilst Ronno had three points.
Film Bambi differs from his original book counterpart. In the book, Bambi is a roe deer and is cousins with Faline and her brother Gobo. He was also on good terms with Ronno and another young buck named Karus (who is absent from the film) and only became rivals with them upon reaching maturity. He was also cared for by a older doe named Nettla after his mother's death.
In the 1957 film Perri, Bambi has a notch in his left ear.
Bambi is similar to Littlefoot from The Land Before Time. Both lost their mothers at a very young age. Bambi's mother was killed by a hunter while Littlefoot's mother was killed by a sharptooth. However, that hasn't stopped Littlefoot from being good friends with Chomper despite the fact that Chomper is a sharptooth himself. But it's a good thing they still have their single fathers, The Great Prince of the Forest and Bron.
External links
Heroes
Animated Features
Snow White | Seven Dwarfs (Doc, Bashful, Grumpy, Happy, Sleepy, Sneezy & Dopey) | The Prince | Huntsman | Pinocchio | Jiminy Cricket | Gepetto | Blue Fairy | Figaro | Cleo | Madame Upanova | Hyacinth Hippo | Ben Ali Gator | Dumbo | Timothy Q. Mouse | The Crows | Mrs. Jumbo | Bambi | Thumper | Flower | Faline | Bambi's Mother | Great Prince of the Forest | Friend Owl | José Carioca | Panchito Pistoles | Willie the Whale | Bongo the Bear | Lulubelle | Willie | Mr. J. Thaddeus Toad | Water Rat | Angus McBadger | Pecos Bill | Slue-Foot Sue | Ichabod Crane | Katrina Van Tassel | Cinderella | Jaq and Gus | Anastasia Tremaine | Fairy Godmother | Prince Charming | Bruno | The King | Grand Duke | Alice Liddell | Peter Pan | Tinker Bell | Wendy Darling | John Darling | Michael Darling | Tick-Tock the Crocodile | Lady | Tramp | Jock | Trusty | Annette, Collette and Danielle | Aurora | Prince Phillip | Flora | Fauna | Merryweather | King Stefan | Queen Leah | King Hubert | Forest Animals | Pongo | Perdita | Roger Radcliffe | Anita Radcliffe | Nanny | Lucky | Patch | Rolly | Colonel | Sergeant Tibbs | Captain | Arthur Pendragon | Merlin | Mowgli | Baloo | Bagheera | King Louie | Colonel Haiti | Shanti | Winifred | Rama | Vultures | Raksha | Duchess | Thomas O'Malley | Marie | Toulouse | Berlioz | Scat Cat | Abigail and Amelia Gabble | Waldo | Frou-Frou | Roquefort | Robin Hood | Little John | Maid Marian | Friar Tuck | Lady Kluck | Alan-A-Dale | King Richard | Toby Turtle | Winnie the Pooh | Tigger | Piglet | Eeyore | Rabbit | Owl | Kanga | Roo | Christopher Robin | Gopher | Bernard | Bianca | Penny | Orville | Evinrude | Tod | Copper | Big Mama | Dinky and Boomer | Vixey | Widow Tweed | Tod's mother | Taran | Gurgi | Elionwy | Fflewddur Fflam | Basil of Baker Street | Dr. David Q. Dawson | Olivia Flaversham | Toby | Hiram Flaversham | Oliver | Dodger | Tito | Rita | Francis | Einstein | Fagin | Jenny Foxworth | Georgette | Winston | Ariel | Eric | Sebastian | Flounder | Scuttle | King Triton | King Triton's Daughters (Attina, Alana, Adella, Aquata, Arista, & Andrina) | Max | Cody | Jake | Marahute | Wilbur | Frank | Belle | Beast | Lumière | Cogsworth | Mrs. Potts | Chip Potts | Fifi | Maurice | Aladdin | Jasmine | Genie | Magic Carpet | Abu | Rajah | Iago | Razoul | The Sultan | Simba | Mufasa | Nala | Timon | Pumbaa | Rafiki | Zazu | Sarabi | Sarafina | Pocahontas | John Smith | Meeko | Flit | Grandmother Willow | Percy | Thomas | Nakoma | Chief Powhatan | Quasimodo | Esmeralda | Captain Phoebus | Victor, Hugo, & Laverne | Djali | Clopin | Hercules | Megara | Pegasus | Philoctetes | Zeus | Hera | Hermes | Olympian Gods (Posidon, Aphrodite, Apollo) | Muses | Fa Mulan | Mushu | Li Shang | Cri-Kee | Grandmother Fa | Yao, Ling, and Chien Po | Khan | Ancestors | The Emperor of China | Tarzan | Jane Porter | Terk | Tantor | Kala | Archimedes Q. Porter | Kerchak | Baboons | Whales | Tin Soldier | Ballerina | Yo Yo Flamingo | Spring Sprite | Aladar | Plio | Zini | Yar | Suri | Neera | Eema | Baylene | Url | Bruton | Emperor Kuzco | Pacha | Kronk | Milo James Thatch | Kida | Dr. Joshua Sweet | Vincenzo Santorini | Gaetan Moliére | Audry Ramiraz | Cookie | Wilhelmina Packard | Preston B. Whitmore | Stitch | Lilo Pelekai | Nani Pelekai | Jumba Jookiba | Captain Gantu | Pleakley | David Kawena | Cobra Bubbles | Grand Councilwoman | Mertle Edmonds | Jim Hawkins | John Silver | Dr. Doppler | Captain Amelia | Morph | B.E.N. | Kenai | Denahi | Sitka | Koda | Rutt and Tuke | Maggie | Grace | Mrs. Calloway | Buck | Lucky Jack | Chicken Little | Abby Mallard | Runt of the Litter | Fish Out of Water | Buck Cluck | Lewis | Wilbur Robinson | Franny Robinson | Lefty | Bolt | Mittens | Rhino | Penny | Tiana | Prince Naveen | Louis the Alligator | Ray the Firefly | Charlotte La Bouff | Eli "Big Daddy" La Bouff | Mama Odie | Juju | Rapunzel | Flynn Rider | Pascal | Maximus | Wreck-It Ralph | Vanellope von Schweetz | Fix-It Felix, Jr. | Sergeant Calhoun | Queen Anna | Queen Elsa | Kristoff | Olaf | Sven | Hiro Hamada | Baymax | Honey Lemon | GoGo Tomago | Wasabi | Fred | Tadashi Hamada | Cass Hamada | Alistair Krei | Judy Hopps | Nick Wilde | Chief Bogo | Mr. Big | Moana Waialiki | Maui | Grandma Tala | Chief Tui | Ocean | Heihei | Te Fiti | Yesss | Shank | J.P. Spamley | Gord | KnowsMore | Lieutenant Mattias | Yelana | Honeymaren Natura | Ryder Nattura | Bruni | Gale | The Nokk | Earth Giants | Raya | Sisu | Boun | Noi | Tong | Ongis | Tuk Tuk | Chief Benja

Live-Action Movies
Marnie Piper | Aggie Cromwell | Gwen Piper | Dylan Piper | Sophie Piper | Long John Silver | Perri | Travis Coates | Old Yeller | Nikki | Neewa | Big Red | Herbie | Chico | Goodtime Charlie | Dexter Reilly | Wahb | Moki | Miss Eglantine Price | Theodore and Amos | Pete | Elliott | Nora | Zunar-J-5/9 Doric-4-7 | Frank Wilson | Popeye | Olive Oyl | Kevin Flynn | Alan Bradley | Jack Pumpkinhead | Billina | Tik-Tok | The Gump | Wolf | Benji | Cougar cubs | Mother Cougar | Jim Craig | Roger Rabbit | Eddie Valiant | Jessica Rabbit | Benny the Cab | Ted Johnson | Susan Johnson | Morogo | Duma | White Fang | Jack Conroy | Henry Casey | Buck | Cliff Secord | Jenny Blake | Gordon Bombay | Wayne Szalinski | Max Dennison | Dani Dennison | Allison | Thackery Binx | Tom Sawyer | Huckleberry Finn | Aramis | Athos | D'Artagnan | Porthos | George Knox | Scott Calvin | Charlie Calvin | Shadow | Chance | Sassy | James Henry Trotter | Mr. Centipede | Mr. Grasshopper | Earthworm | Mrs. Ladybug | Miss Spider | Glowworm | George of the Jungle | Ursula Stanhope | Ape | Phillip Brainard | Sara Jean Reynolds | Mr. Magoo | Nick Parker | Annie James | Nick Parker | Elizabeth James | Mighty Joe Young | Jill Young | Gregg O'Hara | Martin | Inspector Gadget | Penny Gadget | Brain | Dr. Brenda Bradford | Mia Thermopolis | Max Keeble | Megan | Robe | Carol Newman-Calvin | Stanley Yelnats IV | Zero (Holes) | Captain Jack Sparrow | Joshamee Gibbs | Will Turner | Elizabeth Swann | Hector Barbossa | James Norrington | Jim Evers | Sara Evers | Madame Leota | Emma | Anna Coleman | Phileas Fogg | Inspector Fix | Ben Gates | Riley Poole | Abigail Chase | Shane Wolfe | Zoe Plummer | Lulu Plummer | Will Stronghold | Layla Williams | Warren Peace | Zach | Ethan | Magenta | Ron Wilson | The Commander | Jetstream | Freeze Girl | Principal Powers | Coach Boomer | Jonathan Boy | Peter Pevensie | Susan Pevensie | Edmund Pevensie | Lucy Pevensie | Aslan | Mr. Beaver | Dave Douglas | Jess Aarons | Leslie Burke | Giselle | Robert Philip | Prince Edward | Pip | Nathaniel | Underdog | Sweet Polly Purebred | Skeeter Bronson | Darwin | Blaster | Hurley | Juarez | Mooch | Bucky | Alice Kingsleigh | Mad Hatter | White Queen | Bandersnatch | Prince Dastan | Princess Tamina | Sheik Amar | Dave Stutler | Balthazar Blake | Balthazar's Eagle | Kevin Flynn | Sam Flynn | John Carter | Troy Bolton | Sharpay Evans | Ryan Evans | Gabriella Montez | Chad Danforth | Taylor McKessie | The Lone Ranger | Tonto | Oscar Diggs | Glinda the Good Witch of the South | China Girl | Maleficent (2014) | Diaval | Aurora (2014) | Prince Phillip (2014) | Knotgrass, Flittle and Thistlewit | The Baker | Cinderella | Rapunzel | Little Red Riding Hood | Cinderella (2015) | Prince Charming (2015) | Anastasia Tremaine (2015) | Mice (2015) | Fairy Godmother (2015) | Jaq and Gus (2015) | Lizard Footmen | Mr. Goose | Casey Newton | Frank Walker | Athena | Mowgli (2016) | Bagheera (2016) | Baloo (2016) | Raksha (2016) | Akela (2016) | The BFG | Sophie | Pete (2016) | Elliott (2016) | Grace Meacham | Mr. Meacham | Natalie Magary | Gavin Magary | Jack Magary | Belle (2017) | Beast (2017) | Maurice (2017) | LeFou (2017) | Lumière (2017) | Cogsworth (2017) | Mrs. Potts (2017) | Chip Potts (2017) | Christopher Robin (2018) | Winnie the Pooh (2018) | Madeline Robin | Evelyn Robin | Eeyore (2018) | Tigger (2018) | Piglet (2018) | Giles Winslow Sr. | Clara Stahlbaum | Phillip Hoffman | Mother Ginger | Mouse King | Dumbo (2019) | Holt Farrier | Milly and Joe Farrier | Max Medici | Colette Marchant | Aladdin (2019) | Jasmine (2019) | Genie (2019) | Magic Carpet (2019) | Abu (2019) | Rajah (2019) | Dalia | The Sultan (2019) | Simba (2019) | Mufasa (2019) | Nala (2019) | Timon (2019) | Pumbaa (2019) | Rafiki (2019) | Zazu (2019) | Sarabi (2019) | Sarafina (2019) | Conall | Borra | King John | Lady (2019) | Tramp (2019) | Jock (2019) | Trusty (2019) | Artemis Fowl | Holly Short | Juliet Butler | Mulch Diggums | Domovoi "Dom" Butler | Foaly | Artemis Fowl I | Commander Julius Root | Ivan | Bob | Stella | Ruby | Snickers | Henrietta | Murphy | Frankie | Thelma | Hua Mulan | Commander Tung | Chen Honghui | Yao, Ling and Chien Po | Emperor of China

Other Animated Movies
Br'er Rabbit | Toaster | Blanky | Kirby | Lampy | Radio | Jack Skellington | Sally | Zero | Mayor of Halloween Town | Santa Claus | Valiant | Bugsy | Lofty | Toughwood & Tailfeather | Mercury | Victoria | Wing Commander Gutsy | Sergeant Monty | Charles de Girl | Rollo | Samson | Benny | Bridget | Nigel | Larry | Ryan | Blag | Cloak & Camo | Stan & Carmine | Silvermist | Rosetta | Fawn | Iridessa | Bobble and Clank | Terence | Ebenezer Scrooge | Milo | Gribble | Ki | Milo's Mother | Victor Frankenstein | Sparky | Elsa Van Helsing | Dusty Crophopper | Dottie | Skipper Riley | Sparky | El Chupacabra | Vidia | Lizzy | Periwinkle | Zarina | Gruff | Marianne | Dawn | Sunny | Bog King

Sequels
Ethan Dalloway | Cassim | Angelique | Fife | John Rolfe | Uttamatomakkin | Kiara | Kovu | Vitani | Ratso | Murgatroid the Snake | Melody | Tip and Dash | Sylvia Marpole | Scamp | Angel | Baker | Madellaine | Zephyr | Prudence | Jane | Ranjan | Messua | Ranjan's Father | Sparky | Reuben | Thunderbolt | Lars | Ting-Ting, Su, and Mei | Zugor | Cash | Atka | Dixie | Granny Rose | Waylon and Floyd | Queen Athena | Blade Ranger | Maru | Windlifter

Shorts, TV Shows, Comics and Video Games
Pete | Oswald the Lucky Rabbit | Mickey Mouse | Minnie Mouse | Horace Horsecollar | Pluto | Goofy | Donald Duck | Daisy Duck | Ludwig Von Drake | Scrooge McDuck | Huey, Dewey, and Louie | Mortimer Mouse | Chip and Dale | Max Goof | Gladstone Gander | Fethry Duck | Gruffi Gummi | Zummi Gummi | Grammi Gummi | Cubbi Gummi | Sunni Gummi | Tummi Gummi | Gusto Gummi | Cavin | Princess Calla | King Gregor | Sir Tuxford | Sir Gawain | Sir Victor | Princess Marie | Aquarianne | Kessie | Wooster | Nasty Jack | Bruno | Gyro Gearloose | Launchpad McQuack | Webby Vanderquack | Bentina Beakley | April, May and June | Darkwing Duck | Gosalyn Mallard | Monker Muddlefoot | Mona | Morgana Macawber | Pistol Pete | Peg Pete | P.J. | Kit Cloudkicker | Rebecca Cunningham | Chiro | Jinmay | Cassandra | Lance Strongbow | Adira | Varian | Kiera and Catalina | Gabriella | Spot the Killer Whale | Urchin | Sora | Kairi | Riku | Aqua | Terra (Lingering Will) | Ventus | Organization XIII | (Axel | Xion | Roxas | Vexen) | Lea | Ienzo | Zak William Lake | Lauriam | Elrena | Strelitzia | Naminé | Riku Replica | Ansem the Wise | Master Eraqus | Spirit Dream Eaters | Data-Naminé | Data-Riku | Data-Roxas | Data-Sora

See Also


| | | | | | | | |
Community content is available under
CC-BY-SA
unless otherwise noted.