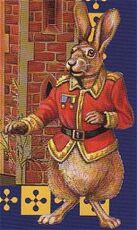 Basil Stag Hare was a famed gluttonous mad hare, freedom fighter, liberator and activist in the Wars of the Late Rose, and Basil was an agent of Redwall Abbey in the book Redwall against Cluny the Scourge. Basil was a voluntary outcast and lived a solitary life. He refused to abandon his post when Ambrose the hedgehog told him to, and he met Matthias one day outside Saint Ninian's church. Matthias was on his way to get both the Vole family and Martin's tapestry. Matthias bonded with Basil, liking his eccentricity and slight madness. Matthias learned the art of stealth from the hare, and Basil distracted Matthias from the rat sentries by joking and running around them. He rescued the Vole family with Matthias, and took them back to Redwall.
Basil became a commander of Redwall, and fought against Cluny. He showed up just in time for lunch. Basil consoled Matthias when Methusaleh the gatekeeper was murdered by Chickenhound. Basil then was instrumental in the downfall of Asmodeus because he told Matthias how to find him. Basil was captured by Cluny and the horde when Cluny conquered. Basil bravely insulted Cluny by saying he was an insolent barbarian, and Cluny stung Basil with a club. Basil joined in the fight when Matthias arrived, slaying many rats, and lived to the end of the battle.
In the sequel Mattimeo, Basil was back, as less of a freedom fighter and more of a gluttonous adventurer. Basil was drugged by Chickenhound under his Slagar guise, but Basil awoke later to a scene of destruction. He joined the commanders in seeking the captured young ones and liberating Malkariss' kingdom. Then he returned to Redwall with Mattimeo and Matthias and lived on as an adventurer.
Community content is available under
CC-BY-SA
unless otherwise noted.