Bill & Ben
are the most mischievous Tank engine twins in Thomas the Tank Engine & Friends.
Personality
Bill and Ben are young, cheeky, naughty and rather troublesome, and love teasing or playing tricks on the other engines. However, their behaviour always get them into a lot of trouble. Despite their mischievous behaviour, they always learn from their mistakes, and try to do the right thing, and always act like heroes. However, they don't seem nearly as bad as some larger engines, or even diesels. They now work with Mavis at Centre Island Quarry, and BoCo and Edward on the Wellsworth Branch line sometimes too.
Basis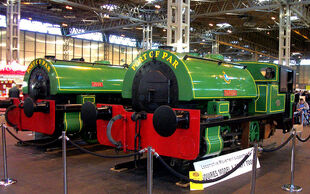 Bill & Ben are based off of Bagnall 0-4-0STs "Alfred" and "Judy" of Par, Cornwall, who are both preserved and in working order at the Bodmin and Wenford Railway.
Community content is available under
CC-BY-SA
unless otherwise noted.