GTA: The Criminal Enterprises - The Loop
Play Sound



Click To Help Kirby!

This stub is making Kirby hungry with its lack of substance.
This article or section is a stub. You can help the Heroes Wiki by expanding it!

What are you waiting for? GO!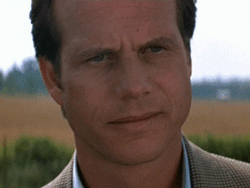 Bill "The Extreme" Harding is the deuteragonist in the 1996 disaster film, Twister. He was portrayed by the late Bill Paxton.
He is Jo Harding's almost ex-husband. He reunited with Jo after he and his new lover, Melissa had to meet up with the storm chasing team. He yelled at Dr. Jonas Miller for stealing the storm chasing team's invention idea. He and Jo chase several tornadoes throughout the entire film. He and Jo also used DOROTHY to throw it into the Tornado. In the final battle, he and Jo used the second machine to throw it into the F5 tornado, along with Jo's truck. In the end, he and Jo hung on to pipes by being strapped onto them, to defeat the F5 tornado. By the end of the film, he is seen with Jo while they agree to run their own lab and rekindle their marriage as they kiss.
Trivia
Tom Hanks, Kurt Russell, Michael Keaton, Kevin Costner, Richard Gere, John Travolta, Mel Gibson, Dennis Quaid, Pierce Brosnan, Bruce Willis, Bill Pullman, Brendan Fraiser, Tom Cruise and Nicholas Cage were all considered for the role of Bill Harding before the late Bill Paxton was cast.
Heroes
Heroes
Animated Features
Mewsette | Jaune Tom | Robespierre | Bilbo Baggins | Gandalf | Thorin Oakenshield | Bard the Bowman | Elrond | Thranduil | Sméagol | Fíli and Kíli | Dwalin | Balin | Óin | Glóin | Dori | Nori | Ori | Bifur | Bofur | Bombur | Frodo Baggins | Samwise Gamgee | Aragorn | Meriadoc Brandybuck | Peregrin Took | Éowyn | Théoden | Peter Dickinson | Vinnie Genzianna | Crazy Shapiro | Rozzie Featherschneid | Eva | Batman (DCAU) | Thumbelina | Prince Cornelius | Jacquimo | Li'l Bee, Gnatty, & Baby Bug | Mother | Hero | Stanley | Gus | Rosie | Michael Jordan | Stan Podolak | Bugs Bunny | Lola Bunny | Daffy Duck | Danny Cat | Sawyer Cat | Kayley | Garrett | Devon and Cornwall | Ayden | Lady Juliana | Sir Lionel | Bladebeak | Stan Marsh | Kyle Broflovski | Eric Cartman | Kenny McCormick | Iron Giant | Hogarth Hughes | Annie Hughes | Dean McCoppin | General Rogard | Wakko Warner | Osmosis Jones | Leah Estrogen | Drix | Frank DeTorre | Shane DeTorre | D.J. Drake | Kate Houghton | Damian Drake | Mother | Dusty Tails | Hero Boy | Hero Girl | Conductor | Billy the Lonely Boy | Know-It-All | Hobo | Smokey and Steamer | Victor Van Dort | Emily | Scraps | Lucas Nickle | Zoc | Hova | Queen Ant | Wasps | Robin (Original) | Starfire (Original) | Raven (Original) | Cyborg (Original) | Beast Boy (Original) | Mumble | Gloria | Ramón | Nestor | Raul | Lombardo | Rinaldo | Noah the Elder | Memphis | Norma Jean | Leonardo | Raphael | Donatello | Michelangelo | Splinter | April O'Neil | Casey Jones | Max Winters | Soren | Gylfie | Digger | Twilight | Eglantine | Noctus | Marella | Ezylryb | Jimbo Farrar | Carmen | Lovelace | Emmet Brickowski | Wyldstyle | Vitruvius | Batman (Lego) | UniKitty | Benny | Metalbeard | Good Cop | President Business | Finn | The Man Upstairs | Mordecai | Rigby | Benson Dunwoody | Pops Maellard | Skips | Muscle Man | Hi Five Ghost | Junior | Tulip | Diamond Destiny | Alfred Pennyworth | Robin | Batgirl | Lloyd Garmadon | Kai | Jay Walker | Nya | Cole | Zane | Master Wu | Misako | Lloyd Garmadon (2017) | Kai (2017) | Jay (2017) | Cole (2017) | Zane (2017) | Nya (2017) | Robin | Beast Boy | Cyborg | Starfire | Raven | Migo | Meechee | Queen Watevra Wa'Nabi | Sweet Mayhem | Scorpion | Liu Kang | Raiden | Johnny Cage | Sonya Blade | Kitana | Jax Briggs | Reptile | Nitara | Scooby-Doo (2020) | Shaggy Rogers (2020) | Fred Jones (2020) | Daphne Blake (2020) | Velma Dinkley (2020) | Blue Falcon (2020) | Dynomutt (2020) | Dee Dee Skyes (2020) | Captain Caveman (2020) | Kung Lao | Kurtis Stryker | Jade | Cyrax | Smoke | Li Mei | LeBron James | Dom James | Courage the Cowardly Dog | Muriel Bagge | Krypto | Ace | PB | Merton | Chip | Keith and Mark | Superman | Batman | Wonder Woman | Green Lantern | The Flash | Aquaman | Cyborg | Lois Lane
Live-Action Films
Dorothy Gale | Toto | Scarecrow | Tin Woodman | Cowardly Lion | Wizard of Oz | Glinda the Good Witch of the North | The Munchkins | Aunt Em | Sam Spade | Miles Archer | Effie Perine | Rick Blaine | Victor Laszlo | Ilsa Lund | Eliza Doolittle (My Fair Lady 1964) | Harry Callahan | Superman (Christopher Reeve Series) | Danny Torrance | Dick Hallorann | Wendy Torrance | Rick Deckard | Gizmo | Billy Peltzer | Kate Beringer | Mr. Wing | Supergirl (Donnerverse) | The Goonies (Mikey, Brand, Chunk, Mouth, Data, Andy & Stef) | Sloth Fratelli | Marion Cobretti | Seymour Krelborn | Audrey | Adam Maitland | Barbara Maitland | Lydia Deetz | Batman | Vicki Vale | Alfred Pennyworth | Harvey Dent | Forster | Luke Eveshim | Helga Eveshim | Robin Hood | Will Scarlet | Azeem | Friar Tuck | Dr. Richard Kimble | Sara Crewe | Robin | Dr. Chase Meridian | Michael Jordan | Stan Podolak | Bugs Bunny | Lola Bunny | Daffy Duck | President James Dale | General Decker | Byron Williams | Barbara Land | Tom Jones | Taffy Dale | Billy Glenn Norris | Richie Norris | Grandma Norris | Cedric and Neville Williams | Batgirl | Neo | Morpheus | Trinity | Carter Blake | Susan McCallister | Russell Franklin | Janice Higgins | Tom Scoggins | Jim Whitlock | Sherman "Preacher" Dudley | Paul Edgecomb | John Coffey | Brutus "Brutal" Howell | Eduard Delacroix | Gracie Hart | Mr. Jingles | Lou | Butch | Ivy | Sam | Peek | Osmosis Jones | Leah Estrogen | Drix | Frank DeTorre | Harry Potter | Ron Weasley | Hermione Granger | Sheldon Mopes | Rainbow Randolph | Scooby-Doo | Shaggy Rogers | Fred Jones | Daphne Blake | Velma Dinkley | Mary Jane | Emile Mondavarious | Chris McCormick | Sheriff Sam Parker | Kangaroo Jack | Charlie Carbone | D.J. Drake | Kate Houghton | Damian Drake | Mother | Dusty Tails | Patrick Wisely | Jeremiah Wickles | Xan | Duma | Ripkuna | Peter | Kristin | Rip's Family | Charlie Bucket | Willy Wonka | Joe Bucket | Oompa Loompas | Mr. Bucket | Mrs. Bucket | Charlie's Grandparents | Candyman | V | Evey Hammond | King Leonidas | Sweeney Todd | Johanna Barker | Anthony Hope | Tobias Ragg | Maxwell Smart | Max | Wild Things (Carol, K.W., Douglas, Ira, Judith, Alexander & The Bull) | Diggs | Catherine | Seamus | Yogi Bear | Boo-Boo Bear | Ranger Smith | Rachel Johnson | Frog-Mouthed Turtle | Ranger Jones | Babydoll | Sweet Pea | Rocket | Blondie | Amber | Barnabas Collins | Victoria Winters | Elizabeth Collins Stoddard | Carolyn Stoddard | David Collins | Josette du Pres | Willie Loomis | Bilbo Baggins | Gandalf | Thorin Oakenshield | Fíli | Kíli | Dwalin | Balin | Óin | Glóin | Dori | Nori | Ori | Bifur | Bofur | Bombur | Radagast | Elrond | Galadriel | Sméagol | Gwaihir | Frodo Baggins | Raleigh Becket | Stacker Pentecost | Mako Mori | Bard the Bowman | Beorn | Legolas | Tauriel | Thranduil | Godzilla | Ford Brody | Ishiro Serizawa | Vivienne Graham | William Stenz | Joseph Brody | Sandra Brody | Elle Brody | Joseph Cooper | Amelia Brand | Dáin Ironfoot | Napoleon Solo | Illya Kuryakin | Gaby Teller | Alexander Waverly | Tarzan | Jane Porter | George Washington Williams | Akut | Kala | Kerchak | King Kong | James Conrad | Mason Weaver | Hank Marlow | William Randa | Houston Brooks | San Lin | The Losers Club (Bill Denbrough, Ben Hanscom, Beverly Marsh, Eddie Kaspbrak, Mike Hanlon, Richie Tozier & Stan Uris) | K | Lara Croft | Richard Croft | Lu Ren | Parzival | Art3mis | Curator | Anorak | Daito | Aech | Sho | Davis Okoye | Dr. Kate Caldwell | George | Agent Harvey Russell | Jonas Taylor | Suyin Zhang | Dr. Minway Zhang | Meiying Zhang | Jaxx | Mac | DJ | Lori Taylor | Dr. Heller | Toshi | The Wall | Mowgli | Bagheera | Baloo | Kaa | Akela | Bhoot | Nisha | Vihaan | Gray Brother | Colonel Hathi | Detective Pikachu | Tim Goodman | Lucy Stevens | Mothra | Rodan | Mark Russell | Madison Russell | Emma Russell | Sam Coleman | Ilene Chen | Rick Stanton | Behemoth | Scylla | Methuselah | Queen MUTO | Harley Williams | Beth Williams | Austin Williams | Snorky | Paige | Zoe | Parker | Abra Stone | Billy Freeman | Roger | Gwen | Old Ed | Duke | Tom Cat | Jerry Mouse | Kayla Forester | Spike Bulldog | Toodles Galore | Ilene Andrews | Nathan Lind | Jia | Josh Valentine | Bernie Hayes | Cole Young | Sonya Blade | Jax Briggs | Liu Kang | Kung Lao | Raiden | Scorpion | LeBron James | Dom James
Video Games
Juliet Starling | Chase McCain | Ellie Phillips | Marion Dunby | Natalia Kowalski | Talion | Celebrimbor | Batman (LEGO Batman) | Gandalf | Wyldstyle | Gamer Kid | X-PO | Batman | Lucius Fox | James Gordon | Renee Montoya | Peter Grogan | Catwoman | Harvey Dent | John Doe | Alfred Pennyworth | Iman Avesta | Vernon Blake | Tiffany Fox | Rowan Khanna | Merula Snyde | Penny Haywood
Shorts
Bugs Bunny | Daffy Duck | Porky Pig | Lola Bunny | Tweety Bird | Sylvester | Granny | Elmer Fudd | Yosemite Sam | Tasmanian Devil | Foghorn Leghorn | Road Runner | Speedy Gonzales | Pepé Le Pew
See Also
Adventure Time Heroes | Amblin Entertainment Heroes | Animalympics Heroes | Arrowverse Heroes | Batman Heroes | Ben 10 Heroes | Camp Lazlo Heroes | Cartoon Network Heroes | Castle Rock Entertainment Heroes | Cats & Dogs Heroes | Courage the Cowardly Dog Heroes | Craig of the Creek Heroes | DC Animated Movie Universe Heroes | DC Extended Universe Heroes | DC Super Hero Girls Heroes | Friends Heroes | Game of Thrones Heroes | Hanna Barbera Heroes | Hanna-Barbera Cinematic Universe Heroes | Happy Feet Heroes | Harry Potter Heroes | Jellystone! Heroes | Laika Heroes | Legendary Entertainment Heroes | Loonatics Unleashed Heroes | Looney Tunes Heroes | Mad Max Heroes | Middle-Earth Heroes | MonsterVerse Heroes | Mortal Kombat Heroes | New Line Cinema Heroes | Pokémon Heroes | Powerpuff Girls Heroes | Regular Show Heroes | Rick and Morty Heroes | Road Rovers Heroes | Sesame Street Heroes | Scooby-Doo Heroes | South Park Heroes | Space Jam Heroes | Stephen King Heroes | Steven Universe Heroes | Superman Heroes | The Amazing World of Gumball Heroes | The Flintstones Heroes | The Jetsons Heroes | The Larry Sanders Show Heroes | The LEGO Movie Heroes | The West Wing Heroes | Tim Burton Heroes | Tiny Toon Adventures Heroes | Tom and Jerry Heroes | TMNT Heroes | Veep Heroes | Village Roadshow Pictures Heroes | We Bare Bears Heroes | Westworld Heroes | Xiaolin Showdown Heroes | Yu-Gi-Oh! Heroes