✔



Click To Help !

Whatever life holds in store for me, I will never forget these words: "With great power comes great responsibility."

Spider-Man has declared that this article is still under construction.
Please don't delete or edit this article yet because it may contrast with the original author's edits.
After I finish this article, the world will be saved!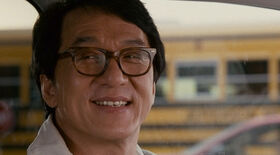 Bob Ho is the main protagonist of The Spy Next Door. He is a CIA agent who retires so that he can spend more time with his girlfriend, Gillian, who lives next door, and her three kids, Nora, Farren, and Ian. When Gillian goes away to visit her father in the hospital, Bob agrees to babysit the children. However, a plot by Russian spies looking for a stolen secret formula they believe Ho has threatens to put the entire family, and the world, in danger.
Early Life
Bob was an orphan in China as a child. He told Farren that he grew up with brothers and sister who he never knew but always thought of them as brothers and sisters to him. When he grew up he got a career as a spy. He moves next door to Gillian and her family while working as a spy.
Appearance
Bob has black hair and wears glasses. When he is working as a spy, he wears leather and has his glasses off. He also seems well-built and physically active as he fights the terrorist with all sorts of appliances.
Personality
Bob is very well-meaning person who greatly cares for the children he's assigned to babysit.
Community content is available under
CC-BY-SA
unless otherwise noted.