✔



Click To Help !

Whatever life holds in store for me, I will never forget these words: "With great power comes great responsibility."

Spider-Man has declared that this article is still under construction.
Please don't delete or edit this article yet because it may contrast with the original author's edits.
After I finish this article, the world will be saved!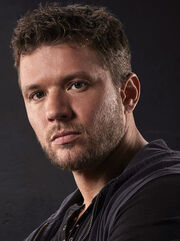 Bob Lee Swagger
is a former Gunnery Sergeant and the main protagonist in the 2007 film,
Shooter
. He is portrayed by Mark Wahlberg, who also played
John Bennett
in 2012's
Ted
and
Cade Yeager
in 2014's
Transformers: Age of Extinction
.
Bio
Bob Lee Swagger is a retired Marine who served in Iraq and Afghanistan during his time with Force Recon and the Marine Corps Forces Special Operations Command. He now lives in Seattle, Washington alongside his wife Julie and his young daughter, Mary. When his former commanding officer approaches him with an offer to help the Secret Service investigate a potential assassination threat against the President of the United States, Swagger reluctantly agrees, only to realize too late that he has stumbled into an international conspiracy intent to frame him for murder. With few people he can turn to for help — and even fewer that he's certain he can trust — Swagger sets out to clear his name and discover just how deep the conspiracy goes before the people behind it can clean up all their loose ends... including him.
In the second season, Swagger and his wife is under attack by hostile forces who are connected with Solotov during a party for US Marine forces stationed in Germany, which has something to do from their days when Swagger was deployed in Afghanistan with Johnson. The storyline continues in the 3rd season, where Swagger and his allies continue to take down Atlas and investigate his father's death after Solotov mentions that his murder was not from a shootout with a murder suspect.
Community content is available under
CC-BY-SA
unless otherwise noted.