Click To Help Kirby!

This stub is making Kirby hungry with its lack of substance.
This article or section is a stub. You can help the Heroes Wiki by expanding it!

What are you waiting for? GO!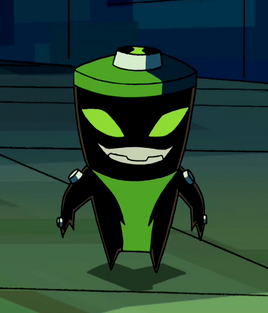 Buzzshock is the Omnitrix's DNA sample of a Nosedeenian from the Nosedeen Quasar.
Appearance
Buzzshock's appearance is similar to an earth dry cell. He is black, with green electricity and green eyes. He has a white large lightning like line from where his neck starts, to where his legs start on his front and back. He has a grey spot on his head (resembling a battery).
Powers and Abilities
Electrokinesis: Buzzshock can control and manipulate electricity, to the point where he can turn himself into an electrical current.

Current Travel: As mentioned above, Buzzshock can turn himself into an electrical current which increases his maneuverability.
Electrical Blasts: Buzzshock can fire out green lightning from himself and was able to use this to create a hole in the Megawhatts' prison.
Electricity Absorption: Buzzshock was able to absorb enough electricity from a power line to send Phil, who absorbs electricity, flying into a building.
Electrical Possession: By entering machines as a current, Buzzshock is able to power them and gain full control over them.

Enhanced Durability: Buzzshock was able to endure being hit by one of Sevenseven's energy blasts.
Flight: Buzzshock normally floats in the air and naturally has the ability to fly.
Enhanced Speed: Buzzshock is fast enough to outmanuveur most opponents.
History
Future (Original)
Buzzshock first appeared in Ben 10,000, where he defeated Dr. Animo.
In Ken 10, Ken used Buzzshock in attempt to fight Mot Snikrep before he was frozen by Ben 10,000 as Arctiguana. Later, Ken as Buzzshock briefly battled Kevin 11,000 before he reverted.
Ben 10: Omniverse
In Max's Monster, Buzzshock was unlocked by Phil so he could feed off him. He then powered up a Null Void Projector to defeat Phil and send him back to the Null Void.
In Cough It Up, Buzzshock defeated SixSix, but was defeated by SevenSeven.
In Rook Tales, Buzzshock failed to take off Young One's tail.
In The Color of Monkey, Buzzshock battled Suemungousaur.
Gallery
Trivia
Buzzshock is the second future alien to be used by present day Ben (the first being Articguana).
Buzzshock is one of five aliens featured in Omniverse who generate green electricity; the others being Upgrade, Frankenstrike, Brainstorm, and Nanomech.