Click To Help Kirby!

This stub is making Kirby hungry with its lack of substance.
This article or section is a stub. You can help the Heroes Wiki by expanding it!

What are you waiting for? GO!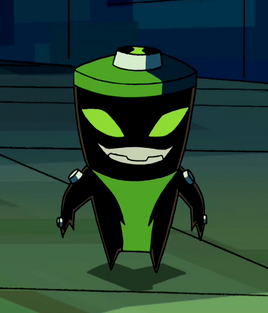 Buzzshock is the Omnitrix's DNA sample of a Nosedeenian from the Nosedeen Quasar.
Appearance
Buzzshock's appearance is similar to an earth dry cell. He is black, with green electricity and green eyes. He has a white large lightning like line from where his neck starts, to where his legs start on his front and back. He has a grey spot on his head (resembling a battery).
Powers and Abilities
Buzzshock can pass through any electrical source with amazing speed and has the ability to manipulate green electricity.
Buzzshock can also control electricity and can inhabit electrical devices, controlling them from the inside in some cases powering them.
Buzzshock is the second future alien to be used by present day ben (the first being Articguana).
Gallery
Community content is available under
CC-BY-SA
unless otherwise noted.