✔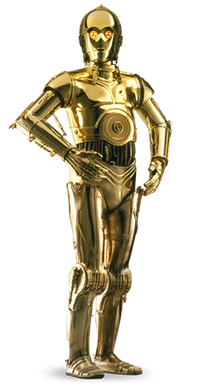 C-3PO
(phonetically spelled See-Threepio; 3PO or Threepio for short) is a robot character from the
Star Wars
universe who appears in both the original
Star Wars
films and the prequel trilogy. He is also a major character in the television show
Droids
, and appears frequently in the series' "Expanded Universe" of novels, comic books, and video games. Along with
Anakin Skywalker
,
Obi-Wan Kenobi
and
R2-D2
, he is one of only four characters to appear in all six
Star Wars
films. C-3PO (played by
Anthony Daniels
) and R2-D2 (played by
Kenny Baker
) are the only characters portrayed by the same actor in all six films.
C-3PO is a protocol droid designed to serve humans, and boasts that he is fluent in "over six million forms of communication". He is generally seen with his long-time counterpart, R2-D2. Threepio's main function is to assist etiquette, customs, and translation, so that meetings of different cultures run smoothly. Threepio and R2-D2 played a vital and pivotal role in the Galaxy's history.
Star Tours
C-3PO appeared in the attraction's queue with R2-D2 working on fixing a Starspeeder as well as appearing in the in-cabin load and unload spiels.
Star Tours: The Adventures Continue
C-3PO appears in the attraction as the accidental pilot of the attraction in addition to appearing in the queue like the original attraction. When doing some routine checkups on a Starspeeder 1000, he is locked in the pilot's seat and is forced to take control of the vehicle, escape Imperial forces after a Rebel Spy on board and get said spy to safety.
Gallery