Captain Huggy Face is WordGirl's sidekick, a monkey from Lexicon, who was also responsible for crashing their spacecraft as a pilot of the Lexicon Air Force. He was then adobted by the Botsford along side Becky and took up the alias of Bob Botsford. Huggy Face has no superpowers (hence the reason that sometimes he has to take the bus because he cannot fly) and loves to eat almost anything, even the dreaded Beans à la Botsford (although he hates the repulsive Chicken Liver Fricassee and beef bouillon the Butcher conjured once). People often insult him by either saying his name wrong or calling him the wrong animal, most often Granny May. An example is "Tobey or Consequences" in which Tobey's babysitter calls him an "aardvark in tights" and has been called a dog or other animal. Huggy is a surprisingly competent sidekick and can do martial arts, especially kung fu. His symbol, on the chest of his costume, is a thunderbolt. As Bob, he is the Botsford family pet, played by James Adomian at script readings. He has been called a hedgehog, (flying) rabbit, koala, wombat, rat, bear, aardvark, ferret, otter, llama, a hairy kid, and probably others.
Early Life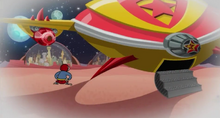 Prior to becoming WordGirl's sidekick, Captain HuggyFace was a famous lexicon airforce pilot. One fateful day he decided to enjoying a quick rest, by taking in the sights of his home planet. Afterwards he returned to his ship and took off, only to be startled by an infant WordGirl who'd manage to sneak her way onto his ship. After being startled, Huggy lost control of his ship and flew right into a meteor (later reveled to be from Lexicon) and had to commit an emergency landing on earth. Finding his ship no longer in working order, he carried the infant Becky through the woods, unsure of what to do next. He and Becky were soon found by a young Tim and Sally Botsford, who gladly invited them for a picnic and soon adopted them both.
Gallery
Community content is available under
CC-BY-SA
unless otherwise noted.