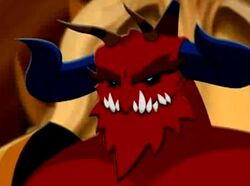 | | | |
| --- | --- | --- |
| " | Let's dominate the city of Kiru and all the rest of the Underworld and have control of all the rest of Perim. | " |
| | ~ Chaor | |
Chaor is a hero and false antagonist of the Chaotic franchise. Much like a demonic monster Chaor is not a villain, despite his brutal appearance he fights for the safety of his kingdom the UnderWorld even if it means he must battle against other kingdoms of rival heroes like Maxxor. His main enemy conspiring Lord Van Bloot overthrow him and take his place as King of the UnderWorld, but Chaor always defeats him.
In the cartoon he is the protagonist's friend Kaz, who guards his letter to turn it on battles in the Chaotic.
He is voiced by Marc Thompson, who also voiced Casey Jones in the 2003 version of the Teenage Mutant Ninja Turtles and Kid Muscle in Ultimate Muscle.
History
Chaor is the supreme leader of the Underworld and the commander of the vast city of the underworld. He is by his friends and enemies by his strength, wisdom and powers of fire. His biggest dream is to master the city of Kiru in the Otherworld and take down his archenemy Maxxor well as mastering all the tribes of Perim. Besides Maxxor he is also the enemy of Lord Van Bloot tries to take his place on the throne of the Underworld. Chaor can be considered a hero even though they often are able to become mean and nasty when you're fighting your enemy tribes. His greatest helper is Takinom. He is a descendant of Kiru, one of the greatest fighters in the Otherworld that for unknown reasons went pro Underworld.
Appearance
Chaor is a red-skinned humanoid being and a huge muscle mass. His face resembles that of a huge blue Gagula having two horns on each side of his head, and two small horns on top and a blue horn on the back of the head. Their backs are covered with thorns and he also uses two metal bracelets with spikes on his arms. His tail is long and thick similar to a dragon. He also wears a swimsuit made ​​of an animal skin with a belt of iron, and metal boots. In the cartoon he used to wear shoulder pads with spikes during the first season, and also metals in their horns from the second.
Community content is available under
CC-BY-SA
unless otherwise noted.