Raise a Floppa - The Loop
Play Sound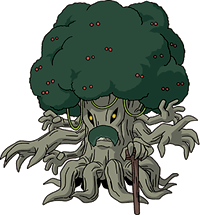 Cherrymon is a minor hero of Digimon Data Squad.
He was voiced by Masafumi Kimura in the Japanese version and Michael McConnohie in the English verison.
History
He first appeared when Marcus and the others battled Keenan and his partner, Peckmon. Cherrymon stopped the fighting because he didn't like violence. Then, Gotsumon summoned raining rocks on Cherrymon, and Gaogamon and Sunflowmon destroyed the falling rocks. And RizeGreymon destroyed a gigantic falling rock. Later, the DATS returned to Cherrymon's place, where they found some injured Digimon. Cherrymon told the story about the disaster in the Digital World, even about Merukimon's tragic demise. Marcus told Cherrymon that it was Kurata and his army of Gizumons who committed the massacre in the Digital World. When the Bio-Hybrids arrived, Marcus and the others tried to defend Cherrymon, but the Bio-Hybrids were too strong. They almost destroyed Cherrymon, but the DATS's partner Digimon used the last of their strength to defeat the Bio-Hybrids, forcing them to retreat. Then Cherrymon and the injured Digimon were safe once again.
Trivia
His Japanese voice actor, Masafumi Kimura, also voiced Whamon in Digimon Adventure, Jijimon in Digimon Tamers.
His English voice actor, Michael McConnohie, also voiced Azulongmon in Digimon Tamers, and Hagoromo Ōtsutsuki in Naruto Shippuden.
Gallery