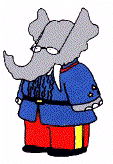 Cornelius
 is the supporting character of
Babar
.
Personality
Cornelius is Babar's royal advisor, as well as his most trusted and loyal servant. He is kept throughout the series as one of Babar's closest friends, despite working for him domestically. He has close bonds with Pompadour, and frequently works alongside him while assisting Babar in his kingly duties. He is elderly, but is quite spry and possesses a great deal of wisdom. He is a bachelor and has no family that we know of. On several occasions, Cornelius has shown that he can be a powerful character, examples including but not limited to episodes like "The Coin" and "The Old Lady Vanishes". His personality changed into a form of intimidation, and he commands a large amount of respect in these episodes. He has saved Celesteville from terror a number of times, sometimes from natural causes and rarely even from Rataxes himself.
Appearance
Cornelius is quite large, towering over most other elephants.
Community content is available under
CC-BY-SA
unless otherwise noted.