Raise a Floppa - The Loop
Play Sound
The Crimson Dragon is an almighty and vastly powerful dragon god, who is the physical manifestation of the Dragon Star. It plays a major role in Yu-Gi-Oh! 5D's, as it is the leader of the Signer Dragons that are used by the main characters and the one who chooses who becomes a Signer.
Biography
10,000 years ago before the series, the Crimson Dragon and it's servants, the Signer Dragons battled against an ancient evil that was called the Red Nova who was known as the Crimson Devil. During that time, a Legendary Signer came from the ashes and with a miraculous power used the powers of the Crimson Dragon and sealed as well as defeat the Crimson Devil.
Battles With the Earthbound Immortals
5000 years before the main series, the Crimson Dragon and it's servants were summoned by the People of the Stars to fight the Earthbound Immortals who were threatening the peace of their civilization. There prayers were finally answered when the Crimson Dragon itself manifested from the heavens. The Crimson Dragon alongside its servants fought against the Earthbound immortals. Despite Black-Winged Dragon being one of the servants, Life-Stream Dragon was present alongside its comrades in their fight against the Dark Gods. The Dragons together were able to seal the Dark Gods into the Nazca Lines, however this victory was not without casualties as one of The Earthbound immortals sealed Ancient Fairy Dragon along with the Dark Gods themselves.
Present Day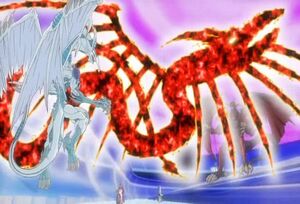 During the Fortune Cup, The Crimson Dragon made a reappearance during Yusei Fudo and Jack Atlas's duel when their ace cards; Stardust Dragon and Red Dragon Archfiend battled. The Dragon made it's next appearance during their rematch and this time it's appearance was more defined and everybody else was able to see it due to all signers gathered together in the fortune cup. When it made its appearance, it transported Akiza, Jack, Yusei, and Luna into an alternate dimension where they were shown a disturbing vision in which the Satellite sector was being destroyed by an unknown force and in its place a dark mark appeared and took the shape of a Spider.