✔



Click To Help !

Whatever life holds in store for me, I will never forget these words: "With great power comes great responsibility."

Spider-Man has declared that this article is still under construction.
Please don't delete or edit this article yet because it may contrast with the original author's edits.
After I finish this article, the world will be saved!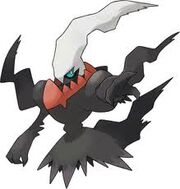 Darkrai
is a dark-type Pokemon from generation IV.
While it's abilities and looks make people think of it as evil, while in reality that's only some Darkrai and others are heroes such as in the Anime.
In Alamos town a Darkrai lived there and fought against Dialga and Palkia who trapped the city in another dimension which had various side effects all of which Darkrai was blamed for even though it didn't have those kinds of abilities. It sacrificed itself to slow them down, but when everything was restored, it was brought back to life as well.
Community content is available under
CC-BY-SA
unless otherwise noted.