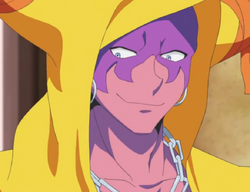 Demon Lord Asmodai or A-Dawg as Tetsuya likes to call him... is one of the members of Team Baille du Soleil. He's well known throughout the buddy competition world like as if he was a celebrity by putting on shows.
In the competition realm though, he's Tetsuya's partner.
Appearance
He appears as a tall humanoid with bodybuilder's physique. With horns protruding on his shoulders.
Personality
He comes off as an easy-going person. But when it comes time to do battle, he gets all serious and focuses on the match. Sometimes aiding Gao's team... giving them pointers on how to go about in defeating their opponent.
Tetsuya also views him like a big brother figure. Sometimes he likes to tease Tetsuya. Though... this' only so that he perfect his skills in challenging other opponents.
Community content is available under
CC-BY-SA
unless otherwise noted.