Raise a Floppa - The Loop
Play Sound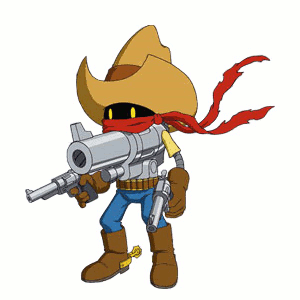 Deputymon is a minor hero of Digimon Adventure 02 and one member of the Fusion Fighters in Digimon Fusion.
He was voiced by Dan Lorge, is a caricature of John Wayne, the legendary western movie star in Digimon Adventure 02 and Michael Sorich in Digimon Fusion.
Digimon Adventure 02
He is partners with Starmon. When Starmon fell under the influence of a Dark Ring, he imprisoned Davis, Cody, Yolei, Sora and their Digimon, but then Deputymon showed up. When he proved to the kids that he didn't have a Dark Ring on him, they hoped he would release them - but he only released the girls and their Digimon, wanting them to play cards with him. Before the card game could get started, however, Starmon showed up and he and Deputymon had a western-style showdown. Starmon's Meteor Shower technique felled Deputymon, but shortly, after the Control Spire was destroyed and Starmon was freed, he popped up again, and he and Starmon played cards with the kids.
Digimon Fusion
Deputymon worked as a treasure hunter in the Sand Zone, and when Mikey Kudo and his friends escaped SkullScorpionmon, he rescued them. After escaping, he helped them find the Code Crown guarded by Pharaohmon. When Mikey and Shoutmon X3 fought Pharaohmon, Pharaohmon was a tough opponent for them, but they managed to defeat Pharaohmon and get his Code Crown guarded by him. When Laylamon arrived in the Sand Zone with Ebemon, Ebemon took control of him and the other Digimon of Mikey's team, but Mikey and Reapmon managed to free them from Ebemon's control. But Laylamon damaged Reapmon, and Mikey tried to save him, he fought with the Fusion Fighters against SkullScorpionmon forces and Machinedramon. The battle intensified as Machinedramon became HiMachinedramon, but Mieky and Shoutmon X4K managed to destroy HiMachinedramon with the help of Reapmon, who turned into Beelzemon, and since then he decided to join the Fusion Fighters, and so he has helped Mikey and his friends in the battle against the Bagra Army.
Gallery
Digimon Adventure 02
Digimon Fusion
Trivia
External links