Click To Help Kirby!

This stub is making Kirby hungry with its lack of substance.
This article or section is a stub. You can help the Heroes Wiki by expanding it!

What are you waiting for? GO!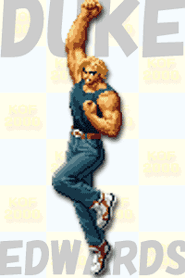 Duke Edwards is one of the main protagonists in Burning Fight.
Biography
Duke was formerly a vicious punk who terrorized Metro City as "Mad Duke". He eventually decided to work for the good of the city and became a NYPD detective along with his friend Billy King. They were investigating on the Yakuza(a japanese crime syndicate), as well as they became their targets. However, they were joined by Ryu Saeba, a martial arts master and through has decided to fight the Yakuza.
Personality
He likes to live his life without worries and he loves to fight. He is regretful of his past actions and is still mailing apologetic letters for the victims of his "Mad" days.
Heroes