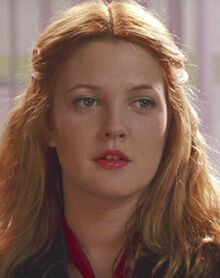 Dylan Sanders is one of the main characters in Charlie's Angels. She was portrayed by Drew Barrymore, who also played Akima Kunimoto in Titan A.E. and Gertie in E.T. the Extra-Terrestrial.
Dylan Sanders is an auburn-haired, green-eyed woman and during her childhood years she was fearless and street-smart. She lost her mother at the age of 6 and has never met her father. Dylan's teenage years were rebellious and she graduated with non-optimal grades (that is, if she graduated at all or simply dropped out). After school, she followed in the footsteps of Jack Kerouac and gained life experience whilst continuing on as a drifter. Dylan at age 23 in 1998 became an officer at the Memphis County Police Department under the leadership of a constantly verbally abusive Commanding Sheriff. She lasted three months as an officer before on a daily line-up, striking the Commanding Sheriff across the face and then exiting the building leaving her badge and essentials behind. Since then, Dylan has whiled away her days doing odd jobs: monster truck rally driver, female wrestler, bartender, yoga instructor, field guide, rodeo entertainer, just to name a few. Dylan has keen eye for the "bad boy" persona and has had a string of boyfriends, all of whom have influenced her life negatively.
In Charlie's Angels: Full Throttle it has been described that Dylan "always finds the good in people". We learned in Charlie's Angels: Full Throttle that she is a part of the Witness Protection Program after witnessing a murder committed by her ex-boyfriend, who was a member of the fictional (yet famous) O'Grady Crime Clan. Her former name was Helen Zaas before she testified against him, a name in which she has been made fun of (ex. "Is that, uh, Ass-tralian?"; "Did you by chance drive an Ass-tin Martin?" "We should get this to the lab to have it anal-ized." "I don't care about Helen's ass, I care about your's.", etc.).
Her bohemian L.A. pad is complete with lava lamps, incense burners, and a less-than-tidy walk-in closet on Melrose Avenue. She drives an orange-and-white 1969 Camaro convertible, license plate number 716-EKL. WORDS TO LIVE BY: "Don't let your past hold you back."
Community content is available under
CC-BY-SA
unless otherwise noted.