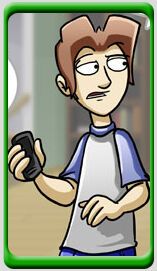 Ethan Ryan MacManus is 21-year-old of Irish descent, Ethan is a game fanatic, a recovering Everquest addict, and an amateur artist, and one of the two Main Protagonists of Ctrl+Alt+Del.
Appearance
Ethan has brown hair, and is often seen wearing a grey short sleeved shirt with blue sleeves, and a collar, with blue jeans.
On Winter-een-mas, he wears a cape and a crown, and holds a staff with an Xbox Controller.
Personality
Ethan is dense, obsessive, and just flat out insane. He will go to great, and often illegal, lengths to complete his goals, such as getting a game early, or trying to get more time to play video games.
Gallery
Community content is available under
CC-BY-SA
unless otherwise noted.