Raise a Floppa - The Loop
Play Sound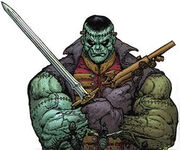 Frankenstein is the name of several DC characters based on the Mary Shelly character (both the scientist and the monster) and most notably the interpretation created by Grant Morrison for his Seven Soldiers series.
Origin
Frankenstein grew up in a loving and gentle Swiss family with especially close ties to his adopted cousin, Elizabeth, and his friend Henry Clerval. As a young boy, Frankenstein becomes obsessed with studying outdated theories about what gives humans life. In college at Ingolstadt, he creates what he considers a paragon of humanity from scavenged body parts, but upon bringing it to life, realizes the creature is hideous. Disgusted by and fearful of the monster's appearance, Frankenstein flees.
Henry Clerval comes to Ingolstadt to study with Frankenstein, but ends up nursing him after his exhausting and secretive efforts to create a human life. While Frankenstein recovers from his illness over many months and then studies languages with Clerval at the college, the monster wanders around looking for friendship. After several harsh encounters with humans, the monster becomes afraid of them and spends a year time living near a cottage and observing the family who lived there.
Powers & Abilities
Frankenstein's most famous and recognizable powers are his incredible strength and durability. Likewise, he is immortal, as this power stems from his nature: he is neither dead nor alive. This is due to his creator's work as well as Melmoth's blood coursing through his veins.
Heroes
Teams
Justice League | Justice League Dark | Justice League International | Super Buddies
Main
Aquaman | Atom | Batman | Black Canary (Dinah Drake) | Cyborg | The Flash (Barry Allen | Wally West) | Green Arrow | Green Lantern | Hawkgirl | Hawkman | Martian Manhunter | Superman | Wonder Woman
Secondary
Adam Strange | Agent Liberty | Alan Scott | Amazing Man | Ambush Bug | Amethyst | Andrew Bennett | Animal Man | Antaeus | Atomica | August General in Iron | Azrael | Aztek | Bart Allen | Batwing | Batwoman | Beast Boy | Big Barda | Black Condor | Black Lightning | Black Orchid | Blue Beetle | Blue Devil | Blue Jay | Booster Gold | Bronze Tiger | Captain Atom | Captain Cold | Catwoman | Commander Steel | Congorilla | Creeper | Crimson Fox | Damian Wayne | Deadman | Detective Chimp | Doctor Fate | Doctor Light | Doctor Mist | Donna Troy | Element Woman | Elongated Man | Emiko Queen | Equinox | Etrigan | Faith | Fire | Firehawk | Firestorm | Frankenstein | General Glory | Geo-Force | Guardian | Guy Gardner | Gypsy | Harley Quinn | Hourman | Huntress | Ice | Jackson Hyde | Jade | Jaime Reyes | James Gordon | Jericho | Jesse Quick | Jessica Cruz | John Constantine | John Stewart | Katana | Kid Flash | Killer Frost | Kyle Rayner | Lex Luthor | Lightray | Lobo | Lois Lane | Madame Xanadu | Maxima | Mera | Metamorpho | Mister Miracle | Miss Martian | Mister Terrific | Mon-El | Moon Maiden | Natasha Irons | Nightmare Nurse | Nightwing | Oracle | Orion | Pandora | Phantom Stranger | Plastic Man | Power Girl | Question | Raven | Red Arrow | Red Tornado | Rocket Red | Ryan Choi | Saturn Girl | Shade the Changing Mann | Shazam | Silver Sorceress | Simon Baz | Starfire | Stargirl | Steel | Steve Trevor | Supergirl | Swamp Thing | Tasmanian Devil | Ted Kord | Tempest | Tomorrow Woman | Triumph | Vibe | Vixen | Zatanna | Zauriel
Theatrical Movies
Justice League: Justice League (Superman | Batman | Wonder Woman | The Flash | Cyborg | Aquaman) | Alfred Pennyworth | James Gordon | Mera | Lois Lane | Hippolyta | Zeus | Artemis | Green Lantern Corps
Zack Snyder's Justice League: Justice League (Superman | Batman | Wonder Woman | The Flash | Cyborg | Aquaman) | Alfred Pennyworth | James Gordon | Mera | Lois Lane | Hippolyta | Nuidis Vulko | Martian Manhunter | Zeus | Artemis | Green Lantern Corps
Direct-to-video Movies
Justice League: The Flashpoint Paradox: The Flash | Batman | Thomas Wayne | Cyborg | Kal-El | Cole Cash | Godiva | Steve Trevor | Lois Lane | Etrigan | S.H.A.Z.A.M. | Samuel Lane
Justice League: War: Justice League (Batman, Superman, Green Lantern, Wonder Woman, Shazam, & Cyborg) | Steve Trevor | Freddy Freeman |Sarah Charles | Thomas Morrow | Silas Stone
Justice League: Throne of Atlantis: Aquaman: | Atlanna | Mera | Justice League (Batman, Cyborg, The Flash, Green Lantern, Shazam, Superman, & Wonder Woman) | Steve Trevor | Lois Lane
Justice League vs. Teen Titans: Teen Titans (Raven, Robin, Starfire, Blue Beetle, Beast Boy, & Nightwing) | Justice League (Batman, Cyborg, The Flash, Superman, & Wonder Woman)