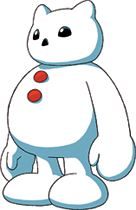 Frigimon is a snowman-like Digimon in Digimon Adventure, Digimon Adventure 02.
He was voiced by late Bill Capizzi in Digimon Adventure.
Digimon Adventure
Tai and Agumon were the first to encounter this Digimon looking like a snowman. They released him from the influence of the Black Gear that was in his back. From gratefulness, Frigimon helped them reach one of the other pieces of File Island where the other children were.
Frigimon later helps the DigiDestined leave File Island, and joins Mimi and Joe's army against the Dark Masters.
Digimon Adventure 02
Digimon Emperor uses them as slaves in an attempt to protect his newest Control Spire in the polar region of Digiworld. Of course, they have little chance against Flamedramon flames.
External links
Gallery