✔
| | |
| --- | --- |
| | This Article Contains Spoilers - WARNING: This article contains major spoilers. If you do not wish to know vital information on plot / character elements in a story, you may not wish to read beyond this warning: We hold no responsibility for any negative effects these facts may have on your enjoyment of said media should you continue. That is all. |
This article's content is marked as Mature
The page Gared Tuttle contains mature content that may include coarse language, sexual references, and/or graphic violent images which may be disturbing to some. Mature pages are recommended for those who are 18 years of age and older.


If you are 18 years or older or are comfortable with graphic material, you are free to view this page. Otherwise, you should close this page and view another page.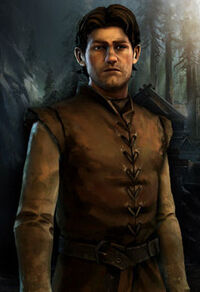 Gared Tuttle is one of the five playable characters in The Game Of Thrones Video Game.
Depending on how you play Gared's character, Gared can be portrayed as a honorable warrior who is kind to those around him and will spare the lives of his enemies, or a trash talker that shows no remorce during battle but still fights for the people he cares about. 
History
Gared was raised on stories of heroism about the likes of Arthur Dayne and Symeon Star-Eyes. Though the son of a pig farmer, he has always aspired to one day become a warrior himself. With the help of his uncle Duncan, who had risen from lowborn origins to become Castellan of Ironrath, Gared found work in Lord Forrester's stables, rising through the ranks to eventually be named his squire. Gared has served Lord Forrester throughout the long months in King Robb's army, and is ready to be a warrior in his own right.
Bio
Gared is a Hard Working, determined, kind, and heroic man with humble beginnings as a son of a pig farmer that became the trustworthy squire of House Forrester after years of hard work. He is the nephew of Duncan Tuttle, the Castellan of the Ironrath, and serves as squire to Lord Gregor Forrester. He gained even more respect of Gregor, who realized his talents promoted Gared to a warrior, would be allowed to fight beside Rodrik Forrester in the battle field. 
Like the other members of House Forrester Gared has a strong sense of justice and honor he does not tolerate people taking advantage of the weak or the helpless he will kill anyone that hurts his family, friends, or people that work under house forrester, and during battle Gared will never give up and fight until his dying breath.
Gared manages to escape the Red Wedding alive, with the task from Lord Gregor to return the Forrester greatsword to Ironrath and then travel beyond the Wall to protect the North Grove. The next, day he finds his father dying of wounds from Bolton soldiers and his sister murdered. Gared avenges the murder of his family, then returns to Ironrath, where he gives returns the greatsword. His uncle sends him to the Wall to join the Night's Watch, to escape the wrath of the Whitehills. Before leaving, Gared receives a map to the North Grove from Duncan.
Gallery