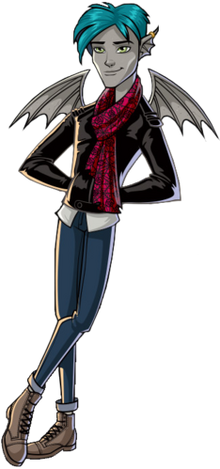 Garrott DuRoque is Rochelle Goyle's boyfriend from Scaris and a supporting character in Monster High. He first appeared in Scaris: City of Frights.
Portrayers
He is voiced by Evan Smith in English.
Character
Personality
In "Scaris: City of Frights", Rochelle explains to Frankie that she and Garrott lost contact after she came to Monster High. Rochelle also tells Frankie about how Garrott created a rose bush just for her. Frankie and Rochelle find Garrott locked in the Scarisian Catacombs by Madame Ghostier. Madame Ghostier used him to create all of her fashion lines because she "ran dry" of ideas. Garrott gets out with their help and he helps them get back at Madame Ghostier, as well as getting back together with Rochelle.
According to Ghoulfriends Forever, his poetry is not very good and he is vehemently anti-pigeon. The latter occasionally is a source of bickering between him and Rochelle.
Appearance
Garrott has dark grey skin, soft green eyes, and blue hair.
Community content is available under
CC-BY-SA
unless otherwise noted.