Note: This is the Reboot version of Heatblast, For his Prime Counterpart, See Here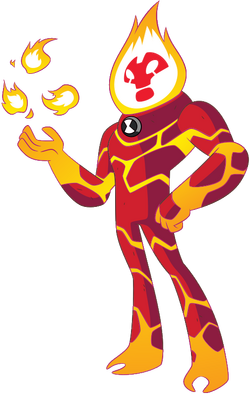 Heatblast is a Pyronite from a star Pyros and the Omnitrix's DNA sample of a Pyronite from the star Pyros.
He is voiced by Daryl Sabara also portrayed Juni Cortez from Spy Kids films and voices as Hero Boy from The Polar Express and Rex Salazar from Generator Rex.
Appearance
Omnitrix symbol is placed closer to his head.
Powers & Abilities
Pyrokinensis
Pyro Immuntiy
Pyro Absorption
Fire Breath
Lava Projection
Limited Terrakinesis
Enhanced Strength
Agility
Durabilltiy
Trivia
His voice sounds like a teenager rather than the deeper voice he had in previous incarnations.
Gallery