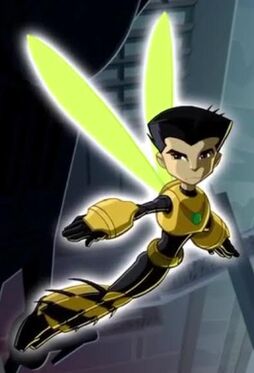 Henry Pym Jr. is the son of Giant-Man and Wasp and one young Avenger from Next Avengers: Heroes of Tomorrow. He is the Technician Wizard of the Next Avengers.
Biography
When Pym's parents defeated all the enemies and peace prevailed in the world, they fell in love, got married and got him. But when the evil known as Ultron returned in pursuit of world domination, Captain America ordered his friend Iron Man to keep Pym, James, Torunn, and Azari safe when faced with an inevitable defeat as Ultron killed the other Avengers. And from then on, the Iron Man kept them hidden in the Arctic Circle for thirteen years. While in hiding, Pym and others have prepared to face Ultron sometimes. When Vision returned to tell the Iron Man everything, Pym and the others began to spy on them, while they found the Iron Avengers built by the Iron Man and they started, Ultron located their location, and launched an attack there. Pym and the others went to the central control room at the Iron Man's command, and then Vision took command and launched the ship to take him and the others to safety. But when Vision's reserve power ran out, they went to Ultra City to rescue Iron Man from Ultron's hands. In Ultra City, they met the son of Hawkeye, Francis Barton, who led a gang called the Scavengers, who have lived under Ultron's power, out of sight, in hiding. When he and the others left for Ultron's fortress to save the Iron Man, they got there with Barton's advice. Then when they rescued the Iron Man and fled Ultron with Barton and the Scavengers, the Iron Man told them the truth. And when Betty said the Hulk was also alive, the Avengers went to look for him and ask him for help. When they met Bruce Banner, he refused to let the Hulk out, but he and the other young Avengers decided to face Ultron and the Iron Avengers. When the Iron Avengers arrived on the scene, they began a battle against them, in the battle James wanted him to anger Bruce so that the Hulk would emerge. When Ultron stunned the Hulk, he angered him to defeat the Ultron, he succeeded, but after that the Hulk tried to crush him, but luckily for him, Betty calmed the Hulk, and the Hulk didn't crush him. And when Torunn can take Ultron's parts into space, throw them there and return to Earth, he and the other young Avengers were about to start a battle against the robots in Ultra City.
Gallery
Community content is available under
CC-BY-SA
unless otherwise noted.