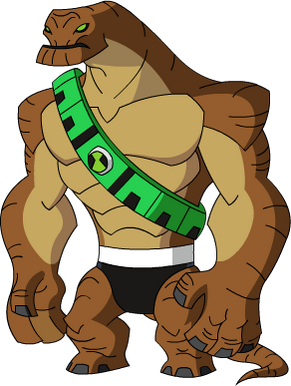 Humungousaur is one of the egos of Ben Tennison. His known powers are strength and changing size.
He is the Omnitrix's DNA sample of a Vaxasaurian from the planet Terradino.
Appearance
Ben as Humungousaur Humungousaur is about 12 feet tall and can grow bigger at will, up to about 60 feet. When he grows, his dinosaur features become more pronounced, growing Stegosaur-like plates on his back, a crest on his forehead, and spikes on his tail. Also, on his shoulders three plates separate and grow, giving him a more ferocious look. His arms do something similar. His skin is hard, brown, and a sort of beige color and he has a somewhat humanoid body. Humungousaur wore the Omnitrix/Ultimatrix symbol on his chest.
In Heroes United, the plates on his chest ended in spikes. He had spikes above his eyes.
In Omniverse, Humungousaur wears black briefs with a white waistband and a green sash across his chest containing the Omnitrix symbol. Humungousaur now has grey fingernails instead of brown, a slightly bigger chin, green eyes in the same hue of his sash, a shorter build and his nose has shifted to his forehead.
Powers and Abilities
Enhanced Strength: Humungousaur possesses incredible enormous strength.
Enhanced Durability: Humungousaur possesses trick hard skin making him highly durable.
Enhanced Agility: Despise his size, Humungousaur is shown to be quite agile.
Enhanced Roar: Due being Dinosaur-like, Humungousaur possesses a powerful roar.
Size Alteration: Humungousaur can grow up to 60 feet tall.
Limited Space Survivability: Humungousaur is strong enough to survive in the vacuum of space, but only for a few minutes.
Gallery
Community content is available under
CC-BY-SA
unless otherwise noted.