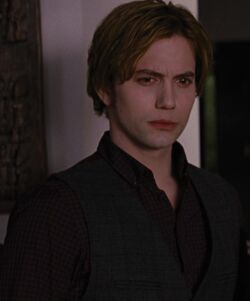 Jasper Hale is a character from the Twilight series and is the adopted son of Carlisle and Esme Cullen, adoptive brother of Rosalie Hale, as well as Edward and Emmett Cullen, and husband of Alice Cullen. He takes the name Hale to pass as Rosalie's sibling. He was born in Texas and joined the Confederate States Army in 1861 to serve in the American Civil War. Due to his extremely charismatic personality, he ascended through the ranks quickly. Jasper was turned into a vampire in 1863 by a vampire named Maria when he was 19 years old. After transformation, he gained the ability to sense and manipulate the emotions of those around him. Recognizing his high rank in the army, Maria decided to change him into a vampire to help her claim territory in Monterrey. Jasper's responsibility was to train young vampires and then kill them when they were no longer useful. After about a century of this, he grew weary of the lifestyle and joined an old friend, Peter, and his mate Charlotte. Jasper left the two eventually, not wanting to feed on humans because he could feel his prey's emotions as they died. Alice, foreseeing that they would be together, met him in a half-empty diner in Philadelphia, and together they sought out the Cullen family. Due to his past, where he was able to feed on humans whenever he chose, Jasper lacks strong self-control. In Eclipse it is suggested that the "vegetarian" lifestyle is not Jasper's first choice and that this also affects his self-control. It is also suggested that he remains with the Cullens mainly for Alice's sake and that while he is fond of them all, he is not as attached to them as she is. He is described as tall with honey blond hair, and is muscular but lean. His face and body are covered with crescent-shaped scars, after his years of fighting and training newborn vampires.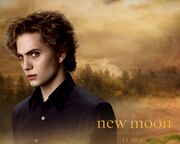 In Twilight, Jasper accompanies Alice and Bella when they are hiding from James, using his ability to calm Bella when she is stressed or afraid. In New Moon, he loses control and attacks Bella when she gets a paper cut, prompting Edward to leave Forks in order to protect Bella. In Eclipse, Jasper teaches the werewolves and vampires fighting techniques to defend themselves against newborn vampires. In Breaking Dawn, he leaves with Alice to find a vampire-human hybrid, and returns with her to defend Renesmee and the rest of the family against the Volturi.
Comedic side in the series
Despite the series being a drama, Jasper is one of the Twilight charcters who can be comedic on occasion, like in Twilight Saga: New Moon, he says 'never mind' before he can finish saying 'happy birthday' to Bella who gave him a glancing scowl.

Heroes
Community content is available under
CC-BY-SA
unless otherwise noted.