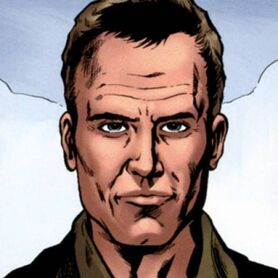 Jerry Craven
is the American super soldier, a former military pilot and astronaut, as well as one of the few positive characters in the
Supergod
comic.
Biography
In the world of the Superbog comic, the arms race has gone the other way - it has relied on the creation of superhuman, man-made gods. The US government rigged the crash of Craven's Craven, and Jerry was declared dead. A huge number of implants and stem cells have been introduced into the body of this man. Simon Reddin, the comic book narrator, called Jerry "an atomic bulldozer in human form." The operation was spent 6.5 billion dollars.
To keep his sanity, Craven convinced himself that he was in Heaven. In fact, it was placed in an underground pavilion, depicting a deserted suburb. Since Jerry considered himself dead, he did not think about the fact that he was not getting old, that he did not need sleep, food or drink. He convinced himself that America had managed to make contact with heaven. On certain days, he simply went out into the courtyard and, inhaling the condensed air of a small paradise, waited for the car to come. In 1983, the Soviet Union sent its super god, a three-meter android named New Gorage, to Grenada. The shock wave from their exchange of blows would have squeezed the eyes of any observer.
At the beginning of the 21st century, the Indian superman Krishna awoke and began to actively save India, in a very peculiar way. So, he solved the problem of overpopulation, killing 900 million Indians. Then the population of Pakistan was completely exterminated. Superbogs from different countries rushed to enter into trouble with Krishna, incidentally sowing destruction and killing millions of people. It is worth noting that only Russian and American supermen simply did what they were ordered, without accompanying genocide. By the time Jerry reached India, Krishna had already defeated three monstrous opponents and partially destroyed the moon. Oddly enough, Krishna really cared for the survivors. India has become a paradise on earth. Craven understood that there was no point in a battle. And here came Dajjal, the Iraqi super-android, working on an unknown source of energy. Dajjal saw the future, and found all the options for its development endlessly boring. Dadjal self-destructed. The explosion destroyed Krsna, Jerry, India, China and most of Russia. Jerry Craven finally found peace.
Community content is available under
CC-BY-SA
unless otherwise noted.