World of Warcraft: Dragonflight - The Loop
Play Sound
✔
This hero was proposed but rejected by the community for not being admirable enough or lacks what is necessary to be a purely good hero. Therefore, this hero shall be added to our "Never Again List", where proposed heroes rejected by the community shall be placed to prevent future proposals of the same do-gooder. They can be proposed again (with the permission of an administrator) if new elements appear in their series that can change their status as non-PG heroes.
Any act of adding this hero to the Pure Good category without a proposal or creating a proposal for this hero without the permission of an administrator will result in a ban.
Additional Notice: This template is meant for admin maintenance only. Users who misuse the template will be blocked for a week minimum.
| | | |
| --- | --- | --- |
| " | I'm not bad, I'm just drawn that way. | " |
| | ~ Jessica Rabbit. | |
Jessica Rabbit is Roger Rabbit's human toon wife and the tritagonist of Who Framed Roger Rabbit. In the book, she was an amoral, up-and-coming star and former comic character, over whom her estranged husband, comic strip star Roger Rabbit, obsessed.
She is re-imagined in the film as a sultry, but moral cartoon singer at a Los Angeles supper club called the "Ink and Paint Club".
Here, she is one of several suspects in the framing of her husband, who is a famous cartoon star.
Several attractive Toon females (specifically Betty Boop) apparently consider Jessica to be incredibly lucky to be married to Roger.
She was voiced by Kathleen Turner with Amy Irving doing her singing voice for Peggy Lee's "Why Don't You Do Right" for Jessica's first scene in the movie who also played Sue Snell from Carrie (1976) and it's sequel The Rage: Carrie 2, Gillian Bellaver in The Fury (1978), and Miss Kitty in An American Tail: Fievel Goes West.
Role in the film
Jessica is first seen from behind the stage curtains at the Ink & Paint Club, singing "Why Don't You Do Right?".
After her show, followed by Eddie Valiant, the Toon-hating detective, Marvin Acme, both ruler of Toontown and founder of the Acme Corporation, enters Jessica Rabbit's dressing room and informs her that she sure absolutely, truly, and honestly murdered the audience one night and he really means it.
Then, he says that she was superb while Eddie tries to peer through the keyhole to see what's going on, but he was thrown outside into a pile of trash by a Toon tuxedoed gorrila.
When he hears Jessica and Marvin talking through one of the nearby windows, he pulls up a box and peers through a gap in the curtains. Marvin insists Jessica to play pattycake with him on her bed, but Jessica replies that she has a headache.
However, Marvin says that she promised, then convinces her to do it, and she agrees, but she tells him to take off his hand-buzzer. While they play pattycake together, Eddie pulls out a camera and takes several pictures by order of R.K. Maroon, owner of Maroon Cartoons.
Later, after Roger Rabbit, Jessica's husband, crashes through the studio office window, leaving a rabbit-shaped hole in the glass and the blinds and walks across the road at the Acme factory, crying his eyes out, he pulls out his wallet and looks at his photos of him and Jessica on their wedding day, their honeymoon on a beach, and hugging each other in a bar.
The next morning, at the Acme factory, Jessica's body has been ran over by Eddie, but she whips him hard across the face and scolds him that she hopes he's proud of himself, and those pictures he has taken.
Then, she storms out in a terrible fury. In the deleted sequence, that night, in her dressing room, Jessica, with the wicked Judge Doom and his posse of weasels, was looked up at by Eddie in search for Marvin's will when the whole room undarkens.
After the removal of his Toon pig mask, Eddie exits his office bathroom, and there stands Jessica, waiting. She tells Eddie that he's got the wrong idea about her, and asks him that he can help her find Roger.
Then, she advises him to name his price, and she'll pay it. Eddie says that she must have the rabbit to make that scam work, but Jessica states she loves Roger, and tells Eddie that he's got her all wrong and doesn't know how hard it is being a woman looking the way she does.
And Eddie says that she doesn't know how hard it is being a man looking at her looking the way she does. Then, Jessica states to him, "I'm not bad. I'm just drawn that way."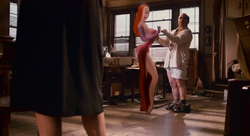 Eddie asks her that she was not the one he caught playing pattycake for Marvin, and Jessica tells him that he forbade to catch her and was set up to take those pictures which means Maroon wanted to blackmail Acme.
She explains to him that according to Maroon, if she didn't pose for those pattycake pictures, Roger would never work in Maroon Cartoons again, and she says she couldn't let that happen and would do anything for Roger.
She also claims that she's desperate and asks he can't see how much she needs him, implying she will sleep with him if he does. Meanwhile, Eddie's girlfriend Dolores, shocked, jealous, and hurt, sees Eddie, with his trousers fallen down, wrapped around by Jessica's sexy arms.
Then, Eddie rapidly tries to pull up his trousers and as he stands up, his head comes up between Jessica's giant breasts, then apologizes.
As Jessica heads out, she blows a sexy Toon kiss at Eddie which flutters across the room and smacks onto his cheek just before Dolores pulls it off in anger.
Outside Maroon Cartoons, at twilight, Jessica hits Roger's head with a frying pan and throws her unconscious husband into the trunk of her car, then puts it in her handbag.
After Maroon's brutal death, Jessica runs off to her car and has been looked out the office window and seen by Eddie just before the detective exits the building.
Then, the car chase begins, and Eddie tries to follow Jessica, but she disappears into a tunnel leading to Toontown.
In Toontown, a silhouette of Jessica is seen in a tall apartment building by Eddie. Then, when he is elevated by Droopy, he opens the door to Jessica's bedroom to see her inside with some underwear.
However, as [disney:Eddie's "mistake" turns around, the hair drops from her face to reveal Lena Hyena, so she runs towards Eddie with her lips puckering for a kiss, but Eddie slams the door on her, and her lips impale it.
After being tricked into plummeting about 500 stories by Tweety Bird and 2 parachuting Toons (Mickey Mouse and Bugs Bunny), but both saved and kissed by Lena just before she crashes into the wall and knocks herself senseless, Eddie's been pointed at by a gun of Jessica, and a shadow of a gun pointing itself at Eddie from the other direction casts itself on the wall beside the private investigator.
Then, she shoots, and the pistol falls from the shadow's hand. Now Eddie draws his own gun, holds her at gunpoint, and scolds her to drop it. Dropping her pistol, Jessica claims that she just saved his life, but Eddie claims that he doesn't trust anybody or anything.
Jessica shows Eddie Doom's gold pistol on the ground that turned Maroon into a corpse, and the evil Judge squeezed the trigger.
Also, she says she was on his tail to Maroon Cartoons, but she was too late to stop him. Suddenly, who shall be heard by both her and Eddie but Judge Doom himself, screaming and running down the alleyway and Eddie shoots 3 times with his Toon gun, but before the bullets reach Doom, the dark man disappears down a side alley.
However, the bullets grind to a halt, then go the wrong way instead of the right to get Doom. Then, when Jessica drags Eddie to her car, she is shocked to see her car trunk open and completely empty and asks where Roger is.
Eddie replies that Roger chickened out on him back at the studio, but Jessica honestly tells him that she struck her husband's head with her frying pan and put him in the trunk, so he wouldn't get killed and Eddie says that it makes perfect sense. Jessica decides that she and Eddie will take his car.
However, Eddie points back down the road where swerving tire marks lead off into the distance past burst fire hydrants and knocked-over lampposts, he states that he's got a feeling someone already did, and Jessica says from the looks of it, it was Roger who was never very good behind the wheel which means a better lover than a driver.
Just then, when they hear a siren, Jessica warns Eddie that the Toon Patrol are on their way, and decides that they'll take Gingerbread Lane, but when Eddie sticks out his thumb by accident, Benny the Cab appears from nowhere.
The 2 hitch Benny and speed along the tunnel leaving Toontown. So Eddie demands how long Jessica's known it was Doom and Jessica explains that Marvin confided in her that Doom wanted to get his hands on Toontown and he wouldn't stop at anything before the Toontown keeper was transformed into a corpse by a giant safe on his head, so he gave her his will for safe keeping except when she opened the envelope, there was only a blank sheet of paper inside and Eddie says, "Huh! A joker 'til the end."
So Benny impatiently asks them to know where he's taking them because his meter's running, and Jessica tells him she has to find Roger because she's so worried about him seriously and tells Eddie that what she sees in her husband who makes her laugh.
As they leave the tunnel, Doom tips a barrel of Dip onto the road. Benny spins around on it, screaming in serious pain, and crashes into a lampost, sending Eddie and Jessica flying to the ground. Now they are taunted by the bullyish Doom.
When his weasels drive out of the tunnel and pull up next to their boss, they put their 2 captives in Doom's van to the Acme factory.
Back at the Acme factory, Greasy, one of Doom's 5 weasels, volunteers to frisk Jessica, rolls up his sleeve, and puts his hand inside Jessica's giant breast cleavage.
However, there is a snapping sound, and Greasy rapidly withdraws his hand with a bear trap on it, screaming in serious pain, causing the other 4 weasels to laugh, and Eddie says to Jessica, "Nice 'booby' trap."
Then, Doom whacks Greasy into a pile of boxes spilling false eyes all over the floor and asks his Toon minions that she and Eddie have the will or not, but Smart Ass, Doom's lieutenant, says that it is just Roger's love letter.
Then, Doom says that it doesn't count. Then, he warns Eddie and Jessica that if the will won't exist in the next 15 minutes, Toontown will be legally his; lock, stock, and barrel.
As Roger is entering the factory, Doom walks up to a large object covered by tarpaulin, drops a silver tray onto the floor, pulls it aside and opens a valve releasing a green liquid onto the tray which starts to corrode, then asks that Eddie and Jessica can guess what that is.
Then, Jessica screams, "Oh, my God, it's...DIP!!!!" And Doom removes the tarp to reveal a large pressurized Dip machine that carries 5,000 gallons of heated Dip all pumped at enormous velocity through it.
When he responds that Toontown will be erased in a matter of minutes, Jessica says that she suppose he thinks no one will notice Toontown's disappeared. Doom demands who's got time to wonder what happened to some ridiculous talking mice when she and Eddie are driving past at 75 miles per hour.
Jessica convinces him that there isn't any road past Toontown, but Doom says almost. Then, he explains to them that several months ago he has the good providence to stumble upon a plan of both the city councils and epic proportions: a freeway.
When Roger pops out of a manhole, he holds the weasels at gunpoint, he says that if they don't lift their hands, he will let Doom have it, and then he is reunited by Jessica.
When a pile of bricks land on Roger, Jessica rushes over and tells him to say something, and Roger shows her stars around his head, then says to himself, "Ready when you are, Raoul."
Then, Doom commands the weasels to tie up both Roger and Jessica together on a giant hook and use an escape-proof Toon rope.
While Greasy activates the Dip vehicle, Jessica tells Roger that he was magnificent and better than Goofy and wants him to know she's loved him more than any woman's ever loved a rabbit.
Before his departure, Doom advises Smart Ass to let Eddie watch the Toon couple get dipped, then shoot him, and Smart Ass agrees with his boss.
When Eddie activates a music machine in order to make the weasels laugh like crazy, Jessica declares that he's lost his mind, but Roger disagrees.
Then, Jessica helps Eddie finish his next verse, like "Running out of time!" After the weasels' defeat, Eddie turns the cannon back the other way by accident just before the villainous Doom returns, slides across a line to strike Eddie, and sends him flying just before the 2 men are dueling.
While Doom's body gets squashed like a pancake by a steamroller, the Dip machine is getting closer to Roger and Jessica, but Eddie deactivates it.
However, when Doom reaches a gas cylinder and re-inflates himself, then reveals himself as a dastardly Toon bank robber with evil crimson eyes who really destroyed Eddie's brother Teddy, Acme, and Maroon, he starts up the Dip machine again to kill Roger and Jessica.
While the deadly Dip is getting extremely close to Roger and Jessica, the beautiful Toon woman bids her husband goodbye, protesting and as the Dip level in the machine runs out to let the jet of dip from it dies out, she says that she thinks she'll faint.
After Doom's sudden death, Eddie grabs a remote control and presses a button, and the large hook with Roger and Jessica hanging is moved out of the encroaching Dip machine's way.
When it goes through the factory wall and is hit by a speeding train in Toontown, Roger asks Eddie how he and Jessica will get down if there's Dip all over the place, and Eddie cleans it up with fire hydrants.
After Eddie unties them, Roger replies that that was a close shave and thought for sure their goose was cooked. Jessica dubs Eddie as her hero, then saunters over to her "honey bunny", kisses him all over his face and tells him that he was a pillar of strength just before Benny, Dolores, Lt. Santino, and the police arrive.
When hundreds of Toons (including Mickey, Donald Duck, Goofy, Pluto, Bugs, Daffy Duck, Sylvester the Cat, Tweety, Porky Pig, Snow White, Dopey, Pinocchio, Bambi, Yosemite Sam, Woody Woodpecker, Baby Herman, the Big Bad Wolf, the Toon gorilla, etc.) pop out from Toontown through the large cavity in the wall, Eddie asks Roger to read a love letter to Jessica that he wrote at the Ink and Paint Club with her lipstick, and he does so.
However, being interrupted by this, words start appearing on the paper, and as Roger keeps reading, he discovers it is Acme's will that they were looking for!
Then, after he finishes it, the Toons let out applauses and cheers. Also, he tells Eddie that was a pretty funny dance he did with the evil Toon Patrol and asks him that his days of being a sourpuss are over, and Eddie says that only time will tell.
Then, to shake his hand and congratulate him, Roger tricks Eddie with Acme's handbuzzer, causing all the Toons to gasp in shock.
However, with no sense of humor, smirking, Eddie toughly grabs Roger by the neck and gives him a big kiss.
At the end, Jessica states she will bake Roger a carrot cake just before the Toon couple, Benny, Baby Herman, Eddie, Dolores, and the Toons start walking toward Toontown through the hole, singing "Smile, Darn Ya, Smile".
Personality
Jessica Rabbit is gorgeous, passionate, and glamorous. She is slender and fair-skinned.
She has blue eyes, red pouty lips, purple eyelids, long red hair that covers her right eye, aqua earrings, red strapless sparkling dress that shows her largest breast cleavage, bare back, and any one of her legs, long purple opera gloves, and shiny red pumps.
She claims to Eddie Valiant, "I'm not bad, I'm just drawn that way." She adores her husband Roger, and claims she married him because he "makes me laugh".
Other appearances
Spin-off short films
Tummy Trouble
Jessica appears as a nurse, pushing a cart carrying baby drinking bottles.
Roller Coaster Rabbit
Jessica appears as a damsel-in-distress.
Trail Mix-Up
Roger fantasizes over Jessica as a park ranger, calling her a 'babe in the woods' and panting like a dog.
Comics
Jessica also appeared frequently in the Roger Rabbit comic book series, and she had her own feature in most issues of Roger Rabbit's Toontown such as "Beauty Parlor Bedlam," where she comes face to face with female weasel counterpart, Winnie.
Disney Parks
With the success of the film and upon the opening of Disney-MGM Studios on May 1, 1989, the film's characters featured prominently in the company.
After taking the "Backlot Tram Tour", various props decorated the streets including two different photo opportunities with Jessica: a glittery cardboard cutout and "The Loony Bin" photo shop which allowed you to take pictures in costume standing next to an actual cartoon drawing of characters from the film. There was also a plethora of merchandise including Jessica Rabbit rub-on stickers called "pressers".
In 2000, Disney-MGM Studios stopped using any character memorabilia in the park, though some props are still present. These include a Maroon Cartoon billboard featuring Roger, Jessica, and Baby Herman across from the Indiana Jones Stunt Spectacular show, Eddie Valiant's office and a cut-out of Roger on the blinds of a neighboring window near the 50's Prime Time Cafe, and the "ton o' bricks" hanging near the "Honey, I Shrunk the Kids" Movie Set Adventure.
Roger Rabbit's Car Toon Spin
Jessica can first be seen in the beginning tied up in the trunk of Smart ***' car and then later with a giant mallet making her escape at the ride's end.

Heroes
Animated Features
Snow White | Seven Dwarfs (Doc, Bashful, Grumpy, Happy, Sleepy, Sneezy & Dopey) | The Prince | The Huntsman | Pinocchio | Jiminy Cricket | Geppetto | Blue Fairy | Figaro | Cleo | Sorcerer Mickey | Madame Upanova | Hyacinth Hippo | Ben Ali Gator | Dumbo | Timothy Q. Mouse | Mrs. Jumbo | The Crows | Bambi | Thumper | Flower | Faline | Bambi's Mother | Great Prince of the Forest | Friend Owl | José Carioca | Panchito Pistoles | Willie the Whale | Bongo the Bear | Lulubelle | Willie | Mr. J. Thaddeus Toad | Water Rat | Moley | Angus MacBadger | Cyril Proudbottom | Pecos Bill | Ichabod Crane | Cinderella | Jaq and Gus | Anastasia Tremaine | Fairy Godmother | Prince Charming | Bruno | The King | Grand Duke | Alice Liddell | White Rabbit | Peter Pan | Tinker Bell | Wendy Darling | John Darling | Michael Darling | Tick-Tock the Crocodile | Nana | Lady | Tramp | Trusty | Jock | Annette, Collette and Danielle | Aurora | Prince Phillip | Flora | Fauna | Merryweather | King Stefan | Queen Leah | King Hubert | Lord Duke | Forest Animals | Pongo | Perdita | Roger Radcliffe | Anita Radcliffe | Nanny | Lucky | Patch | Rolly | Danny | Colonel | Sergeant Tibbs | Captain | Arthur Pendragon | Merlin | Mowgli | Baloo | Bagheera | King Louie | Colonel Hathi | Shanti | Winifred | Rama | Vultures | Raksha | Duchess | Thomas O'Malley | Marie | Toulouse | Berlioz | Scat Cat | Abigail and Amelia Gabble | Frou-Frou | Roquefort | Robin Hood | Little John | Maid Marian | Friar Tuck | Lady Kluck | Alan-A-Dale | King Richard | Toby Turtle | Winnie the Pooh | Tigger | Piglet | Eeyore | Rabbit | Owl | Kanga | Roo | Christopher Robin | Gopher | Bernard | Bianca | Penny | Orville | Evinrude | Tod | Copper | Big Mama | Dinky and Boomer | Vixey | Widow Tweed | Tod's mother | Taran | Gurgi | Eilonwy | Fflewddur Fflam | Basil of Baker Street | Dr. David Q. Dawson | Olivia Flaversham | Toby | Hiram Flaversham | Oliver | Dodger | Tito | Rita | Francis | Einstein | Fagin | Jenny Foxworth | Georgette | Winston | Ariel | Eric | Sebastian | Flounder | Scuttle | King Triton | King Triton's Daughters (Attina, Alana, Adella, Aquata, Arista, & Andrina) | Max | Cody | Jake | Marahute | Wilbur | Frank | Belle | Beast | Lumière | Cogsworth | Mrs. Potts | Chip Potts | Fifi | Maurice | Aladdin | Jasmine | Genie | Magic Carpet | Abu | Rajah | Iago | Razoul | The Sultan | Jack Skellington | Sally | Zero | Mayor of Halloween Town | Santa Claus | Simba | Mufasa | Nala | Timon | Pumbaa | Rafiki | Zazu | Sarabi | Sarafina | Pocahontas | John Smith | Meeko | Flit | Grandmother Willow | Percy | Thomas | Nakoma | Chief Powhatan | Quasimodo | Esmeralda | Captain Phoebus | Victor, Hugo, & Laverne | Djali | Clopin | Hercules | Megara | Pegasus | Philoctetes | Zeus | Hera | Hermes | Olympian Gods (Poseidon, Aphrodite, Apollo) | Muses | Fa Mulan | Mushu | Li Shang | Cri-Kee | Grandmother Fa | Yao, Ling, and Chien Po | Khan | Ancestors | The Emperor of China | Tarzan | Jane Porter | Terk | Tantor | Kala | Archimedes Q. Porter | Kerchak | Baboons | Whales | Tin Soldier | Ballerina | Yo Yo Flamingo | Spring Sprite | Aladar | Plio | Zini | Yar | Suri | Neera | Eema | Baylene | Url | Bruton | Emperor Kuzco | Pacha | Kronk | Milo James Thatch | Kida | Dr. Joshua Sweet | Vincenzo Santorini | Gaetan Moliére | Audrey Ramirez | Cookie | Wilhelmina Packard | Preston B. Whitmore | Stitch | Lilo Pelekai | Nani Pelekai | Jumba Jookiba | Captain Gantu | Pleakley | David Kawena | Cobra Bubbles | Grand Councilwoman | Jim Hawkins | John Silver | Dr. Doppler | Captain Amelia | Mr. Arrow | Morph | B.E.N. | Kenai | Denahi | Sitka | Koda | Rutt and Tuke | Tanana | Maggie | Grace | Mrs. Calloway | Buck | Lucky Jack | Chicken Little | Abby Mallard | Runt of the Litter | Fish Out of Water | Buck Cluck | Lewis Robinson | Wilbur Robinson | Franny Robinson | Lefty | Bolt | Mittens | Rhino | Penny | Tiana | Prince Naveen | Louis | Ray | Charlotte La Bouff | Eli "Big Daddy" La Bouff | Mama Odie | Juju | Evangeline | Rapunzel | Flynn Rider | Pascal | Maximus | Wreck-It Ralph | Vanellope von Schweetz | Fix-It Felix, Jr. | Sergeant Calhoun | Queen Anna | Queen Elsa | Kristoff | Olaf | Sven | Hiro Hamada | Baymax | Honey Lemon | GoGo Tomago | Wasabi | Fred | Tadashi Hamada | Cass Hamada | Alistair Krei | Judy Hopps | Nick Wilde | Chief Bogo | Mr. Big | Moana Waialiki | Maui | Grandma Tala | Chief Tui | Ocean | Heihei | Te Fiti | Yesss | Shank | J.P. Spamley | Gord | KnowsMore | Lieutenant Mattias | Yelana | Honeymaren Natura | Ryder Nattura | Bruni | Gale | The Nokk | Raya | Sisu | Boun | Noi | Tong | Ongis | Tuk Tuk | Chief Benja | Mirabel Madrigal | Bruno Madrigal | Alma Madrigal | Pico | Luisa Madrigal | Antonio Madrigal | Dolores Madrigal | Camilo Madrigal | Isabela Madrigal | Julieta Madrigal | Agustín Madrigal | Pepa Madrigal | Félix Madrigal
Live-Action Films
Marnie Piper | Aggie Cromwell | Gwen Piper | Dylan Piper | Sophie Piper | Long John Silver | Perri | Travis Coates | Old Yeller | Nikki | Neewa | Big Red | Blackbeard | Herbie | Mary Poppins | Bert | George Banks | Winifred Banks | Jane Banks | Michael Banks | Chico | Goodtime Charlie | Dexter Reilly | Wahb | Moki | Miss Eglantine Price | Theodore and Amos | Pete | Elliott | Nora | Zunar-J-5/9 Doric-4-7 | Frank Wilson | Popeye | Olive Oyl | Tron | Kevin Flynn | Alan Bradley | Dorothy Gale | Princess Ozma | Jack Pumpkinhead | Billina | Tik-Tok | The Gump | Wolf | Benji | Cougar cubs | Mother Cougar | Jim Craig | Roger Rabbit | Eddie Valiant | Jessica Rabbit | Dolores | Benny the Cab | Baby Herman | Ted Johnson | Susan Johnson | Morogo | Duma | White Fang | Jack Convoy | Henry Casey | Buck | Cliff Secord | Jenny Blake | Gordon Bombay | Wayne Szalinski | Max Dennison | Dani Dennison | Allison | Thackery Binx | Tom Sawyer | Huckleberry Finn | Aramis | Athos | D'Artagnan | Porthos | George Knox | Scott Calvin | Charlie Calvin | Shadow | Chance | Sassy | Shere Khan | Jim Hawkins | James Henry Trotter | Mr. Centipede | Mr. Grasshopper | Earthworm | Mrs. Ladybug | Miss Spider | The Glowworm | George of the Jungle | Ursula Stanhope | Ape | Phillip Brainard | Sara Jean Reynolds | Mr. Magoo | Nick Parker | Annie James | Nick Parker | Elizabeth James | Mighty Joe Young | Jill Young | Gregg O'Hara | Martin | Inspector Gadget | Penny Gadget | Brain | Dr. Brenda Bradford | Mia Thermopolis | Max Keeble | Megan | Robe | Carol Newman-Calvin | Stanley Yelnats IV | Zero | Lizzie McGuire | Captain Jack Sparrow | Joshamee Gibbs | Will Turner | Elizabeth Swann | Hector Barbossa | Pintel & Ragetti | James Norrington | Jim Evers | Sarah Evers | Madame Leota | Emma | Anna Coleman | Phileas Fogg | Inspector Fix | Ben Gates | Riley Poole | Abigail Chase | Shane Wolfe | Zoe Plummer | Lulu Plummer | Will Stronghold | Layla Williams | Warren Peace | Zach | Ethan | Magenta | Ron Wilson | The Commander | Jetstream | Freeze Girl | Principal Powers | Coach Boomer | Jonathan Boy | Peter Pevensie | Susan Pevensie | Edmund Pevensie | Lucy Pevensie | Aslan | Mr. Beaver | Dave Douglas | The Snake | Jess Aarons | Leslie Burke | Giselle | Robert Philip | Prince Edward | Pip | Nathaniel | Underdog | Sweet Polly Purebred | Skeeter Bronson | Darwin | Blaster | Hurley | Juarez | Mooch | Bucky | Alice Kingsleigh | Mad Hatter | White Queen | Bandersnatch | Prince Dastan | Princess Tamina | Sheik Amar | Dave Stutler | Becky Barnes | Balthazar Blake | Balthazar's Eagle | Veronica Gorloisen | Prime Merlinean | Merlin | Sam Flynn | Quorra | Syrena | Walter | John Carter | Troy Bolton | Sharpay Evans | Ryan Evans | Gabriella Montez | Chad Danforth | Taylor McKessie | The Lone Ranger | Tonto | Oscar Diggs | Glinda the Good Witch of the South | China Girl | Maleficent (2014) | Diaval | Aurora (2014) | Prince Phillip (2014) | Knotgrass, Flittle and Thistlewit | The Baker | Cinderella | Rapunzel | Little Red Riding Hood | Cinderella (2015) | Prince Charming (2015) | Anastasia Tremaine (2015) | Mice (2015) | Fairy Godmother (2015) | Jaq and Gus (2015) | Lizard Footmen | Mr. Goose | Casey Newton | Frank Walker | Athena | Rey | Finn | Poe Dameron | BB-8 | Maz Kanata | Luke Skywalker | Leia Organa | Han Solo | Chewbacca | C-3PO | R2-D2 | Obi-Wan Kenobi | Anakin Skywalker | Mowgli (2016) | Bagheera (2016) | Baloo (2016) | Raksha (2016) | Akela (2016) | The BFG | Sophie | Pete (2016) | Elliott (2016) | Grace Meacham | Conrad Meacham | Natalie Magary | Gavin Magary | Jack Magary | Belle (2017) | Beast (2017) | Maurice (2017) | LeFou (2017) | Lumière (2017) | Cogsworth (2017) | Mrs. Potts (2017) | Chip Potts (2017) | Henry Turner | Carina Smyth | Rose Tico | Amilyn Holdo | Yoda | Christopher Robin (2018) | Winnie the Pooh (2018) | Madeline Robin | Evelyn Robin | Eeyore (2018) | Tigger (2018) | Piglet (2018) | Giles Winslow Sr. | Mary Poppins | Jack | Jane Banks | Michael Banks | Annabel Banks | John Banks | Georgie Banks | Clara Stahlbaum | Phillip Hoffman | Mother Ginger | Mouse King | Dumbo (2019) | Holt Farrier | Milly and Joe Farrier | Max Medici | Colette Marchant | Aladdin (2019) | Jasmine (2019) | Genie (2019) | Magic Carpet (2019) | Abu (2019) | Rajah (2019) | Dalia | The Sultan (2019) | Simba (2019) | Mufasa (2019) | Nala (2019) | Timon (2019) | Pumbaa (2019) | Rafiki (2019) | Zazu (2019) | Sarabi (2019) | Sarafina (2019) | Conall | Borra | King John | Lady (2019) | Tramp (2019) | Jock (2019) | Trusty (2019) | Zorii Bliss | Lando Calrissian | Ewoks | Artemis Fowl | Holly Short | Juliet Butler | Mulch Diggums | Domovoi "Dom" Butler | Foaly | Commander Julius Root | Ivan | Bob | Stella | Ruby | Snickers | Henrietta | Murphy | Frankie | Thelma | Hua Mulan | Commander Tung | Chen Honghui | Yao, Ling, and Chien Po (2020) | The Emperor of China (2020) | Flora Buckman | Cruella De Vil (2021) | Jasper and Horace (2021) | Buddy | Wink | Anita Darling | Artie | John | Frank Wolff | Lily Houghton | MacGregor Houghton | Proxima
Other Animated Movies
Br'er Rabbit | Toaster | Blanky | Kirby | Lampy | Radio | Roger Rabbit | Eddie Valiant | Jessica Rabbit | Dolores | Benny the Cab | Baby Herman | James Henry Trotter | Mr. Centipede | Mr. Grasshopper | Earthworm | Mrs. Ladybug | Miss Spider | The Glowworm | Valiant | Bugsy | Lofty | Toughwood & Tailfeather | Mercury | Victoria | Wing Commander Gutsy | Sergeant Monty | Charles De Girl | Rollo | Samson | Benny | Bridget | Nigel | Larry | Ryan | Blag | Cloak & Camo | Stan & Carmine | Silvermist | Rosetta | Fawn | Iridessa | Bobble and Clank | Terence | Ebenezer Scrooge | Milo | Gribble | Ki | Milo's Mother | Victor Frankenstein | Sparky | Elsa Van Helsing | Dusty Crophopper | Dottie | Skipper Riley | Sparky | El Chupacabra | Vidia | Lizzy | Periwinkle | Zarina | Gruff | Greg Heffley | Rowley Jefferson
Sequels
Ethan Dalloway | Cassim | Angelique | Fife | John Rolfe | Uttamatomakkin | Kiara | Kovu | Vitani | Ratso | Murgatroid the Snake | Melody | Tip and Dash | Sylvia Marpole | Scamp | Angel | Baker | Madellaine | Zephyr | Prudence | Jane Darling | Ranjan | Messua | Sparky | Reuben | Thunderbolt | Lars | Ting-Ting, Su, and Mei | Zugor | Cash | Atka | Dixie | Granny Rose | Waylon and Floyd | Queen Athena | Blade Ranger | Maru | Windlifter
Shorts, TV Shows, Comics and Video Games
Pete | Oswald the Lucky Rabbit | Mickey Mouse | Minnie Mouse | Horace Horsecollar | Clarabelle Cow | Pluto | Goofy | Donald Duck | Daisy Duck | Ludwig Von Drake | Scrooge McDuck | Huey, Dewey, and Louie | Mortimer Mouse | Chip and Dale | Spike the Bee | Max Goof | Gladstone Gander | Fethry Duck | Gruffi Gummi | Zummi Gummi | Grammi Gummi | Cubbi Gummi | Sunni Gummi | Tummi Gummi | Gusto Gummi | Cavin | Princess Calla | King Gregor | Sir Tuxford | Sir Gawain | Sir Victor | Princess Marie | Aquarianne | Papa Heffalump | Mama Heffalump | Junior Heffalump | Kessie | Wooster | Nasty Jack | Bruno | Dexter | Gyro Gearloose | Launchpad McQuack | Webby Vanderquack | Bentina Beakley | April, May and June | Darkwing Duck | Gosalyn Mallard | Honker Muddlefoot | Mona | Morgana Macawber | Bonkers D. Bobcat | Miranda Wright | Goliath | Elisa Maza | Broadway | Angela (Gargoyles) | Lexington | Brooklyn | Hudson | Bronx | Pistol Pete | Peg Pete | P.J. | Kit Cloudkicker | Rebecca Cunningham | Chiro | Jinmay | Cassandra | Lance Strongbow | Adira | Varian | Kiera and Catalina | Gabriella | Spot the Killer Whale | Urchin | Sora | Kairi | Riku | Aqua | Terra (Lingering Will) | Ventus | Organization XIII (Axel, Xion, Roxas & Vexen) | Lea | Ienzo | Zak William Lake | Lauriam | Elrena | Strelitzia | Naminé | Riku Replica | Ansem the Wise | Master Eraqus | Spirit Dream Eaters | Data-Naminé | Data-Riku | Data-Roxas | Data-Sora | McGee | Gretchen | Squirt | Slimey
See Also
101 Dalmatians Heroes | 20th Century Studios Heroes | A Bug's Life Heroes | A Twisted Tale Heroes | Aladdin Heroes | Amblin Entertainment Heroes | Amphibia Heroes | Atlantis Heroes | Beauty and the Beast Heroes | Big Hero 6 Heroes | Buena Vista International Heroes | Buzz Lightyear of Star Command Heroes | Cars Heroes | Disney Fairies Heroes | Disney Junior Heroes | Disney Prince | Disney Princesses | DuckTales Heroes | Encanto Heroes | Finding Nemo Heroes | Fish Hooks Heroes | Frozen Heroes | Gargoyles Heroes | Gravity Falls Heroes | Hercules Heroes | Ice Age Heroes | Incredibles Heroes | Inside Out Heroes | Jerry Bruckheimer Heroes | Kim Possible Heroes | Kingdom Hearts Heroes | Lilo & Stitch Heroes | Luca Heroes | Lucasfilm Heroes | Marvel Cinematic Universe Heroes | Mighty Med/Lab Rats Heroes | Monsters, Inc. Heroes | Mulan Heroes | Muppet Heroes | Narnia Heroes | Onward Heroes | Peter Pan Heroes | Phineas and Ferb Heroes | Pirates of the Caribbean Heroes | Pixar Heroes | Raya and the Last Dragon Heroes | Recess Heroes | Sky High Heroes | Soul Heroes | Star Wars Heroes | Star vs. the Forces of Evil Heroes | Tangled Heroes | Tarzan Heroes | The Hunchback of Notre Dame Heroes | The Jungle Book Heroes | The Lion King Heroes | The Little Mermaid Heroes | The Owl House Heroes | The Princess and the Frog Heroes | Tim Burton Heroes | Toy Story Heroes | Treasure Planet Heroes | Tron Heroes | Turning Red Heroes | Up Heroes | WALL-E Heroes | Wander Over Yonder Heroes | Winnie the Pooh Heroes | Wreck-It Ralph Heroes | X-Men Movie Heroes | Yin Yang Yo! Heroes | Zootopia Heroes
Heroes
Animated Features
Fievel Mousekewitz | Tanya Mousekewitz | Tiger | Tony Toponi | Bridget | Henri | Eddie Valiant | Roger Rabbit | Jessica Rabbit | Dolores | Benny the Cab | Baby Herman | Littlefoot | Cera | Ducky | Petrie | Spike | Bron | Littlefoot's Mother | Miss Kitty | Rex | Elsa | Woog | Dweeb | Louie | Cecilia Nuthatch | Captain Neweyes | Grandma and Grandpa Longneck | Balto | Jenna | Boris | Wakko Warner | DJ Walters | Chowder | Jenny Bennett | Horace Nebbercracker | Reginald Skullinski | Tintin | Captain Haddock | Snowy | Thompson and Thomson
Live-Action Films
Steve Freeling | E.T. | Elliott | Michael | Gertie | Gizmo | Billy Peltzer | Kate Beringer | Mr. Wing | The Goonies (Mikey, Brand, Chunk, Mouth, Data, Andy & Stef) | Sloth Fratelli | Marty McFly | Emmett Brown | George McFly | Harry Henderson | Eddie Valiant | Roger Rabbit | Jessica Rabbit | Dolores | Benny the Cab | Baby Herman | Forster | Dr. Ross Jennings | Peter Banning | Jack Banning | Maggie Banning | Tinker Bell | Rufio | Alan Grant | Ellie Sattler | John Hammond | Ian Malcolm | Tim Murphy | Lex Murphy | Ray Arnold | Robert Muldoon | Donald Gennaro | Fred Flintstone | Barney Rubble | Wilma Flintstone | Betty Rubble | Pebbles Flintstone | Bamm-Bamm Rubble | Dino | Casper McFadden | Kathleen "Kat" Harvey | Dr. James Harvey | Ghostly Trio | Jo Harding | Bill Harding | Sarah Harding | Eddie Carr | Nick Van Owen | Kelly Malcolm | Roland Tembo | Ajay Sidhu | Agent J | Agent K | Agent L | Zed | Worms (MIB) | Frank the Pug | Jack Jeebs | Alan Abernathy | Christy Fimple | Gorgonites (Archer, Ocula, Punch-It & Scratch-It, Insaniac, Slamfist, & Troglokhan) | Zorro | John H. Miller | The Great Gazoo | Eric Kirby | Amanda Kirby | Paul Kirby | Billy Brennan | Udesky | M.B. Nash | Cooper | Laura Vasquez | Viktor Navorski | Ray Ferrier | Rachel Ferrier | Agent O | Griffin | Owen Grady | Claire Dearing | Zach Mitchell | Gray Mitchell | Barry Sembène | Simon Masrani | Zara Young | Lowery Cruthers | Vivian Krill | Blue | Echo | Charlie | Delta | The BFG | Sophie | Parzival | Art3mis | Curator | Anorak | Daito | Aech | Sho | Maisie Lockwood | Franklin Webb | Zia Rodriguez | Benjamin Lockwood | Agent H | Agent M
See Also
20th Century Studios Heroes | Buena Vista International Heroes | Disney Heroes | DreamWorks Heroes | Jurassic Park Heroes | Men in Black Heroes | Nickelodeon Movies Heroes | Paramount Heroes | Sony Pictures Heroes | Steven Spielberg Heroes | Universal Studios Heroes | Warner Bros. Heroes