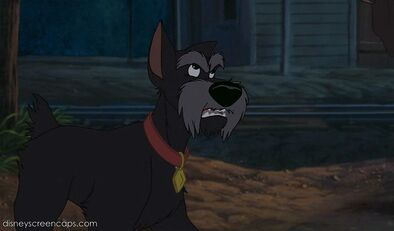 Jock is the tritagonist in Lady and the Tramp, and a supporting character in the sequel.  He is a friendly but sometimes grumpy Scottish Terrier and one of Lady's neighbors. but also Lady's Friends of her until the end of the film Lady's Friends also Tramps Friends too and become an Uncle
Personality
Although sweet and loyal, Jock can be the most aggressive dog in Lady's circle of friends, in spite of being the smallest. Nevertheless, he values his loved ones and makes an effort to make such a fact clear, on a consistent basis.
He treats Lady as his own relative, watching her grow alongside Trusty and continuously congratulates the spaniel on her many accomplishments, such as the day she received her first collar. He also takes it upon himself to mentor the young pooch, teaching her the ways of welcoming a new baby into the household, and telling her stories of Trusty's past and such.
He is notably the best fried of his neighbor, Trusty who, like Lady, he treats like a relative, along the lines of a brother. The two get along fine, but with Trusty's bumbling ways and Jock's occasional aggression, they sometimes clash, though they never let it tamper their friendship for long, if at all.
As seen in the film, some of Jock's dislikes includes the exposure of his prized bones, Trusty's clumsiness and "mongrels" like the Tramp.
In spite of his size, Jock is a fearless protect, and will go to great lengths to protect the ones he care about. Three instances of this can be seen, where he threatens to attack Tramp, a dog twice his size, if he continues to "harass" Lady, and lastly when he risks his life to stop the dogcatcher's wagon from taking Tramp to the pound, as a way of repaying the mutt for mistreating him early on in the film; showing he's an honorable dog that isn't afraid to admit mistakes.
Biography
Lady and the Tramp
Lady and the Tramp Jock first appears while singing Jock's Song as he buries his bone in his secret spot. Jock is then encountered by Lady who presents her brand new collar complete with a license. They then go to visit a dreaming Trusty. As Trusty dreams, Jock confesses to Lady that unfortunately Trusty has lost his sense of smell. The next day Jock along with Trusty visits Lady as it is a perfect day until Lady tells them "bad news." She tells the duo that Darling has not been treating her the same along with Jim Dear.
Jock and Trusty quickly realize what's going on and as Jock puts it, "Darling is expecting a wee barin  They start to describe what a baby is until Tramp arrives. Tramp shoves Jock out of the way to speak to Lady which upsets Jock. Jock barks at him to keep away from Lady. Jock later reappears near the end of the film after Lady and Tramp got to know each other. At this point, Lady cannot stand him, and when Tramp returns after being separated by The Dogcather , Jock is prepared to attack when ready although Lady claims it's alright. After Tramp redeems himself by killing the attacking Rat, Jock along with Trusty has seen that Tramp is not all that bad of a dog. Jock felt extremely stupid and ashamed for misjudging Tramp badly.
Jock and Trusty rush to the dogcatcher's vehicle and attempt to stop it. Although they do, Trusty is apparently killed in the crash. Jock attempts to help but it seems there is no use. Jock then howls and mourns for his seemingly departed friend. That Christmas, Jock joins Lady along with her husband Tramp and four puppies. Despite Scamp, Lady's only son, tearing up his plaid sweater, he remains calm and congratulates Lady and Tramp on their kids, also noting Tramp's collar. As for Trusty, it seems he survived the crash with a broken leg and attends the Christmas celebration as well.
Lady and the Tramp 2
in the party oj july there appear in the begin where they watch scamp so wild.
in Jim Dear's House they Arrive and Rescue Scamp in the eveing but they found a wig and left
in the end of the Movie where Jock Found Him in the Sreet and went to the junkyard and kick Buster's Butt and left and went To Jim Dear's House