Joel Rawlings is the Green Lightspeed Ranger of the Lightspeed Rangers. He is also Ms. Angela Fairweather's love interest.
Biography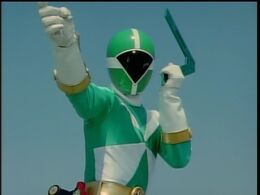 Nicknamed the "Sky Cowboy", Joel was an aerial stuntman and was recruited by Captain Mitchell to be the Green Lightspeed Ranger.
Lightspeed Rescue
He was extremely reluctant to become a Power Ranger at first, not believing in Lightspeed or what it had to offer, but when he saw his beloved Mariner Bay in danger, he decided to take them up on their offer.
Love Interests
He showed interest in the Rangers' assistant, Ms. Angela Fairweather, though his first attempt to impress her went awry when he mocked the "computer geek" who wouldn't let him fly the way he wanted to on his first mission.
Fate of Lightspeed
After Queen Bansheera had been defeated once and for all, Rawlings and Ms. Fairweather were about to go out on their first date when he was called away on Ranger business, unable to let his duties end with the demons.
Future
He eventually married Ms. Fairweather, and the two were seen heading off on their honeymoon right before he returned to the team to help battle Vypra with the Time Force Power Rangers.
Personality
Joel is easily the most arrogant of all the Lightspeed rangers, having a record of preferring to disobey orders in favor of his stunts. One example was when he decided against Angela Fairweather's, the one who designed his zord, orders to do what he wanted. This would later backfire when he gave her flowers in an attempt to impress her then berated her (unknowingly), causing his first attempt to win her heart to fail miserably. Over the course of Lightspeed Rescue, Joel starts to mature greatly, eventually enough to win him his long-time crush's heart, resulting in them being married a year later.
Trivia
In the Power Rangers Time Force team up episode, it is revealed that he is now married to Ms. Fairweather.
This makes him the first Power Ranger to be married unless you count A Season To Remember (Tommy/Kat).
He is the first Green Ranger part of the core team to have Battlizer like armor.
He is also the second African-American Green Ranger after Damon Henderson from Power Rangers: Lost Galaxy.