GTA: The Criminal Enterprises - The Loop
Play Sound



Click To Help Kirby!

This stub is making Kirby hungry with its lack of substance.
This article or section is a stub. You can help the Heroes Wiki by expanding it!

What are you waiting for? GO!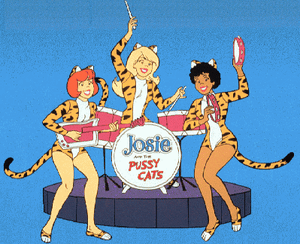 Josie and the Pussycats featured an all-girl pop music band that toured the world with their entourage, getting mixed up in strange adventures, spy capers and mysteries. On the small screen, the group consisted of level-headed lead singer/guitarist Josie McCoy, intelligent tambourinist Valerie Brown and air-headed blond drummer Melody Valentine. Other characters included their shady manager, Alexander Cabot III; his conniving sister, Alexandra; her cat, Sebastian, and hunky roadie Alan M. Mayberry.
Publication History
had spent most of the 1950s drawing teen and career-girl humor comics such as Millie the Model for Atlas Comics, that decade's forerunner of Marvel Comics, began freelancing as well for Archie Comics. In 1960, he and Atlas editor-in-chief Stan Lee co-created the short-lived syndicated comic strip Willie Lumpkin, about a suburban mail carrier,[2] for the Chicago, Illinois-based Publishers Syndicate. Casting about for more comic-strip work, DeCarlo created the characters of Josie and her friends at about the same time. The artist's wife, Josie DeCarlo, Josie's namesake, said in an interview quoted in a DeCarlo obituary, "We went on a Caribbean cruise, and I had a [cat] costume for the cruise, and that's the way it started."[4]
Trivia
Similar to Scooby-Doo, Dynomutt, Jeannie and some Hanna-Barbera characters the Josie and the Pussycats cartoon series was created by Ruby-Spears.
Gallery