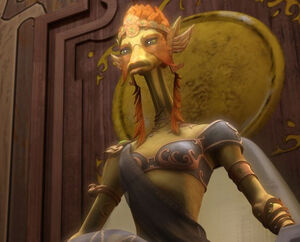 Queen Julia was the ruler of Bardotta during the Clone Wars.
Biography
The Queen Julia ruled over the peaceful planet of Bardotta. After the Dagoyan Masters mysteriously vanished, she appealed to the Republic and requested help from her old friend Jar-Jar Binks. Binks and Jedi Master Mace Windu arrived and discovered the Frangawl Cult were kidnapping the Dagoyan Masters and kidnapped Julia as well. Jar Jar and Mace tracked her to Zardossa Stix where she was to be sacrificed in a Force-draining ceremony and her life essence be given to the Great Mother which was really the Nightsister witch Mother Talzin. Mace and Jar Jar arrived and thwarted Talzin's plan and rescued Julia.
Community content is available under
CC-BY-SA
unless otherwise noted.