| | | |
| --- | --- | --- |
| " | I told you that I'll never let my friends die… that's also something that I wanted to convince myself of… There are many friends I was unable to protect so far… That's why every time I swear that I'll protect them… but then I still happen to face the truth of when I'm not able to do it… You have to take that 'wound' with you forever… That's why we're the one to endure… We are Ninja. I will never forget. | " |
| | ~ Kakashi to Naruto. | |
| | | |
| --- | --- | --- |
| " | I'm just a piece of trash… but there are things I learned. The hole in your heart is something other people can fill. If you reject your friends' feelings and this world… just because something didn't go as you wished, no one will ever come to you. And so that hole won't be filled either, if you just run away without doing anything people won't do anything for you either… As long as you don't give up, you can still be saved! | " |
| | ~ Kakashi to Obito. | |
| | | |
| --- | --- | --- |
| " | In the ninja world, those who break the rules are trash, that's true, but those who abandon their comrades are worse than trash. | " |
| | ~ Kakashi to his students. | |
| | | |
| --- | --- | --- |
| " | Sorry i'm late! | " |
| | ~ Kakashi to his students. | |
| | | |
| --- | --- | --- |
| " | Thank you, Obito. | " |
| | ~ Kakashi's farewell for Obito | |
Kakashi Hatake (はたけカカシ|Hatake Kakashi) is the tetartagonist in the Naruto and the leader of Team 7 later known as Team Kakashi. He later returns as one of the main supporting characters in the Boruto: Naruto Next Generations anime/manga series. He is a Jonin who has lived a long while and has gained lots of experience with Jutsus and combat. He is one of the strongest shinobi in the Hidden Leaf Village and can use a wide variety of Jutsu. Such Jutsus that he has are Lightning Blade, Kamui, Fire Style Jutsu which he gains due to his Sharingan and many others. He is a biggest fan of Jiraiya's "Icha Icha" novel. After Kaguya's defeat, the Fifth Hokage Tsunade retired and Kakashi succeeded her as the Sixth Hokage before Naruto.
He is voiced by Kazuhiko Inoue in the Japanese version of the anime, and by Dave Wittenberg in the English version of the anime.
Abilities
A match for seemingly any opponent, it was noted by Tsunade that Kakashi is easily one of Konoha's strongest ninja. Kakashi's extensive and varied skill-set allow him to effectively fight or provide invaluable support against opponents of any level. He is also hailed as a natural genius since early childhood because of his intelligence and natural aptitude, Kakashi was even noted by his sensei Minato to be astonishingly advanced when just recently graduating from the Academy. His capacities were further evident by his meteoric rise through the ninja ranks; entering the Academy on his first try and graduating in a year at top of his class at age 5, becoming a chūnin at age 6, as well as jōnin and Anbu while still a child. He also gained his Anbu rank and became a captain younger than all before him, still holding high status and strong connections in the organisation despite leaving. Naruto notes that much of Kakashi's battle prowess and skills is greater than his friends who showed exceptional might in their own specific skills. His various accomplishments have earned him much renown, and praise by his fellow Konoha ninja and he holds a position of great influence amongst them. Most enemies grow afraid or excited at the idea of fighting him, and because of his prowess he earned appreciation from various powerful ninja. He is frequently given responsibility for important tasks, such as watching Naruto in case the seal of the Nine-Tails begins to fail as well as being considered an ideal and one of the most suitable candidates for the position of Hokage by many.
He could pressure powerful missing-nin in Akatsuki and the Seven Ninja Swordsmen of the Mist and later several "Version 2" state jinchūriki. Itachi Uchiha noted that fighting Kakashi alone was dangerous with a high chance of injuries. Pain, the most powerful member of Akatsuki, saw Kakashi as a major threat after witnessing his performance, feeling that Kakashi needed to be eradicated to allow his plans to progress. This was later validated in the Fourth Shinobi World War where he defeated several famous reincarnated shinobi and fight on par against the adult Obito Uchiha, whose tutelage under Madara Uchiha gained him comparable prowess to the legendary Uchiha. He could even handle himself against the Demonic Statue of the Outer Path in addition to the Ten-Tails itself.
Taijutsu
Kakashi is very adept in taijutsu. In the anime, as a child, he was skilled enough to hold his own against his sensei, Minato Namikaze, in his bell test, managing to touch one of the bells while engaging the more experienced shinobi unarmed, and with assistance from his team, actually snatch one. As an adult, his skills improved considerably. Even when greatly outnumbered by hundreds of enemies, he is easily able to defeat them, using well-coordinated attack patterns to handle the multiple enemy strikes. Kakashi is also able to fight on par with Might Guy, a rival and taijutsu master, ever since childhood. Likewise, from his various challenges against and mission with Guy, Kakashi has copied and developed considerable skill in his friend's fighting style of Strong Fist and several of its techniques, enough to train others in its usage. He is also noted to have impressive speed; being able to intercept an opponent even from a distance as seen during the very start of the bell test. His speed allow him to effectively catch his opponents off-guard to quickly strike them down and easily evade attacks. Even against highly experience assassins, Kakashi can silently sneak-up on them, making him prime to strike. His speed increased considerably in Part II; before the timeskip he had difficulty keeping up with Itachi Uchiha, but he outmaneuvered him after the timeskip. Kakashi has also shown remarkable reflexes, able to instantly react and manoeuvre out of surreal danger. Likewise, his hand seal prowess has also been noted as being very great, able to perform them at highly difficult speeds to follow.
He is also able to open at least one of the Eight Gates, a feat that very few shinobi are able to achieve. In the anime, he can also utilize advanced techniques derived from it while showing no signs of fatigue afterwards. His raw strength is also noticeably high, to clash with the likes of enemies like Zabuza, who possesses great physical strength himself, simultaneously throw Naruto and Sasuke a large distance, and in Part II easily wield the Kubikiribōchō with a single hand despite its considerable weight. He's shown a rather impressive level of durability and endurance, able to survive Nagato's building busting Shinra Tensei with minimum damage and continue fighting afterwards.
Genjutsu
While used less often, he has also shown proficient skill in genjutsu, which he can use as a set-up for stronger attacks. His skill in its usage is able to easily deceive most opponents with well-timed diversions, giving his opponents little chance to counter. During the bell test for Team 7, Kakashi was able to use low-level techniques to easily subdue a keen-minded and natural genjutsu-type like Sakura. Against most high-level techniques, he has advanced knowledge of their working, and is able to dispel genjutsu as well. He was also able to battle an adult Obito in a genjutsu duel to a standstill.
Ninjutsu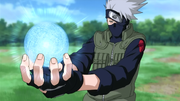 Kakashi primarily relies on his mastery of ninjutsu, possessing both great skill and otherwise knowledge of which he has gained a vast arsenal due in part to his Sharingan; being noted to have copied over a thousand techniques, the number has continually been growing through his many battles. With this arsenal, he can attack or defend in numerous manners. He can immediately discern what type of technique he has encountered the nature behind it. While a student under Minato Namikaze, Kakashi among other things learned how to use the Rasengan. He also demonstrated noticeable skill since childhood in advanced techniques like the Shadow Clone Technique.
Nature Transformation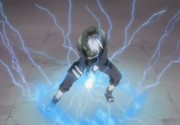 Kakashi is proficient in several nature transformations. He has a natural affinity for Lightning Release, which he mastered before even becoming a jōnin. It became so advanced that it is an attribute enemy ninja identify him by. His prowess with Water Release can match specialists like Zabuza Momochi and perform techniques without a nearby water source. His Earth Release prowess is able to move fast and unnoticed underground or produce large and intricate earthen walls rather quickly. In the anime, he has also shown considerable skill in Fire Release, able to produce a massive fireball able to cause much damage to the area. In addition, he is at least knowledgeable enough to train others in Wind Release.
When Kakashi learned to use the Rasengan, he attempted to infuse it with lightning-chakra as it was intended to be combined with element chakra, but ultimately failed. However, he used the same theoretical principle to create the Chidori, which he later refined into the far stronger Lightning Cutter. He can also enlist the aid of a shadow clone, to create a lightning chain to increase his attack range and even cut through a jinchūriki's chakra arms in a "Version 2" state. He can also create a lightning-infused clone, and hound via his manipulation of lightning chakra.
Bukijutsu
Kakashi is a highly-skilled user in a large variety of weapons such as bows and arrows, kusarigama, chains, wire strings and others. Since early childhood, Kakashi had highly proficient skill in kenjutsu, able to wield his father's signature tantō effectively enough to be mistaken for Sakumo. He also has considerable skill in shurikenjutsu able to pin down an opponent with a quick barrage of kunai. Likewise at close-range, he could battle off skilled melee-fighters such as Zabuza and Hidan, armed with their respective unique weapons, with a single kunai. Due to his Anbu background, Kakashi's sword skill was especially improved. His sword-skills are also very adaptable, even able to effectively use the Kubikiribōchō, a blade of unique shape with noticeable size and weight, to defeat kenjutsu specialists like the Seven Mist Swordsmen. He can also enhance his physical tools, channeling lightning-nature chakra through them, gaining enough power to pierce clean through large rocks.
Summoning Technique
Kakashi is also able to summon a pack of ninja hounds of various breeds. Much like his combat skills, Kakashi's use of these summons is highly versatile, ranging from attacking and restraining his opponents. He can combine his Summoning Technique and his Earth Release skills to have his hounds burrow and erupt from the ground in order to help subdue his enemies. Aside from offensive purposes, Kakashi's pack is also highly skilled in tracking down targets, and often used to deliver messages.
Dōjutsu
Sharingan
Kakashi's most distinguishing ability was the Sharingan in his left eye-socket that was given to him by Obito Uchiha. Since the eye got transplanted into him, Kakashi's ability to copy nearly any technique used against him gave him the moniker Copy Ninja Kakashi (コピー忍者のカカシ, Kopī Ninja no Kakashi) while utilising many of the Sharingan abilities including genjutsu, seeing through deception, and predicting his opponent's next move. This eye also gave Kakashi a heightened visual perception to his surroundings, enabling him to perfect his Chidori and its later version, the Lightning Cutter. While fighting Obito, a potent genjutsu user, Kakashi was able to go toe to toe with his enemy in an illusionary fight until he himself asked that genjutsu fighting be abandoned due to the constant stalemates of it.
When he first received the Sharingan it had only two tomoe. Some time after this, the traumatic loss of his dear friend Rin caused Kakashi's Sharingan to fully mature. However, because he is not an Uchiha, Kakashi was unable to deactivate this dōjutsu and was forced to keep it covered when not needed as it consumed a much greater reserves of chakra than an Uchiha, which forced him into extensive periods of bed rest if overused. Because of this, Kakashi only relied on it when he felt it was an absolute necessity. In Part I, he could only handle using it for a short while in battle before suffering somewhat crippling effects and severe fatigue. In Part II, he was seen using it for seemingly a day while testing Naruto and Sakura without any adverse effects. Regardless, he was very skilled in its usage, having been chosen to help both Sasuke and Itachi Uchiha to help in their development of this dōjutsu, having his greater proficiency to most true Sharingan wielders acknowledged by various prominent Uchiha.
In order to gain access to the other dimension, Madara stole Kakashi's Sharingan, thus stripping Kakashi of all of its powers.
Mangekyō Sharingan
Kakashi awakened his Mangekyō Sharingan after unintentionally killing Rin Nohara, though seemed unaware of its awakening until years later. Its design is three stretched triangles evenly spaced around the pupil that each curve at the top around the eye to form a circle, making it similar to a pinwheel. With it he can perform Kamui: a technique that creates a space-time barrier in the form of a swirling void that sucks any target he focuses his eye on to another dimension and also bring them back; even transporting them to a new location. Originally, Kakashi lacked proper control to accurately hit his target. His skill and aim later improved greatly, able to successfully warp small, fast-moving, or multiple targets in rapid succession as seen against Pain, and Sasuke respectively. He used the technique during the Fourth Shinobi World War. Even Obito, who mastered his variation of Kamui, openly acknowledged Kakashi's great skill with the technique. While battling Obito, Kakashi attempted to use Kamui to behead the Demonic Statue of the Outer Path: an object of significant size and mass, failing only because of Obito's intervention. His finesse allows him to safely warp chakra-based techniques, like the Rasengan or shadow clones without disrupting them, at such speed that Obito himself was fooled into believing Kakashi dispelled the technique instead. While originally demonstrating only long-range use, Kakashi is also able to use Kamui at a short-range. With this new proficiency, by targeting himself, Kakashi can teleport himself at will, able to precisely choose his destination for an attack.
Kamui's chakra requirements are considerably high, such that initially he had to be hospitalized for a week after using it three times in one day. By his battle against Obito, his mastery of this technique improved further, able to use it at least five times, three of which in quick succession (along with multiple other chakra-taxing techniques) and still had enough strength left to act. Afterwards, though tired, he remarked that he retained enough chakra to use the technique a few more times, and only after the fourth use did he start experiencing the immediate side effects, which he soon recovered somewhat from. At the same time, repeated use of Kamui strains Kakashi's Sharingan, ultimately causing it to bleed and temporarily blur his sight, requiring him to get closer for better aim. He is also knowledgeable of other Mangekyō Sharingan techniques as well as the risks the dōjutsu poses to the user's eyesight.
After Madara Uchiha stole Kakashi's Sharingan in order to gain access to the other dimension, Naruto restored his original eye, thus Kakashi no longer possesses the Mangekyō Sharingan nor the Kamui technique.
Intelligence
Repeatedly, Kakashi has proven himself to be a very shrewd and resourceful man, regularly having his opinion asked for by Tsunade, the Fifth Hokage. By a quite young age, Kakashi had enough experience on the battlefield to detect a hiding enemy's presence, impressing his sensei, Minato, and in the anime deceive Orochimaru, greatly injuring the Sannin in the process. Kakashi has even been noted to be smarter than Shikamaru Nara, a ninja well-known for his insightful, and calculating nature. His instincts also allow him to calmly effectively perceive and react to any incoming danger. Yamato notes that Kakashi has his way with words and can be a persuasive speaker, though his arguments are more of a logical nature than of emotional one like those of Naruto Uzumaki. He is also very capable in deception, regularly using his opponents' own tactics against them. He is also good at discerning the emotional nature of people and determining the source of their emotions as demonstrated in his thoughts about Obito. Kakashi's intellect has proven itself against various S-rank ninja, including members of Akatsuki, showing undeniable perceptive and analytical skills, able to quickly and single-handedly deduce the workings of the most mysterious enemy techniques and near instantly plot successful diversions in order to verify his theories (most of the time proving them correct). He is aided, in this regard, by his calm personality, which allows him to handle a given situation with some detachment.
His long career as a jōnin, and formerly as an Anbu, have only expanded his knowledge, allowing him to handle virtually any situation. For these reasons Kakashi has been assigned to a variety of teams — always as the leader — and he is always able to work well with his team-mates. Chōza Akimichi attributes Kakashi's success to his approach to battles: he avoids direct combat by using misdirection and clones until he can determine the opponent's skills, at which point he modifies his tactics to fit the situation. Kakashi has also shown repeatedly to be a highly capable teacher. He has come up with various unorthodox methods to help his students produce impressive leaps in their abilities in weeks what would normally take months if not years of intense training.
Chakra
Originally, Kakashi's primary weakness was his average reserves of chakra and stamina. He could only maintain his Sharingan for a short time, quickly tiring out from overusing it and ultimately collapsing if used too long, followed by great difficulty to even stand for days. He also stated he could only use his signature technique, Lightning Cutter, four times in a single day before it wouldn't work. To somewhat compensate for this, Kakashi possesses very refined chakra control, allowing him to use multiple techniques quickly with the minimum necessary chakra and to their highest level. Kakashi's control also allows him to perform various techniques, usually lightning-based, with few to no hand seals.
Over the course of the series, his reserves improved considerably to extend his timespan and versatility to fight multiple high-level opponents. By Part II, he can maintain his Sharingan for an entire day and utilize several chakra-taxing techniques in quick succession unfazed, including his Lightning Cutter at least six times. His chakra reserves development is best seen with his Mangekyō Sharingan technique, Kamui. Originally, a single use tired him greatly. Using it more than twice in a single day would leave him crippled for over a week. By the time of the Fourth Shinobi World War, he was able to fight throughout an entire day right before going to fight against Tobi and his Six Paths of Pain which comprised of reincarnated jinchūriki. Once arriving, he was able to use Kamui several times in quick succession before finally collapsing as his eye started bleeding. Shortly afterwards, he recovered enough to stand up on his own and soon leapt back into action, using Kamui yet again, along with several other chakra-taxing techniques.
Other Skills
A man who epitomizes versatility, Kakashi's expertise is not limited to the three major ninja skill sets; he is renowned for his tracking abilities and has otherwise displayed proficiency with trap-making, medical, survival, escapism, stealth, subterfuge, and assassination. Kakashi is also noted to have a better sense of smell than Kiba Inuzuka did in Part I, a noteworthy member of a clan with canine-like senses. Even without sight, Kakashi is still a highly formidable fighter, able to use his other senses and knowledge of his surroundings, allies, and enemies to perceive the situation and overwhelm his opponents. Kakashi has also developed considerable prowess in fūinjutsu, something that Orochimaru found impressive given Kakashi's age.
Trivia
His Japanese Voice Actor, Kazuhiko Inoue is best known voicing as Madara from Natsume's Book of Friends and Hatori Sohma from Fruits Basket.
His English Voice Actor, Dave Wittenberg is best known voicing as Henry Wong from Digimon Tamers and Subaru Sumeragi from X.
His Second Voice Actor, Kyle Hebert is best known voicing as Greymon and his digivolution from Digimon Adventure tri., Greymon, Dorulumon, Ballistamon from Digimon Fusion, Kazuichi Soda from Danganronpa and Ryuji Suguro from Blue Exorcist.
He share same second voice actor with Kiba Inuzuka and Gaara for Rock Lee & His Ninja Pals.
Kakashi is a player seen in New York in the video game Jump Force.
External links
Community content is available under
CC-BY-SA
unless otherwise noted.