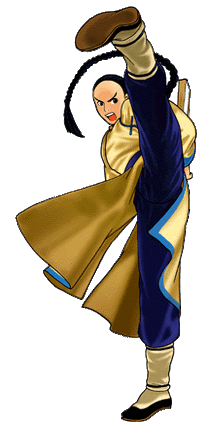 Lee Rekka is one of the major protagonists in The Last Blade.
History
Lee hails from China, where he learned a special form of Martial art that allows the user to control fire and involves the use of fans and powerful kicks. One day, he witnessed a "red star" (the opening of "Hell's Gate"). Knowing it to be a sign of great evil, he travels from his homeland of China to stop the evil before it spreads across the world.
After closing of the Gate, he stayed in Japan. He continued to learn and improve his martial arts skills while gaining a modest life at a nearby farm. When he senses the re-opening of Hell's Gate, he stopped his training and investigated once more.
There are two variation of his ending in The Last Blade 2, one that indicates that he took the wrong ship and ended in America instead of returning China. The other shows him continuing his training around the world, starting with America.
Trivia
The English translation of the first Last Blade game misspelled as Lee Reck Er.
Heroes
Community content is available under
CC-BY-SA
unless otherwise noted.