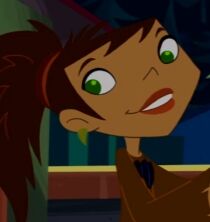 Lila is the only female Sasquatch, one of June's friends and recurrent character in the series. She is voiced by Tara Strong, who also voiced Roger Radcliffe in the show.
Appearance
Lila is a Sasquatch. She is significantly smarter than other Sasquatch. She likes movies. Ray Ray is also seen to have a crush on her (even when she was hairy). In "Make Me Up Before You Go-Go", Lila claims herself to be an herbivore, although she was shown to have fangs when she got angry at Jody's sister Rachel. She helped June find her and Roger's parents (whom were captured by a lost Sasquatch named Charlie Paulsen) as well as helping her defeat a Brown Back Mountain Troll and returning a mountain lion's cubs to their mother. Later on, Monroe uses an Exfoliax Charm to remove most of her excess hair so that she could pass for human. She enrolls at Juniper's school to learn more about humans. She has super strength, reflexes on a par with Juniper's, and knows a ton about surviving and grooming skills in the woods. As a cover-up to Juniper's friends, Lila claims that her parents were forest rangers. For some reason, she is completely absent after "Make Me Up Before You Go-Go" only to return in the final episode. She may be based on Roxie, another Sasquatch disguised as a human from Judd Winick's comic book series Adventures of Barry Ween, Boy Genius; this along with many similar incidences between the two when trying to adapt to human life, most noticeably trying to carry a mountain of books in their bag.
External Link
Community content is available under
CC-BY-SA
unless otherwise noted.