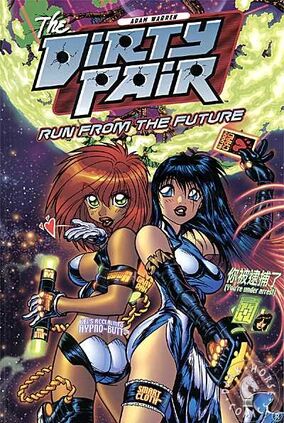 Lovely Angels
or
Dirty Pair
are two Trouble Consultants (Criminal Division, Class A) for the World Welfare Work Association (3WA), code-named "Lovely Angels", but known throughout the United Galactica (UG) as the "Dirty Pair", a nickname given to them by the press due to their bad luck with their missions, which always seem to end in complete disaster. But they are always cleared of any wrongdoing by the UG's Central Computer because the extreme damage is never actually their fault (though their mere presence has been known to make things worse).
They originally met at Meizuru university for Lucien genetic upgrades around A.D. 2134, although it is not necessarily canon, they were both misfits within their year, and so became friends. Around A.D. 2137, just before graduation from Meizuru university, they played a prank on their friends, convincing them that they were both psychic. Shortly afterwards, news reached the 3WA and they were scouted for recruitment and tested by a parapsychology institute. The pair cheated every which way possible (the really short skirts were Kei's idea), and they tested positive for clairvoyance, the 3WA considered this to be useful and hired them.
Although outwardly they almost constantly fight and bicker with each other, they are both loyal best friends, always pairing up together to deck anyone that calls them by their "Dirty Pair" nickname. The two girls are named Kei and Yuri. The Lovely Angels also own a alien cat named Mughi.
Community content is available under
CC-BY-SA
unless otherwise noted.