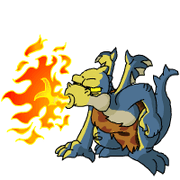 Magnus the Torch 
or simply
Magnus 
is an anti-hero and an recurring protagonist from the Neopets franchise. He is an prehistoric Scorchio who resides in a volcano on Tyrannia and the guardian of the treasure from prehistoric things made by prehistoric creatures who discover fire.
Appearence and life
He is an Scorchio with green and yellow eyes, he has an prehistoric clothes that he created after hunting bad furry monsters to create the prehistoric clothes for their users who need for their Neopets. Magnus is an Scorchio who has the ability the breathe fire with his nose or his mouth to target the opponents.
Magnus is an random opponent in a battledome event in Tyrannia. But he is nice towards good Neopets. He battle an prehistoric Grarrl and defeated him with his fiery breath he used to take down bad opponents. Magnus is very protective towards his people in Tyrannia, one of Neopia's lands. Like the Neopets, he speaks in a human language and can speak in different languages translated in different countries on the online game sites.
Magnus likes to create prehistoric tools with his friends, these tools are the ancestors of the real tools that we think during previous years. Magnus is the most powerful to all Scorchios who are male and female depending of the player's choice.
Gallery
Community content is available under
CC-BY-SA
unless otherwise noted.