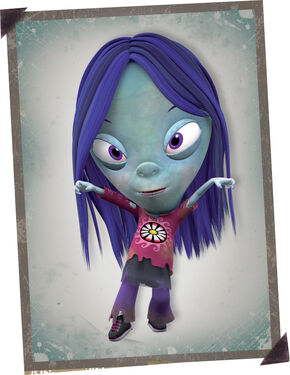 Mantha is a friendly zombie who befriends Casper and the deuteragonist in Casper's Scare School. Mantha is able to remove parts of her body at will. Despite lacking any physical connection between her head and those parts of her body removed in this fashion, Mantha remains able to control said parts at all times. Mantha is voiced by Vanessa Bellandini in the first season and Mirabelle Kirkland in the second season.
Personality
Martha is very proud to be a zombie and sets out to prove that zombies are more than just "lumbering, mindless things that fall apart". In fact, she successfully proves that zombies can be scary too by defeating Thatch in a scaring contest, a feat accomplished by her luring of unsuspecting humans into Casper and his Uncles' haunted house. In the episode You Oughta Be In Pictures she helped a group of "zombies" (not realizing they were actors filming for a movie) fight off some humans (also actors) that were attacking because she wanted zombies to defend for themselves and not let others push them around anymore. In the end of the episode she was the inspiration for 'Z, Queen of the Zombies' for a movie, which could help the reputations of other zombies. Her best friends are Casper, Ra and Jimmy.
External links
Community content is available under
CC-BY-SA
unless otherwise noted.