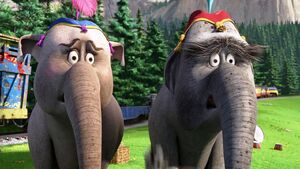 Two elephants appear as part of the troupe, Circus Zaragoza in Madagascar 3: Europe's Most Wanted, the second sequel to Madagascar. Their names are Manu and Maya. They are two Indian elephants who are usually unwanted, but they always remain in the troupe. Manu and Maya are silent, but their names are revealed in the English DVD commentary. Tom McGrath states that they are very nice and are from Germany.
History
Madagascar 3: Europe's Most Wanted
Manu and Maya are seen inside the circus train. When the train is heading for Rome, the elephants and the gang enter the Coliseum of Rome. During the show, Manu and Maya are hit by popcorn shot by a boy in the crowd. This became a flop. The next day, Manu and Maya are seen in the crowd when the circus is becoming a flop. After Alex's gang had practiced for the act, the train is heading to London. Vitaly jumps over the smallest ring of fire and he was a success. After that, Manu and Maya are seen when the ring becomes a dimension. They are seen in clown makeups and then the show was a success. Back at Central Park in New York, Manu and Maya are seen with Alex after Gia rescues him. After DuBois gets defeated, they are seen dancing with the gang in Marty's signature afro act.
Voice Actors
Trivia
Like Sonya who only makes growling noises, Manu and Maya make trumpeting noises.
Heroes
Animated Features
Z 4195 | Princess Bala | Weaver | Azteca | Colonel Cutter | God | Moses | Tzipporah | Miriam | Aaron | Queen Tuya | Yocheved | Tulio | Miguel | Chel | Altivo | Chief Tannabok | Ginger | Rocky Rhodes | Babs | Bunty | Mac | Fowler | Nick and Fetcher | Shrek | Donkey | Princess Fiona | Dragon | Spirit | Rain | Little Creek | Sinbad | Marina | Proteus | Spike | Puss in Boots | Queen Lillian | King Harold | Doris the Ugly Stepsister | Dronkeys | Oscar | Lenny | Angie | Sykes | Alex | Marty | Melman | Gloria | Skipper | Private | Kowalski | Rico | King Julien XIII | Maurice | Mort | Wallace | Gromit | Lady Tottington | Hutch | RJ | Verne | Hammy | Stella | Ozzie | Heather | Lou | Penny | Bucky, Spike and Quillo | Tiger | Roddy St. James | Rita Malone | Sid | Arthur Pendragon | Snow White | Cinderella | Sleeping Beauty | Barry B. Benson | Vanessa Bloome | Po | Shifu | Tigress | Monkey | Mantis | Viper | Crane | Mr. Ping | Oogway | Zuba | Florrie | Ginormica / Susan | The Missing Link | Dr. Cockroach | B.O.B. | Insectosaurus | General Monger | Hiccup Horrendous Haddock III | Toothless | Astrid Hofferson | Stormfly | Fishlegs Ingerman | Meatlug | Snotlout Jorgenson | Hookfang | Tuffnut Thorston | Ruffnut Thorston | Barf and Belch | Stoick the Vast | Gobber the Belch | Megamind | Roxanne Ritchi | Minion | Metro Man | Shen's Parents | Soothsayer | Kitty Softpaws | Humpty Alexander Dumpty | Gia | Vitaly | Stefano | Jack Frost | Nicholas St. North | E. Aster Bunnymund | Toothiana | Sanderson Mansnoozie | Jamie Bennett | Baby Tooth | Grug Crood | Eep Crood | Guy | Ugga Crood | Thunk Crood | Sandy Crood | Gran | Belt | Douglas | Chunky | Turbo | Chet | Whiplash | Skidmark | Burn | Mr. Peabody | Sherman | Penny Peterson | Valka | Eret | Classified | Eva | Short Fuse | Corporal | Oh | Tip Tucci | Pig | Lucy Tucci | Captain Smek | The Boov (Officer Kyle) | Poppy | Branch | King Peppy | Bridget | King Gristle Jr. | DJ Suki | Cooper | Biggie | Mr. Dinkles | Guy Diamond | Smidge | Boss Baby | Tim Templeton | George Beard | Harold Hutchins | Captain Underpants | Light Fury | Zephyr Haddock | Yi | Everest | Jin | Peng | Burnish | King Trollex | Tiny Diamond | King Thrash | Phil Betterman | Hope Betterman | Dawn Betterman | Lucky Prescott | Pru Granger | Abigail Stone | Tina Templeton
Live-Action Movies
Ernie Smuntz | Lars Smuntz | Misha Belenkoff | Paulie | Archer | Gorgonites (Ocula, Punch-It & Scratch-It, Insaniac, Slamfist & Troglokhan) | Alan Abernathy | Christy Fimple | John H. Miller | The Cat in the Hat (Live Action) | Conrad | Sally | The Fish | Thing One and Thing Two | Viktor Navorski | Baudelaire Orphans (Violet Baudelaire, Klaus Baudelaire, Sunny Baudelaire) | Uncle Monty | Ray Ferrier | Optimus Prime | Bumblebee | Jazz | Ironhide | Ratchet | Sam Witwicky | Mikaela Banes | Seymour Simmons | Sideswipe | Jolt | Jetfire | Eugenia "Skeeter" Phelan
Shorts, Television and Video Games
Rocket J. Squirrel | Bullwinkle J. Moose | Sierra | Hunter | Sarmoti | Peng | Ty Rux | Revvit | Dozer | Skya | Ton-Ton | Garby | Voltron | Team Voltron (Shiro, Keith, Lance, Pidge, Allura & Hunk) | Coran | Kolivan | Thace | Ulaz | Ezor | Spirit Jr. | Erica Wang | Mr. Toilette Ree | Grace Wain | The Society of Robes | Cash Networth | Moxie Swaggerman | She-Ra | Glimmer | Bow | Queen Angella | Mermista | Perfuma | Frosta | Netossa | Spinnerella | Swift Wind | Sea Hawk | Catra | Scorpia | Entrapta | Castaspella | King Micah | Wrong Hordak | Kipo Oak | Darius Bowman | Kenji Kon | Brooklynn | Yasmina Fadoula | Sammy Gutierrez | Ben Pincus | Roxie & Dave | Hap | Blue | Charlie | Delta | Echo | Bumpy
See Also
Aardman Heroes | Antz Heroes | Bee Movie Heroes | Dinotrux Heroes | How to Train Your Dragon Heroes | Jurassic Park Heroes | Kung Fu Panda Heroes | Madagascar Heroes | Megamind Heroes | Over the Hedge Heroes | Shrek Heroes | Small Soldiers Heroes | Tales of Arcadia Heroes | The Boss Baby Heroes | The Croods Heroes | Transformers Cinematic Universe Heroes | Trolls Heroes | VeggieTales Heroes | Wallace and Gromit Heroes