(Adding categories)

Line 11:
Line 11:
 

[[Category:Cartoon Heroes]]

 

[[Category:Cartoon Heroes]]

 

[[Category:Superheroes]]

 

[[Category:Superheroes]]

 
+

[[Category:Hanna-Barbera Heroes]]
---
Revision as of 14:23, 25 July 2019



Click To Help Kirby!

This stub is making Kirby hungry with its lack of substance.
This article or section is a stub. You can help the Heroes Wiki by expanding it!

What are you waiting for? GO!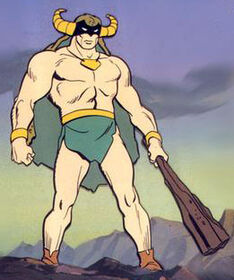 One day, while on a hunting trip, a teenage caveman named Tor, along with his winged pet dinosaur Tog, rescue an old man who, as a reward, gives Tor a magical club. When Tor raises his club to the sky, he transforms into the masked and muscular Mightor, a prehistoric superhero very much in the Space Ghost mold who possesses superhuman strength and the power of flight through his club, which can also fire energy blasts.
Mightor protects his village from evil-doers. Amongst the villagers are the chief, Pondo, and his daughter, the beautiful redhaired Sheera. Sheera has a younger brother named Little Rok, who loves pretending to be Mightor. The characters have several pets, including Little Rok's dodo bird, Ork, and Sheera's mammoth calf, Bollo.
Tor is voiced by Bobby Diamond, while Mightor is voiced by Paul Stewart. Pondo, Tog, Ork, and Bollo are voiced by John Stephenson. Sheera is voiced by Patsy Garrett. Little Rok is voiced by Norma MacMillan.
Community content is available under
CC-BY-SA
unless otherwise noted.