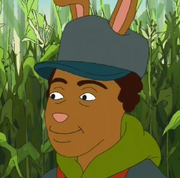 Miles is a character from the Arthur special, "The Rhythm and Roots of Arthur". He is voiced by Milton Brown.
Biography
When the Read family reach the barn, Miles welcomes the family by showing them their pregnant llama, Bernice. Later, he follows Buster as he tries to find his way to the pond by singing a song about family titled "I See You".
On the second day, Buster discovers that Miles was baking for the birthday lunch.
When Bernice gives birth to a newborn llama, Miles tells D.W. to name the baby llama as she names it Dora.
In the end, he sings another song about a family with Arthur and Ryder titled, "At This Table".
Heroes