Raise a Floppa - The Loop
Play Sound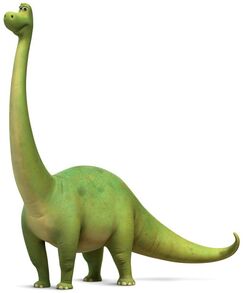 Momma Ida is a supporting protagonist in the 2015 Disney/Pixar film, The Good Dinosaur. She is Arlo, Buck and Libby's mother and Poppa Henry's wife.
She is voiced by Frances McDormand.
About Momma Ida
Momma Ida is a loving, quick-witted, smart, motherly, kind-hearted and caring wife and mother. She is also a hard worker with a lot of love for family.
She also seemed to be angry when she tells Buck to "get back to work". After Buck bullied Arlo, Ida is present with her husband and Libby, when her husband scolds Buck.
She also had an emotional personality after the death of her husband.
She didn't appear in the rest of the scenes until Arlo reunited with her, Libby and Buck.
Trivia
Momma Ida is the third Pixar character to lose their spouse, the second being Carl Fredricksen and the first being Marlin.
Heroes
Toy Story franchise
Woody | Buzz Lightyear | Bo Peep | Jessie | Bullseye | Andy Davis | Mrs. Davis | Slinky Dog | Rex | Sarge | Mr. Potato Head | Mrs. Potato Head | Hamm | Little Green Men | Combat Carl | Hannah Phillips | Buster | Barbie | Utility Belt Buzz | Bonnie Anderson | Ken | Big Baby | Chuckles | Buttercup | Dolly | Peas-in-a-Pod | Mr. Pricklepants | Trixie | Chatter Telephone | Andy's Toys | Mutant Toys | Woody's Roundup Toys | Bonnie's Toys | Forky | Ducky | Bunny | Duke Caboom | Giggle McDimples
A Bug's Life
Flik | Princess Atta | Dot | Circus Bugs (P.T. Flea, Francis, Slim, Heimlich, Manny, Gypsy, Rosie, Dim, Tuck & Roll) | The Queen of Ant Island | Aphie | Mr. Soil
Monsters, Inc. franchise
James P. Sullivan (Sulley) | Mike Wazowski | Boo | Celia Mae | CDA | Roz | Needleman and Smitty | George Sanderson | The Yeti
Finding Nemo franchise
Marlin | Dory | Nemo | Mr. Ray | Bruce, Anchor, and Chum | Tank Gang (Gill, Jacques, Gurgle, Peach, Deb, Bubbles, & Bloat) | Nigel | Tank | Crush | Squirt | Coral | Jenny | Charlie | Hank | Destiny | Bailey | Fluke and Rudder | Gerald | Cleveland Truck Drivers
The Incredibles franchise
The Incredibles (Mr. Incredible | Elastigirl | Dash Parr | Violet Parr | Jack-Jack Parr) | Frozone | Edna Mode | Rick Dicker | Gazerbeam | Mirage | Winston Deavor | Brick | Voyd | Screech | Reflux | He-Lectrix | Krushauer | National Supers Agency
Cars franchise
Lightning McQueen | Mater | Fabulous Hudson Hornet | Sally Carrera | Fillmore | Sarge | Luigi | Guido | Sheriff | Ramone | Flo | Lizzie| Red | Mack | Strip Weathers | Finn McMissile | Holley Shiftwell | Cruz Ramirez
Ratatouille
Remy | Alfredo Linguini | Colette Tatou | Django | Auguste Gusteau | Emile | Anton Ego
WALL.E
WALL-E | EVE | Captain McCrea | M-O | Hal
Up
Carl Fredricksen | Russell | Dug | Kevin | Ellie Fredricksen
Brave
Princess Merida | Hamish, Hubert, & Harris | Queen Elinor | King Fergus | Angus | Lord Macintosh | Lord Dingwall | Lord MacGuffin
Inside Out
Joy | Sadness | Bing Bong | Fear | Disgust | Anger | Bill Andersen | Jill Andersen | Bill Andersen's Emotions
The Good Dinosaur
Arlo | Spot | Butch | Nash & Ramsey | Poppa Henry | Momma Ida | Buck | Libby
Coco
Rivera Family (Miguel Rivera | Héctor | Imelda | Mamá Coco | Abuelita) | Dante | Pepita
Onward
Ian Lightfoot | Barley Lightfoot | Laurel Lightfoot | Wilden Lightfoot | Corey the Manticore | Colt Bronco
Soul
Joe Gardner | 22
Luca
Luca Paguro | Alberto Scorfano | Giulia Marcovaldo | Massimo Marcovaldo | Daniela and Lorenzo Paguro | Grandma Paguro
Turning Red
Mei Lee | Ming Lee | Miriam Mendelsohn | Priya Mangal | Abby Park | Jin Lee | Grandma Wu | Mr. Gao
Shorts/TV Specials
Geri | Dumpling
See Also
A Bug's Life Heroes | Brave Heroes | Buzz Lightyear of Star Command Heroes | Cars Heroes | Coco Heroes | Finding Nemo Heroes | Incredibles Heroes | Inside Out Heroes | Luca Heroes | Monsters, Inc. Heroes | Onward Heroes | Soul Heroes | The Good Dinosaur Heroes | Toy Story Heroes | Turning Red Heroes | Up Heroes | WALL-E Heroes