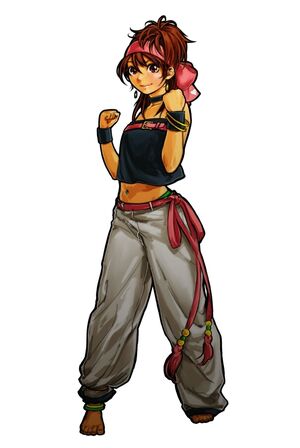 Momoko is a heroine from The King of Fighters series. She is one of the three original characters debuting in The King of Fighters XI, along with Oswald and Elisabeth. There, she belongs to the Psycho Soldiers along with her idols and martial arts teachers, Athena and Kensou. Her name means Peach child in Japanese.
She was added into the cast to fit the image of the younger Psycho Soldier team, though developers have expressed discomfort with adding a character as young-looking as her amongst a large group of adults. Series illustrator, Hiroaki, drew her character "in her age group's defense" but struggled in making her as sweet as he would have liked. Her pants were kept baggy so her capoeira would seem to be authentic and more dynamic in its execution. Several aspects of her character — such as her throw, her odd fascination with breasts, and her leader desperation move — are homages to the manga Shonen ESP Nejime.
Story
Athena personally asked Momoko to enter though Kensou had his doubts about entering a girl who "looks like a grade schooler". His complaints were quickly silenced by a personal talk (beating) from Athena and she was accepted into the team. Momoko's entry to the King of Fighters tournament, submitted by Athena, sparked the birth of the Neo Psycho Soldier team.
Personality
Momoko is upbeat, care-free, and curious to explore new or interesting things with a passion. Acting young for her age, she easily gets offended when people confuse her for an elementary school student. She eats a lot and is always a little sad when she's refused food. Although new to the fighting circle, she tries her best to impress Athena.
Heroes